Thursday, April 15th 2021, 10:17 am - Gotta catch 'em all.
Meet the beetles named after the rare Pokémon Articuno, a bird of ice, Zapdos, a bird of lightning, and Moltres, a firebird.
Yun Hsiao, a Ph.D. student at The Australian National University, discovered the trio of beetles while searching the Australian National Insect Collection, zoning in on a new species of a genus of beetle previously studied by Darren Pollock, a professor at Eastern New Mexico University.
Hsiao contacted Pollock, and they settled on the names Binburrum articuno, Binburrum zapdos and Binburrum moltres, described in a recent paper appearing in the journal The Canadian Entomologist.
Binburrum is an Australian endemic beetle genus belonging to the family Pyrochroidae, Hsiao tells The Weather Network in an email.
They're commonly reddish and identified by their fiery colours.
Pollock first described the genus Binburrum in 1995. They're associated with Australia's southern beech tree Nothofagus, referred to as binburra by Aboriginal Australians.
"The larvae of these beetles inhabit under the bark of dead trees, but we nearly know nothing about their ecology of adults," Hsiao adds.
From left to right, Binburrum articuno, Binburrum zapdos, Binburrum moltres. Photo courtesy: Darren Pollock.
POKÉMON PARALLELS
Part of the reason Pollock and Hsiao picked the pop culture names is because Yun was a big fan of Pokémon growing up.
But there are other parallels.
Like the beetles, Pokémon usually come in sets of three. And Pokémon are classified in an electronic encyclopedia called the Pokédex, not unlike the Australian National Insect Collection.
They chose the names of unusual Pokémon as a reference to how rare the beetles are.
Another similarity, Hsiao says, is the diversity in the Pokémon world, which is based on the real-life diversity found in nature.
"I always feel that there is a barrier/high wall between academics and the public," Hsiao says.
"People don't know the importance of some subjects, and researchers have no way to promote their discoveries and the importance of their research. I think it is nice to connect the popular culture to biotaxonomy to raise people's awareness about conservation of the amazing diversity of our earth ecosystem."
THE IMPORTANCE OF GOOD SCIENCE COMMUNICATION
Scientists play an important role in translating complex information to the public. We're seeing more of that now than usual, as experts around the world update the public on the latest COVID-19 developments.
Science communication is something we also do here at The Weather Network, translating forecast data accurately and succinctly.
"Our goal is to keep the public informed about weather events and give people time to prepare for them," Weather Network meteorologist Matt Grinter says.
"Meteorology is almost a language on its own and it isn't used on a daily basis by the general public. If there is a safety risk associated with a certain weather event, we have to communicate that in a straightforward way. What I am proud of most is the way our meteorologists, content creators, writers, and the rest of our team use graphics, videos, and articles to educate and warn the public when adverse weather is on the way."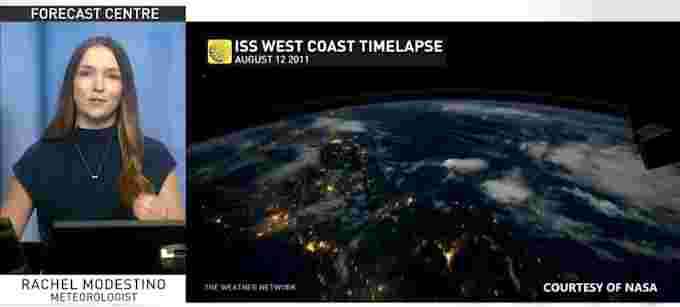 File photo: Weather Network metorologist Rachel Modestino disscuess an uptick in lightning activity over the Arctic.
While every research field is different, Hsiao says the recipe for good science communication remains more or less the same, starting with choosing the most attractive part of the data and then finding a way to make it connect with the public.
"Making good use of social media or writing some popular science articles are good ways to promote your discovery," he says.
"As a biotaxonomist of entomology, there are some good and bad parts of my work. The bad thing is that many people are afraid of insects and just ignore them, making it difficult to share our research. But the good thing is that there are still many undescribed new species waiting for us to discover. And that's why I choose this way to connect the public popular culture to biotaxonomy."
WHAT'S IN A NAME?
Hsiao says taxonomy -- i.e., the study of naming, describing, and classifying organisms, is one of humanity's important missions.
"I always say, 'no name, no game,'" he says.
"As the most intelligent species on Earth, we humans have an inescapable responsibility to clarify the diversity of life. Taxonomy is also the keystone of all the subjects of biological science. Without knowing the names, you cannot continue any other biological research. For instance, if you cannot identify the pest, how can you figure out the right way to control it?"