Friday, October 30th 2020, 7:14 pm - The peculiar fish looks like it belongs in the waters off Australia than on a beach on Canada's East Coast.
Videos on the popular social networking platform TikTok are usually centred around dancing.
When university student Paige Irwin posted a video of a strange-looking fish she and her sister discovered on a beach in Halifax, she never expected it would be viewed 200,000 times.
"What the hell is that?" The video starts off. "I don't want it to jump. It looks like it's alive. It's the kind of thing that spews poison. It looks like it's from Australia. Oh I'm so scared Sarah, I'm so scared."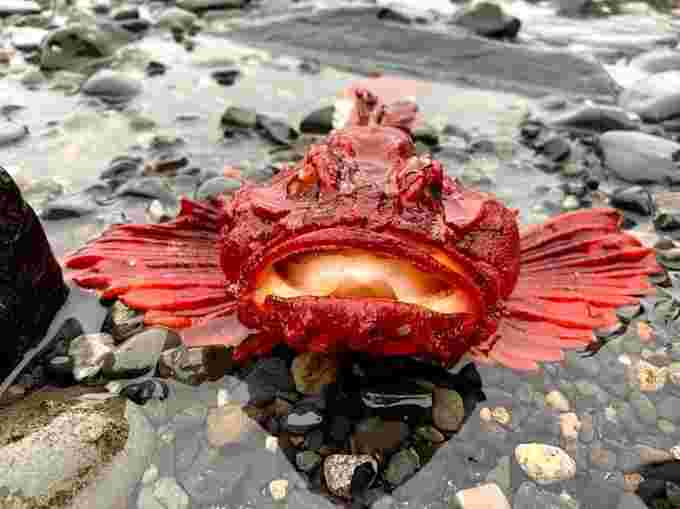 Image courtesy Paige Irwin.
The Weather Network reached out to DFO aquatic biologist Daphne Themelis who confirmed it's a sea raven (Hemipterus americanus). She says they are quite common in Nova Scotia harbours and under wharves, and people often catch them while fishing for flounders or tastier fish. They sometimes make croaking sounds due to swallowing air when caught on a line where people might be trying to fish.
Themelis says this one is unusual in being so brightly coloured. It's possible it's a male and in breeding colour. They spawn in the fall and winter, and usually they are shades of brown and yellow.
Irwin is still in awe.
"I didn't really realize that fish could look like that here so I kind of thought it was from Australia or something cause it looked so tropical and exotic," she says.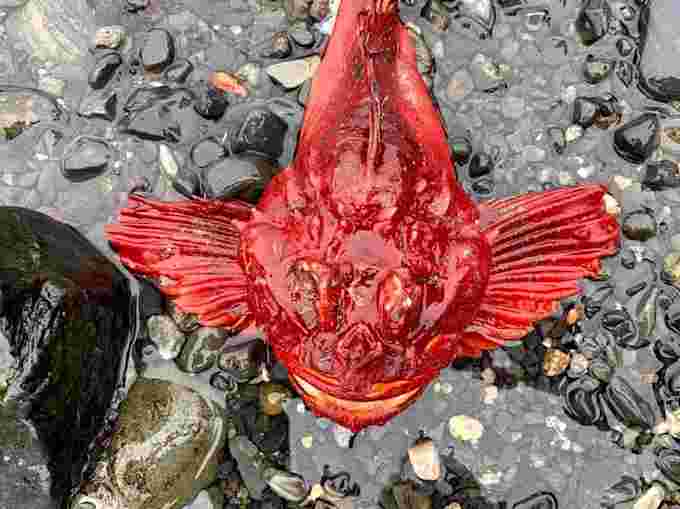 Image courtesy Paige Irwin.
She's also received some backlash for not throwing it back into the water.
"A lot of people think that I just left the fish there alive and are getting pretty mad at me online but I can assure everybody that it was very very dead when I found it on the beach," she says.