Sunday, May 31st 2020, 3:45 pm - In the deadly swarm of tornadoes that swept through Ontario 35 years ago, one was lost. Here's how it was found.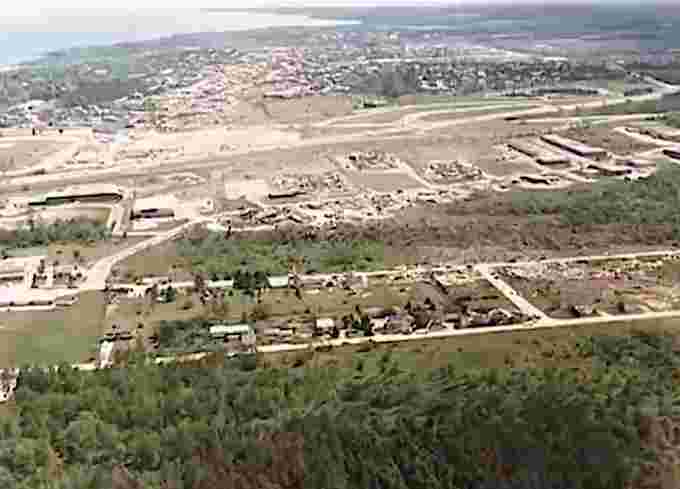 Damage from the 1985 Barrie tornado. Photo: Barrie police.
Sunday, May 31, 2020 marks the 35th anniversary of southern Ontario's 'Black Friday', when a devastating tornado outbreak damaged thousands of buildings, caused hundreds of injuries, and claimed the lives of a dozen people before it was over.
In the aftermath of the outbreak, a total of 13 confirmed tornadoes went into the official record of the day:
an F1 that touched down near Essa, west of Barrie, at 4:57 p.m.
eight different F2 tornadoes, in Hopeness, Hopeville, Lisle, Wagner Lake, Reaboro, Ida, Rice Lake and Minto, scattered between 3 p.m. and 6:35 p.m.
two F3 tornadoes, in Alma at 4:15 p.m. and Corbetton at 4:17 p.m.
two F4 tornadoes, one starting in Grand Valley at 4:15 p.m., and tracking over 115 km to Tottenham (the longest tornado track in Canadian weather history), and one that touched down in Barrie at 5 p.m., cutting a swath through the city that damaged or destroyed up to 300 homes, and resulted in 155 injuries and 8 dead.
According to Geoff Coulson, who was Environment Canada's Warning Preparedness Meteorologist before retiring in 2018, there were other strong storms that swept through the area on that day. At the time, however, no other tornado reports made it into the official record.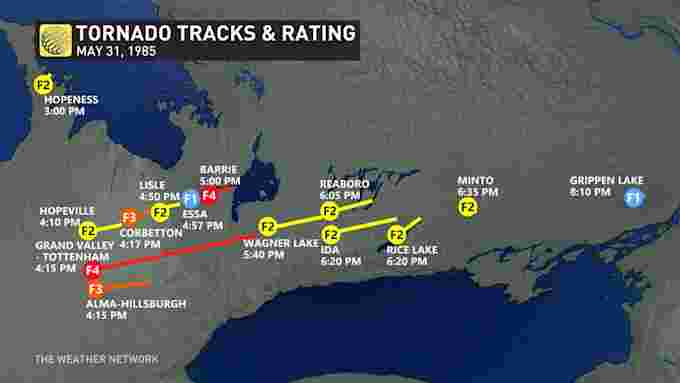 As revealed in the map above, though, there was actually one more - a 'lost' tornado, which had touched down far to the east of the other twisters from that day. This tornado, which was ranked as an F1, developed at around 8:10 p.m., near Grippen Lake, about 35 kilometres northeast of Kingston.
LOST AND FOUND
Severe weather experts work quickly to investigate tornado reports. In most cases, if not all, this involves travelling to the location to assess the damage first-hand.
From this close investigation, the experts can learn two important pieces of information: 1) the pattern of the damage, which will reveal if it was actually caused by a tornado (as opposed to some other weather phenomenon, such as a downburst) and 2) an estimate of how strong the winds were, which allows them to classify the strength if a tornado is confirmed. Up until 2012, this was ranked on the 'Fujita scale' (F1-F5). Since 2013, atmospheric scientists have been using the updated 'enhanced Fujita scale' (EF0-EF5), which refined the wind speeds that can cause different levels of damage.
In addition to this case-by-case forensic work, scientists with Environment Canada and Climate Change (ECCC) were also working to maintain the most complete database of tornado activity in Canada.
It was the efforts of severe weather scientist David Sills, and his former colleagues at ECCC, that uncovered this "lost" tornado from May 31, 1985. They had combed through the collected reports in both the Ontario Tornado Database, which stretches back to 1792, and the Canada Tornado Database, which currently covers 1980 to 2009.
"The Kingston Weather Office - closed in the 1990s - investigated a report of damage on May 31st, 1985 at Grippen Lake," Sills, who is now one of the leads of the Northern Tornadoes Project at the University of Western Ontario, wrote in an email to The Weather Network. "A short, but very narrow path of damage was found, mainly large trees snapped and uprooted, but a small boat was thrown and cottages were damaged by the falling trees."
According to Sills, the report from the Kingston office did indicate that the damage was caused by an F1 tornado, however there was no indication as to why the report was not included in the official record for the day.
Damage was also reported in the Ottawa Valley later that night, however, it was not attributed to a tornado. Instead, this damage was most likely due to a downburst.
TORNADO? DOWNBURST? WHAT'S THE DIFFERENCE?
Like tornadoes, downbursts can cause significant damage, but they are caused by a very different process than a tornado, and the type of damage they cause is different as well.
When a storm moves into an area with dry air, rain and hail falling from the base of the cloud evaporates before it hits the ground. This process draws a large amount of heat out of the air. The drier the air, the more evaporation, and thus the colder the air will become. Since colder air is heavier than warmer air, this chilled air plummets towards the ground. In extreme cases the winds generated by this plummeting air can reach speeds of over 100 kilometres per hour - the equivalent strength of an F1 tornado, or EF0 tornado under the newer enhanced Fujita scale.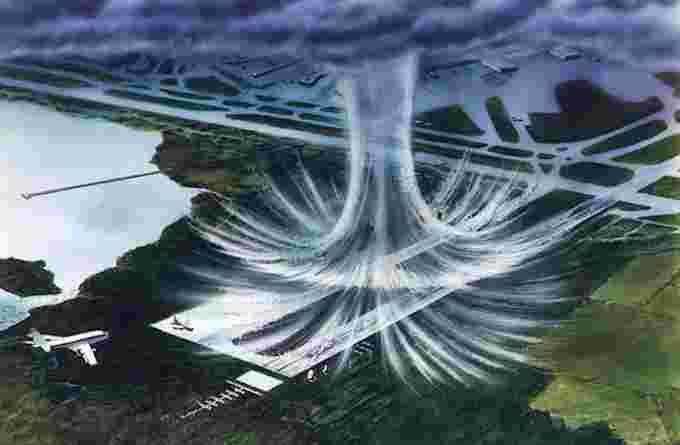 Artist's conception of a downburst over an airport. Credit: NASA
One way to tell a downburst from a tornado is to check Doppler radar signatures, as they show up looking very different from one another. In the absence of Doppler radar, though, the damage pattern will look different as well. Downbursts tend to blow things over all in the same direction, while tornadoes whip debris around it, producing a very distinct pattern.
WHY DOES THIS MATTER?
Tornadoes are significant and dangerous events, so studying them is of great importance to the scientific community.
However, what difference does it make that one small tornado was added to this record? Why spend time and resources to catalogue and refine databases of Canadian tornadoes, even going so far as to revise events years and even decades after the fact?
For example, according to Sills the 1970 Sudbury tornado was once recorded in the Ontario tornado database as having an extremely long track - much longer than any other track in Canada.
"We went back to the source data and were able to break the one tornado into three much shorter pieces and remove a long section of track where the data were very sparse," Sills explained. "That now leaves the Grand Valley–Tottenham tornado from 31 May 1985 as the longest tornado track in Canada at 115 km."
Part of this is to expand our understanding of tornadoes, the conditions that spawn them, how often these conditions occur in Canada, and where they are most likely to form. This helps in forecasting these events, to keep the public safer from harm.
It goes far beyond that, though, as the information being collected is also used for student projects and university-level research, as well as by the insurance and risk assessment industries, the nuclear industry and by provincial and municipal organizations.
The data collected can also be used in climate studies, to reveal how tornado activity may change in a warming world.
NORTHERN TORNADOES PROJECT
Sills, and Western University professor Greg Kopp, currently run the Northern Tornadoes Project, which operates out of the University of Western Ontario with the ambitious goal to catalogue every tornado that occurs in Canada.
According to their website: "NTP began as a unique way to track tornadoes in Northern Ontario in 2017, expanded Ontario-wide in 2018, and Canada-wide in 2019. It is the most comprehensive Tornadoes analysis ever undertaken in Canada and seeks to have a national and international impact."
To accomplish this, the team uses a combination of forecasting, radar data and social media reports to track potential tornadic storms. They then use in-person surveys, drone footage, surveillance aircraft and high-resolution satellite data to gather evidence of tornado damage.
Source: Environment Canada | Northern Tornadoes Project
Editor's Note: This story was first published on May 31, 2016. It has been updated.