Friday, May 7th 2021, 9:55 pm - After leaving its first home on Mars for good, the Ingenuity helicopter now begins an exciting new phase of its mission.
Ingenuity, the Mars Helicopter, made history in mid-April after it performed the first rotorcraft flight on another planet. Now, the mission team has flown this little robot on a new journey, taking it farther and expanding its mission at the same time.
As of Friday, May 7, the tiny Mars Helicopter has now flown a total of five times. Each flight pushed the limits of its mission. The first was simply to prove that rotorcraft could even work in Mars' thin atmosphere. It lifted off the ground to a height of around three metres and then set down again. After that, flights two, three and four pushed the limits. It flew higher — up to 5 m above the ground — and it also flew farther and farther, taking round-trips covering distances of 4 m, then 100 m, and then 266 m.
Flight 4, on April 30, included an extra objective. On this round-trip, Ingenuity's cameras captured the images that allowed the mission team to select its new airfield, which has just been named "Airfield B" for the time being.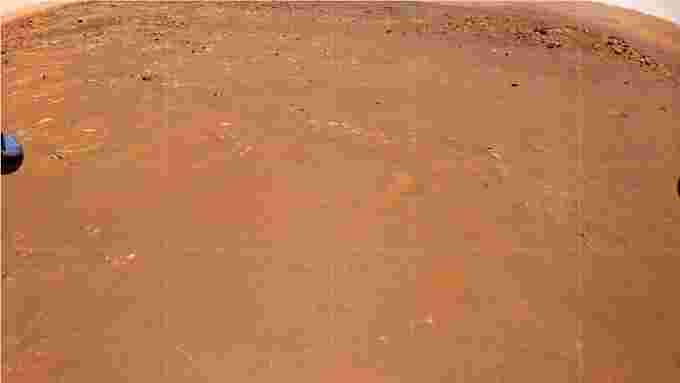 This image, taken by Ingenuity's colour camera on April 30, 2021, shows Airfield B, where the helicopter will land after its fifth flight. Credit: NASA/JPL-Caltech
You see, Ingenuity has been performing so well on these tests that the NASA team hasn't yet found the limits of what the helicopter can do. Thus, they are expanding their mission from simply demonstrating that the technology works to a more expansive 'operations' demonstration. So, from here on, Ingenuity will be testing what a flying drone can do for missions like Perseverance. It will take aerial images to help Perseverance navigate. It will scout out potential science targets for the rover to investigate. It may even venture to places that would be dangerous for the rover to get to.
"The Ingenuity technology demonstration has been a resounding success," Thomas Zurbuchen, associate administrator for NASA's Science Mission Directorate, said in a press release on April 30. "Since Ingenuity remains in excellent health, we plan to use it to benefit future aerial platforms while prioritizing and moving forward with the Perseverance rover team's near-term science goals."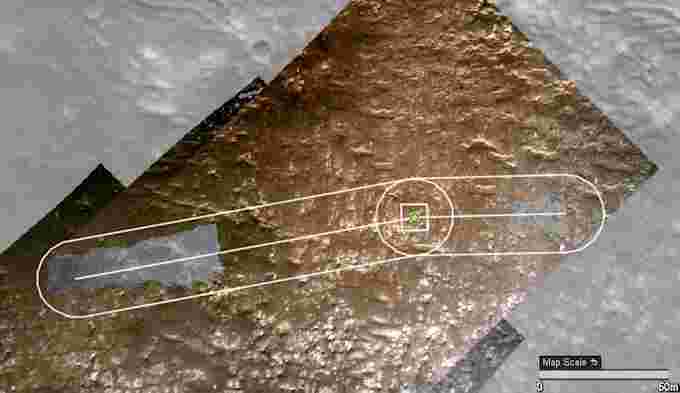 * Ingenuity's flight path for its fourth flight is superimposed on a satellite image taken by the Mars Reconnaissance Orbiter. Credit: NASA/JPL-Caltech/University of Arizona*
In addition to finding Airfield B, there was a bonus from Flight 4. While Perseverance recorded video of the test flight, it also switched on a microphone that is part of its SuperCam laser instrument, located on the rover's mast. This allowed the rover to record the sound of Ingenuity's rotors spinning during the flight.
Watch AND Listen below as Ingenuity takes flight.
On May 7, Ingenuity lifted off on Flight Five, following the same path as Flight Four, but on a one-way trip.
On May 6, the Ingenuity team wrote: *"Ingenuity will take off at Wright Brothers Field – the same spot where the helicopter took off and touched back down on all the other flights – but it will land elsewhere, which is another first for our rotorcraft. Ingenuity will climb to 16 feet (5 meters), then retrace its course from flight four, heading south 423 feet (129 meters).*
*"But instead of turning around and heading back, we'll actually climb to a new height record of 33 feet (10 meters), where we can take some colour (as well as black-and-white) images of the area. After a total flight time of about 110 seconds, Ingenuity will land, completing its first one-way trip. When it touches down at its new location, we will embark on a new demonstration phase – one where we exhibit what this new technology can do to assist other missions down the road."*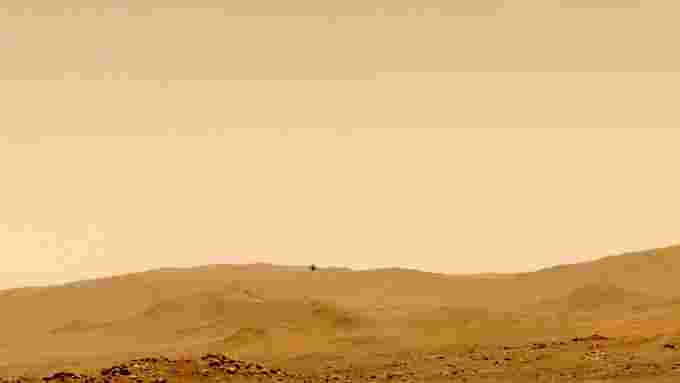 NASA's Ingenuity Mars Helicopter's fifth flight was captured on May 7, 2021, by one of the navigation cameras aboard the Perseverance rover. This was the first time it flew to a new landing site. Credit: NASA/JPL-Caltech
Now that Ingenuity has landed at Airfield B, it officially begins the new phase of its mission.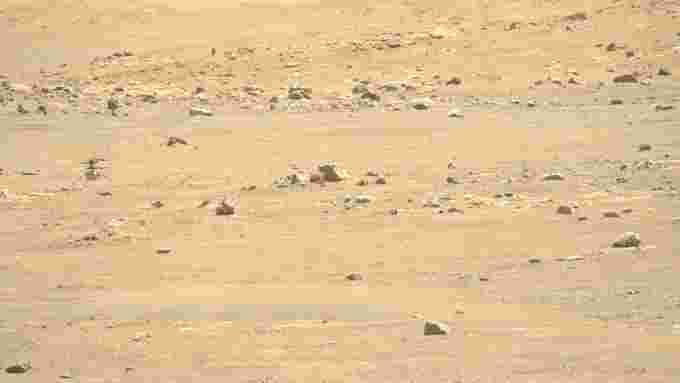 In this image captured by one of Perseverance's Mastcam-Z cameras, Ingenuity sits on the ground at Airfield B. Credit: NASA/JPL-Caltech
"The plan forward is to fly Ingenuity in a manner that does not reduce the pace of Perseverance science operations," said Bob Balaram, chief engineer for Ingenuity Mars Helicopter at JPL, said in a mission update. "We may get a couple more flights in over the next few weeks, and then the agency will evaluate how we're doing. We have already been able to gather all the flight performance data that we originally came here to collect. Now, this new operations demo gives us an opportunity to further expand our knowledge of flying machines on other planets."