Saturday, April 2nd 2022, 2:52 pm - The U.S. saw more than 200 reports of tornadoes across the country in March, likely notching the busiest March on record for the second year in a row.
A parade of severe weather outbreaks across the United States in recent weeks may have landed in the record books for producing the most tornadoes ever recorded during the month of March.
The U.S. Storm Prediction Center (SPC) received more than 200 reports of tornadoes across the country in March. The bulk of the twisters touched down between three separate outbreaks: March 5-6; March 21-22; and March 30.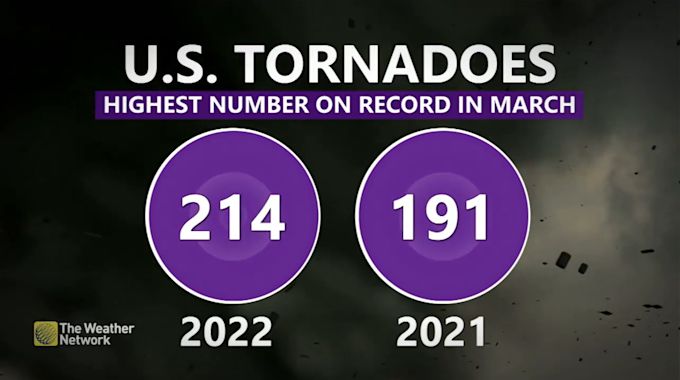 The final tally won't be known for a while yet, but it's likely that last month will land at the top of the heap for the most active March on record. The previous record stood for just one year. March 2021 racked up 191 tornadoes across several outbreaks that month.
Consistent tornado recordkeeping in the United States began in 1950.
SEVERAL MAJOR TORNADOES CAUSED SIGNIFICANT DAMAGE
The most prolific tornado activity targeted the Deep South, including Louisiana, Mississippi, and Alabama. These states are a hotbed of tornadic activity early in the spring. However, last month's tornadoes touched down across a large area from Texas to Pennsylvania.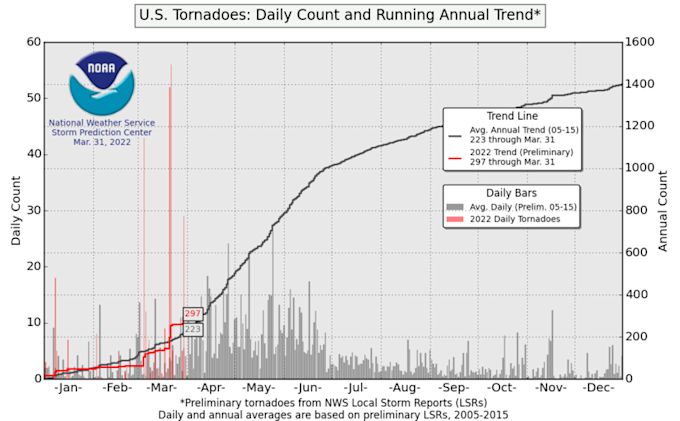 March's rapid-fire production of tornadic storms vaulted 2022 ahead of average for this point in the year. (NOAA/SPC)
An EF-4 tornado hit southern Iowa on March 5th and tore a path measuring more than 110 km long. The large twister killed six people along its track. Another significant EF-3 tornado struck New Orleans, Louisiana, on March 22, killing one person.
WATCH: HOW TO STAY SAFE DURING A TORNADO WARNING
LA NIÑA KICKSTARTED AN ACTIVE SEVERE WEATHER SEASON
Why have we seen a record number of tornadoes for the past two Marches? La Niña is a prime suspect. This pattern of abnormally cool water in the eastern equatorial Pacific Ocean can have wide-reaching effects across the world.
One of these effects is a more amplified jet stream over North America, which allows more frequent opportunities for severe thunderstorms and tornadoes across the Gulf states.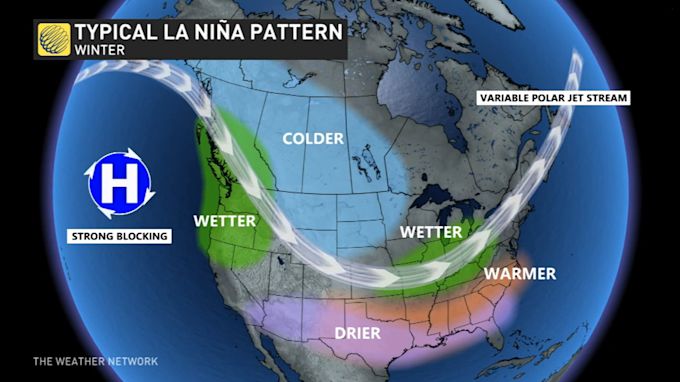 While this March was exceptionally active, the bulk of the traditional tornado season is yet to come.
Tornadoes are common year-round in the United States. Tornado activity ramps up in early spring and typically comes to a peak around the beginning of June before subsiding and lifting north toward Canada during the summer months.
The United States is the most tornado-prone country in the world, averaging around 1,400 tornadoes every year. Canada follows behind at a distant second, witnessing about 61 tornadoes in an average year. The true number of tornadoes in Canada is likely higher, though, as some tornadoes go unnoticed across the country's vast landscape.