Tuesday, December 15th 2020, 4:12 pm - Snow, freezing rain, flooding, and powerful wind gusts will all be part of this intense winter storm that is targeting millions of people along the U.S. East Coast.
Forecasters are warning that there is an increasing chance for a winter storm to impact millions of people in the U.S. East Coast through Thursday. This intense nor'easter is threatening heavy snow, powerful wind gusts, and the risk of flooding to parts of the region.
The largest cities that will be impacted include New York City, Philadelphia, Baltimore, Washington, D.C., and Boston, which means that there is the potential for over 65 million people to experience significant impacts from this storm.
A low-pressure system has started to form and will continue to grow as it interacts with the Arctic air while moving east. A high-pressure system is currently parked over the Great Lakes, which will cause this low-pressure system to strengthen as it approaches the Appalachians.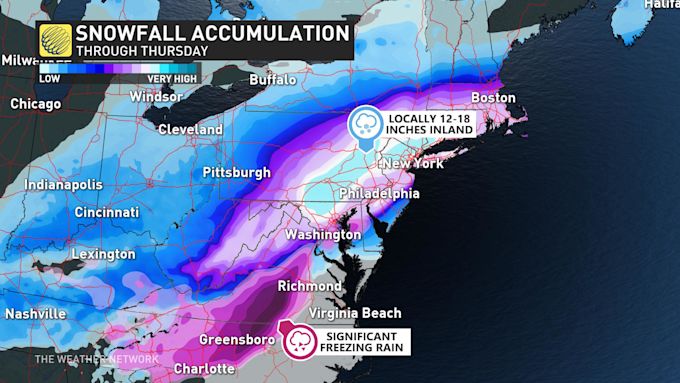 The high pressure will supply the low with Arctic air as it guides the storm towards the highest populated area in the United States. By Wednesday, the first signs of impact will be apparent in the form of heavy snow along the southern Appalachians, as well as freezing rain across central North Carolina and Virginia.
Weather Network meteorologist Tyler Hamilton says that the Arctic air that will be funnelled down to the U.S. through Canada will be like "lighting a match to the system."
"It will really enhance some of those snow bands through Wednesday afternoon right through early Thursday morning for the state of Massachusetts."
Powerful winds will also be part of this intense system and the strongest gusts will occur when the storm moves away from the New Jersey coast. Coastal gusts of 100 km/h (60 mph) are expected along the New Jersey shoreline and Long Island on Wednesday night.
"Through Wednesday night and Thursday, the storm will continue to feed on an endless supply of Arctic air from Canada and Atlantic moisture as it moves northeast along the U.S. East Coast. A swath of 25-50 cm (10-20 inches) is possible from Northern Virginia through Massachusetts, which will likely cause hazardous road conditions and significant disruptions to travel," says Weather Network meteorologist Kevin MacKay.