Monday, October 3rd 2022, 10:00 am - A popular tourist destination on the Mexican coast faces a dangerous flooding threat as Hurricane Orlene churns toward the coast this week.
The next hurricane has its sights set on a densely populated tourist destination on the Mexican coast.
As of Monday morning, Hurricane Orlene was rated as a Category 2 storm as it makes its final approach to Mexico's northwestern coast over the next couple of days.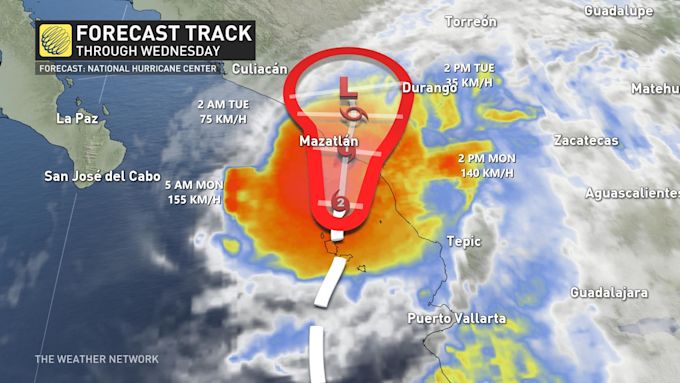 The storm grew into a major hurricane on Sunday with maximum sustained winds of 185 km/h. As of Monday morning, Orlene had maximum sustained winds of 155 km/h, but was still expected to near the coast of southwestern Mexico as a hurricane.
On the forecast track, the centre of Orlene will reach the coast of mainland Mexico on Monday, making landfall near Mazatlán, a resort city that's home to about half a million residents.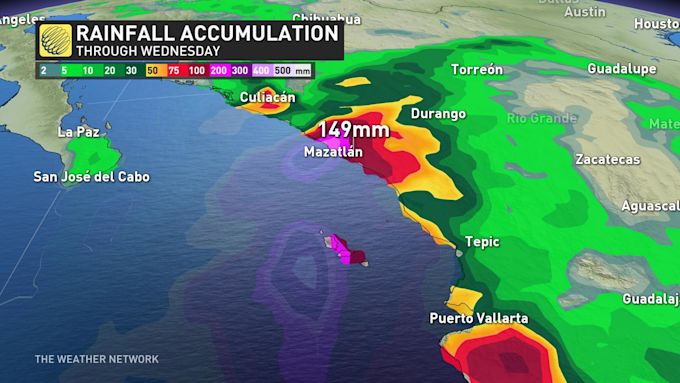 Strong winds could lead to structural damage and power outages throughout the region as Hurricane Orlene makes landfall. As with most landfalling storms in Mexico, though, the storm's gravest threat comes in the form of drenching rains.
Orlene could produce 100-200 mm of rain across the Mexican coast as it pushes inland, leading to the potential for flash flooding and landslides throughout the region. Dangerous urban flooding is also possible around Mazatlán as a result of the tropical downpours.
WATCH: Survivors describe riding out Hurricane Ian's wrath
Orlene defies the odds in the face of La Niña
The tempo of tropical activity in both the eastern Pacific and the Atlantic basin has played out somewhat the opposite of what many forecasters expected heading into the season.
This summer saw a solid La Niña pattern in the equatorial waters of the eastern Pacific. A monthslong pattern of colder-than-normal waters, La Niña tends to suppress tropical activity in the eastern Pacific while boosting the production of tropical storms and hurricanes over in the Atlantic.
While we've seen a relatively sluggish pace of tropical systems in the Atlantic—a trend hardly anyone will remember after the tragic blows incurred by Fiona and Ian—the eastern Pacific has churned out one storm after another this year.
A typical hurricane season in the eastern Pacific would see 15 named storms across the basin. Hurricane Orlene is the 16th named storm to churn through the region this year, with plenty of time left for additional storms to form.
The eastern Pacific's hurricane season runs from May 15th through November 30th.
Stay tuned to The Weather Network for the latest updates throughout hurricane season.