Monday, April 18th 2022, 8:08 pm - Central Alberta is used to snow in April, but some parts of the region may approach their monthly normal snowfall in just the next 48 hours.
After the eastern Prairies were hit with the epic snowstorm last week, it will be Alberta's turn for some snowy action Tuesday. While the totals will be far less than what its neighbours saw, some decent accumulations for this time of the year are expected from Edmonton to the southern foothills, mostly avoiding Calgary, although it will still see a few cm of snowfall. Blustery wind gusts and snow will make for some difficult travel in the regions. More on the timing and impacts expected Tuesday, and an early look at another high-impact spring snowstorm for later this week, below.
TUESDAY: SIGNIFICANT SNOW TOTALS THREATEN CENTRAL ALBERTA
Pacific moisture crossed the Rockies late-Monday, and will encounter cold continental air, spinning up a clipper system that could bring disruptive spring snowfall to parts of the Prairies, including Alberta's QE2 corridor.
In southern Alberta along the foothills, snow began in the Alberta Peace Country Monday evening and will spread toward Nordegg by Tuesday morning, also reaching central areas including Edmonton during this time.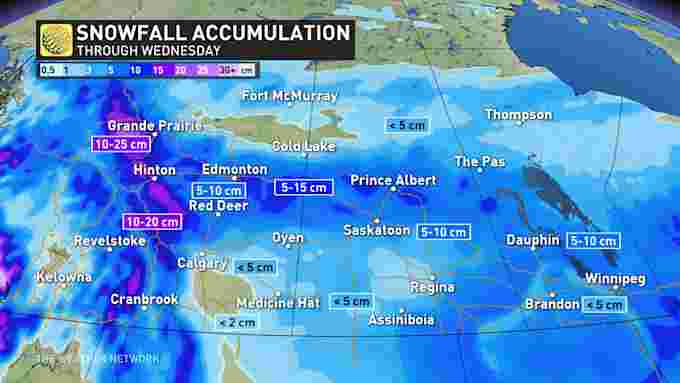 Through Tuesday, areas along the northern and central foothills will be hit hardest -- with 10-20 cm of snow possible. Edmonton to Red Deer may see anywhere from 5-15 cm, with 10+ cm in localized spots spilling east of theses cities into Saskatchewan. On average, Edmonton typically sees about 14 cm of snow throughout the entire month of April. Edmonton could potentially break a daily snowfall record on Tuesday, with its current April 19 tally at 12 cm set back in 1996.
The system wil also bring gusty winds with it, which, coupled with snow, will lead to periods of low visibility and difficult travel.
"Prepare for quickly changing and deteriorating travel conditions. Visibility may be suddenly reduced at times in heavy snow," Environment and Climate Change Canada (ECCC) says in a snowfall warning.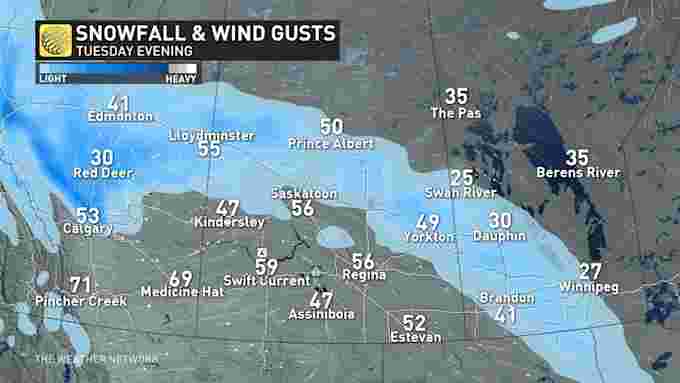 While southern parts of Alberta will avoid the snow, gusty westerly winds up to 90 km/h will mean you'll still need to keep both hands on the wheel across extreme southern sections of the province.
There is the potential for very dangerous snow squalls on the backside of the low across Alberta, north of Calgary towards Olds and Red Deer, on Tuesday evening. This could bring treacherous travel that may result in accidents.
TRUE SPRING STORM SYSTEM BRINGS SNOW TO ALBERTA, FIND OUT WHERE
LOOK AHEAD: ANOTHER SPRING SNOWSTORM LOOMS
Beyond Tuesday's disruptive snow, forecasters are closely watching another Colorado low, which threatens to bring another high impact spring snowstorm and the risk for blizzard conditions across parts of the southern Prairies.
The exact track and impacts are still uncertain at this time, but it looks like a messy mix is expected across southeastern Manitoba, including the city of Winnipeg, once again late Friday night and lasting through Sunday. Latest guidance also suggests it'll be a littler further west than the last Prairie blizzard.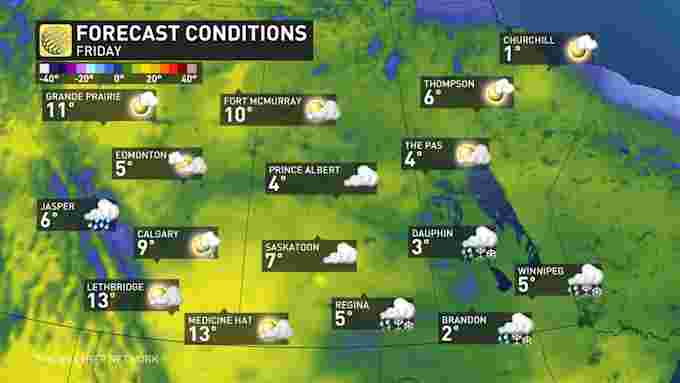 The heavy precipitation also heightens flooding concerns, and puts a delay on spring-time planting as well.
Milder conditions are expected for western parts of the Prairies late week, but the eastern half of the region will remain cooler than seasonal with a reinforcing shot of very cold air arriving during the weekend and into early next week.
Be sure to check back for the latest weather updates across the Prairies.