Tuesday, March 15th 2022, 1:00 pm - There's high tea, and then there's this.
A new Guinness World Record (GWR) has officially been set for the highest tea party, held at 6,496 metres above sea level at Mount Everest Camp 2 in Nepal.
The Hughes' Highest Party Team, led by Andrew Hughes, completed the feat on May 5, 2021, and it was officially recognized as a world record earlier this month.
"The record exceeded the previous mark by thousands of feet in altitude and was full of complexities, including carrying supplies through the treacherous Khumbu Icefalls in order to realize the highest of high tea parties," GWR says in a press release.
Hughes got the idea for the tea party at the start of the pandemic. During those early days, everything was shut down - including the mountains Andrew used to climb.
Andrew says he used that time to reflect on his past adventures, and why they meant so much to him. He realized one of the things he loved most was the communal aspect of climbing, sparking the idea to host the world's highest tea party.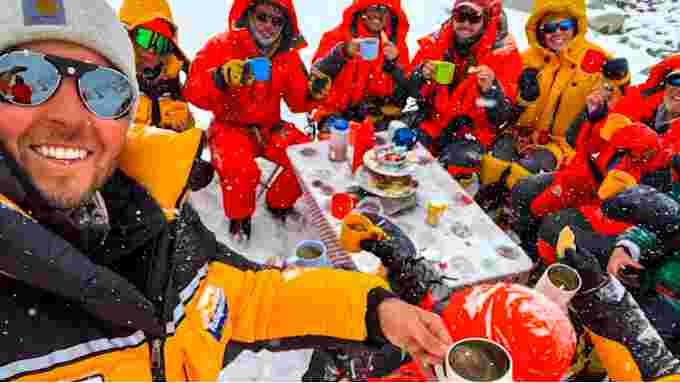 The tea party was recognized as a world record on March 1, 2022. (Guiness World Records)
It took a bit of research to select the right components to qualify for the world record, as well as making sure the supplies could survive the flight to the base camp as well as the climb. Girl Scout cookies, transported from Seattle, were used as a snack at the tea party and throughout the trip.
"On top of the record, Andrew wished to find some way to give back to the remarkable local climbers and support staff at Everest Base Camp, who without no dream of climbing Everest would ever be possible. Partnering with MiiR, thousands of dollars in sustainable products were generously donated and transported up for the tea party then donated to stay in Nepal with those who call this special place home," GWR says.
On the day of the scheduled tea party, a huge snowstorm hit the base camp, but it didn't deter the climbers.
"With cold hands, I carried everything out to a flat spot in the middle of our tents where a fresh blanket of snow laid. Setting the table for the attempt, large flakes fell covering everything quickly," Andrew recalls.
"However, the joy of a small mental break from pondering the summit days ahead of us to simply celebrate with one another, sip tea, and indulge in treats largely absent from our diet on the mountain made the snowstorm just an added unforgettable element to the entire record attempt."