Saturday, May 15th 2021, 6:49 am - The Pacific ocean phenomenon, along with its counterpart El Niño, has an outsized influence on tropical storm formation.
Warmer or colder-than-average Pacific Ocean temperatures have global influences on severe weather, and are commonly referred to as La Niña or El Niño. Each phase contributes to heat and moisture displacements around the globe. Until recently, our global pattern had a La Niña trend; however, summer 2021 now looks to trend neutral.
La Niña is characterized by strong Pacific trade winds moving east to west that push the warm surface waters before them, piling up above-average water temperatures near Asia and below-average water temperatures near South America. This was the signature up until April this year.
Now, we see evidence that our global La Niña phase has relaxed, with weakening trade winds, and tropical Pacific ocean temperatures trending towards normal.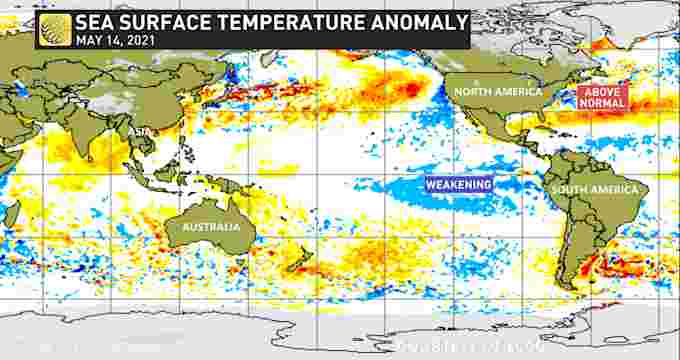 "La Niña has ended, with ENSO-neutral (El Niño Southern Oscillation) likely to continue through the Northern Hemisphere summer. During April, the tropical Pacific Ocean returned to ENSO-neutral conditions as the coupling between the atmosphere and ocean weakened," the U.S. National Oceanic and Atmospheric Administration (NOAA) said in an advisory.
What does a neutral state mean for this upcoming tropical storm season?
Consider a hockey team with a star goalie. That single player can carry the team and be the key to whether that team wins or loses. That is similar to what happens during a strong El Niño or La Niña event when El Niño or La Niña often becomes the key driver of the weather pattern for the season, with much less influence for other variables around the world.
Now think of another team, where there is no single outstanding player, meaning every other player's role has a greater influence over the outcome. This is similar to being in a neutral state in terms of La Niña or El Niño, in that other atmospheric and oceanic drivers will play a larger role this upcoming summer.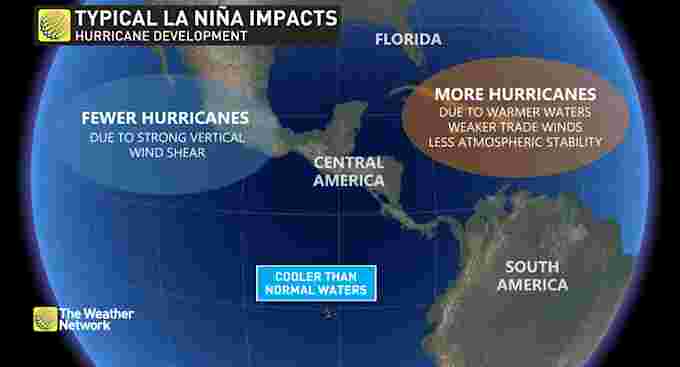 Historically, La Niña phases are a factor that contribute to a more active tropical storm season for the Atlantic Ocean. Although La Niña has been declared over, we could still feel residual effects of the phase this tropical storm season, but other favourable factors will play a larger role such as warm Atlantic waters.
Combining all of this into a summer 2021 tropical storm outlook, we can expect an above-average, active tropical storm season, less active when compared to last year, but many favourable conditions remain.