Friday, January 22nd 2021, 2:25 pm - The colder pattern won't be unwelcome in parts of California already grappling with 2021's wildfire season.
The long-awaited La Niña pattern is finally emerging across parts of North America – but there's a surprising path some of that cold is about to take.
A weakening of the polar vortex has frigid air on the move and shunting it toward lower latitudes (ask Siberia). A swirling mass of Siberian air will spill southward across a big swath of the Pacific Ocean.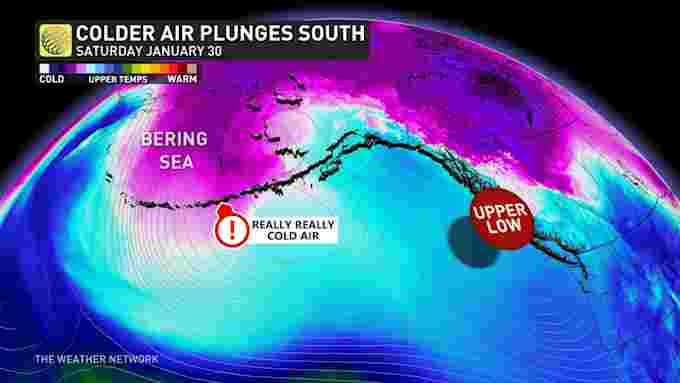 Although it doesn't accumulate (unless on a ship or weather buoy), our numerical weather models still show 'phantom' snow accumulation on water – essentially, how much would accumulate if there was land beneath it.
Check this out: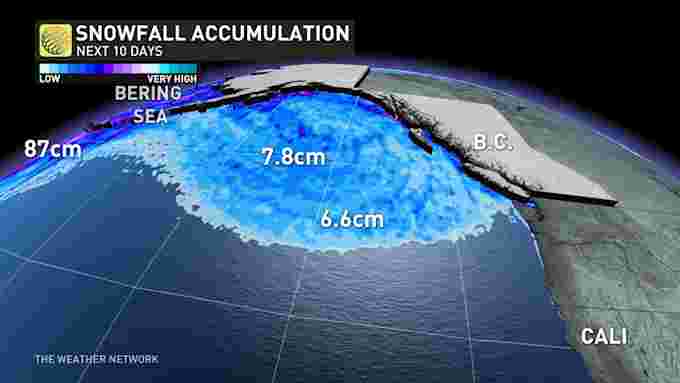 The theme will be for an upper trough to stall over the Gulf of Alaska for the next couple of weeks. This cold air will inevitably slide down California; consequently, it will make some tricky forecasts for British Columbia over the coming weeks.
These storms won't be of the typical mild Pacific air variety; they'll ingest the secret ingredient, Siberian air.
Thankfully, this is good news for residents of California, as the state's forest fire season is off to an atypically early start in the winter season.
These winter wildfires are normally dampened during the wet season, but small fires paired with strong winds have been the theme throughout early 2021.
In fact, some of the fires are likely re-developing from the massive complex of lightning fires from the summer of 2020. With such pronounced troughing, it's possible an atmospheric river makes an appearance for the state before month's end.