Thursday, June 3rd 2021, 11:37 am - Believe it or not, Toronto and the GTA have some of the best fishing spots — not only to catch but also to eat. From trout to perch and walleye to both types of bass, the fish are not only limited to Lake Ontario but also swim in the river systems around town.
There's no need to head outside of city limits to reel in a good catch. Avid anglers say Toronto's fishing scene is where it's at - and the fish are good enough to eat.
"Fishing in the Toronto area is not that popular. People would prefer to get in their cars and drive two, three hours north to go fishing when they don't realize that fishing in the Toronto area, right in their backyard, is really good," explains Rick Portiss of the Toronto Region Conservation Authority.
"It's one of Toronto's best kept secrets. Where else in the nation would you be able to take a streetcar down to your favourite fishing spot?"
People don't often associate the waterways in the GTA as safe to swim in -- or to eat the fish that inhabit them.
"I think of Toronto as a freshwater capital of the world because all of the rivers that start in Toronto come from the Oak Ridges Moraine," says Mark Mattson, president of Drink Swim Fish and a Lake Ontario waterkeeper.
SO WHAT EXACTLY IS SWIMMING BELOW THE SURFACE, AND WHAT CAN WE EAT?
"The truth is Lake Ontario fish are a lot cleaner than we give them credit for. I think people would be surprised just how tasty they are and just how healthy they are as well," said Mattson.
People can consult the Guide to Eating Ontario Fish to find out what fish you can eat and where to catch them.
"The Toronto Region Conservation Authority has a multitude of resources online that shows plenty of places to go fishing in the GTA. There are interactive maps where you can zoom right in and pick the spots and find the fishing spots in Toronto," said Portiss.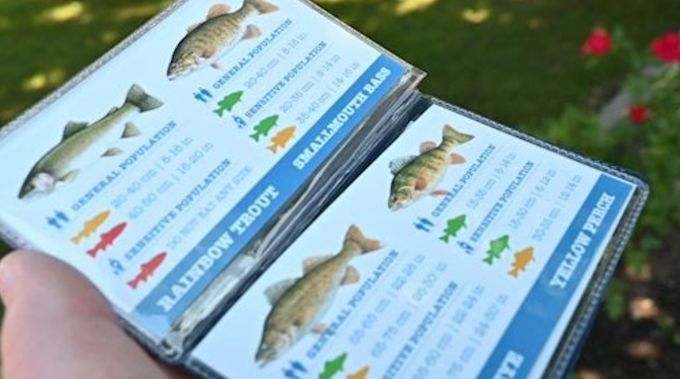 Courtesy: Marta Czurylowicz
"We'll have sport fish such as salmon, pike, perch, bass - both kinds - largemouth, smallmouth bass, and walleye, but there are many others that people would also be able to catch."
You can also find advice on how to choose the proper fish, how to clean and trim your catch, and how to properly cook your fish.
But you can't just drop a line without a license. In Ontario, you need one to fish, unless you're under the age of 18.
But there are exceptions.
"Specific weekends that are set by the Ministry of Natural Resources and Forestry allow for free fishing weekends, which allows residents of Ontario to fish without a fishing license," Portiss says.
"Usually it's just put in place so people have a chance to try out fishing if they've never tried it before."
Of course, outdoor adventures on Toronto's waterways don't stop at fishing.
"We created what's called the Great Lakes Guide which creates ideas for people about where to go fishing, where to go swimming, where to go hiking, and where to go camping. We've created these platforms specifically to help connect people with water," said Mattson.