Friday, May 27th 2022, 8:42 pm - After a stormy end to the week, another risk for severe thunderstorms will crop up on the Prairies again on Saturday.
After a stormy couple of days on the Prairies, we're watching the potential for yet another round of severe thunderstorms to pop up over parts of the region on Saturday. Unsettled conditions will continue as the calendar flips from May to June, with a risk for heavy rain over areas that certainly don't need it. More on what to expect this weekend and beyond, below.
---
DON'T MISS: Mosquitos swarming? 6 things to keep them from bugging you
---
SATURDAY: RENEWED STORM RISK STARTS THE WEEKEND ON THE PRAIRIES
Saturday will see another wide-reaching threat for thunderstorms across the Prairies as an unsettled pattern slowly works its way across the region.
Scattered thunderstorms are possible from northern Alberta to southern Manitoba. A narrow boundary over southeastern Saskatchewan and extreme southwestern Manitoba could approach severe limits. Dynamics are right for storms here to produce small hail.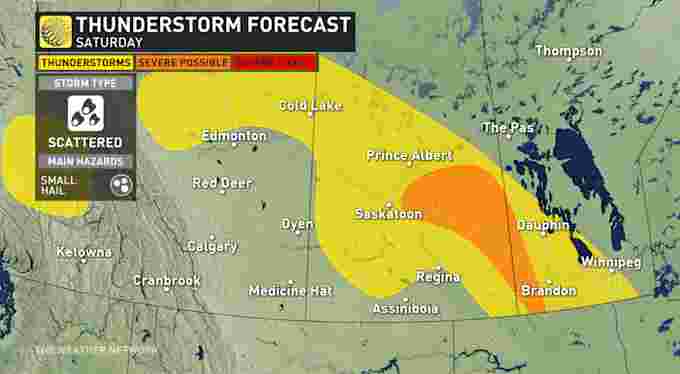 Across the northern Prairies, beneficial rains will continue through Saturday.
---
RELATED: Winnipeg River, already flowing at a record volume, slated to rise even higher
---
LOOK AHEAD: COOLER AND UNSETTLED WEATHER ON THE WAY
Much cooler weather will spread across the region this weekend and through the first half of next week, with temperatures sitting 5-10 degrees cooler than seasonal.
A wet and unsettled pattern is expected to return on Sunday and into next week, as a couple of systems will impact the region with widespread rain and thunderstorms.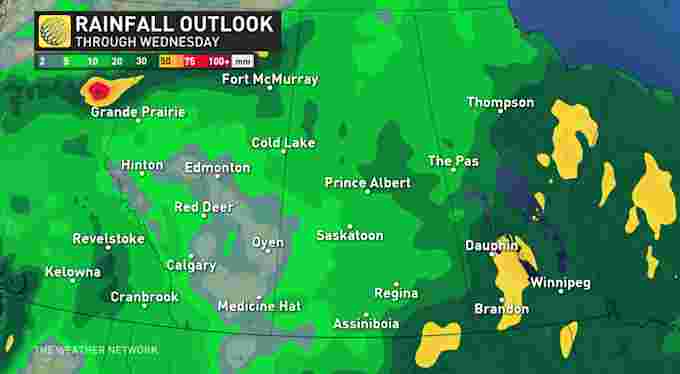 Be sure to check back for the latest weather updates across the Prairies.