Monday, August 8th 2022, 8:04 am - Abundant moisture funnelling into Atlantic Canada will lead to a hefty amount of rainfall for parts of the region early this week, increasing the chances of localized flooding but it could help douse the wildfires in Newfoundland.
The East Coast is bracing for a bout of heavy rain to kick-start the new week. With plenty of moisture to work with in the atmosphere, a boundary draped across the region will bring widespread totals of 20-30 mm of rainfall, with up to 50 mm locally. Localized flooding will be a threat, but the rain is sorely needed in Newfoundland where central areas are contending with wildfires that may prompt an evacuation order soon. For more details, read below.
---
MUST READ: Your mid-summer guide to lawn maintenance products
---
This week: Soaking rains bring flood threat to parts of the East Coast
Special weather statements are in place in parts of Nova Scotia, New Brunswick and P.E.I. for the forthcoming soaking rains.
A boundary drifting in will bring the next wave of precipitation into the Maritimes Monday morning. Showers will pick up in intensity by the afternoon and evening. There will also be a slight risk for thunderstorms along coastal Nova Scotia.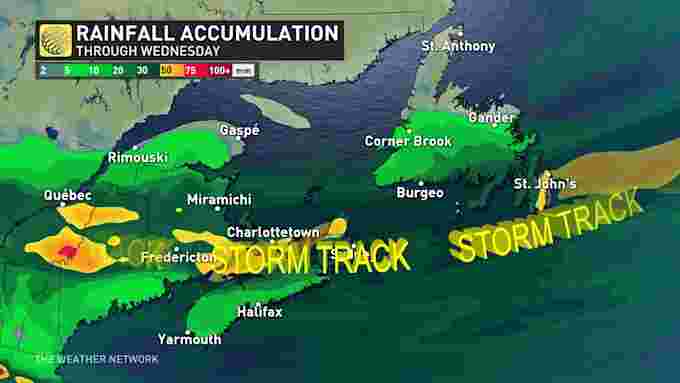 It's worth mentioning that the moisture source for the incoming rainfall was originally derived from the recent monsoon that hit Mexico.
MUST READ: What to take on a day trip to the sunflower fields
The rain will continue through Tuesday morning, gradually winding down in the afternoon from west to east as it tapers to showers.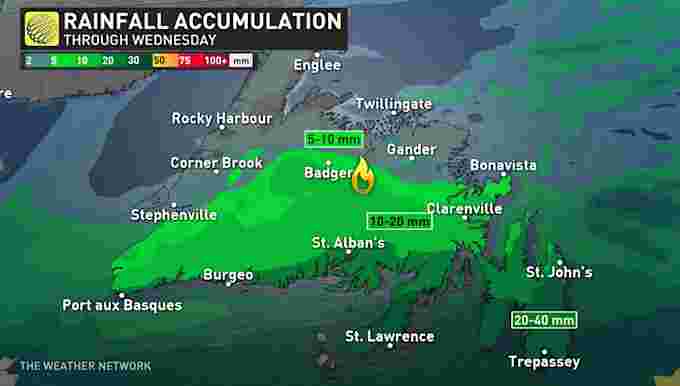 In Newfoundland, the rain will be most welcome as firefighters deal with the ongoing blazes in parts of the province. It will reach western portions of the island Tuesday morning and spread eastward through the day.
When all is said and done, widespread rainfall amounts of 15-30 mm is expected in the region, with up to 50 mm locally.
WATCH: Out-of-control fires continue to grow in Newfoundland, state of emergency in place
Stay tuned to The Weather Network for the latest forecast updates for Atlantic Canada.