Thursday, January 6th 2022, 12:20 pm - Heavy snow transitions over to freezing rain and heavy rain across the Lower Mainland Thursday. Threat for more power outages likely.
After bringing heavy snows to areas near the coast, more than 20 cm for places like Vancouver and Victoria, a potent system brought further traffic hassles in the form of freezing rain and rain, along with enduring snow in the mountains. Beyond: powerful winds as the system departs will likely bring another round of outages, along with some storm surge. A look ahead, below.
INTO FRIDAY: DIFFICULT TRAVEL, WINDS RAMP UP
This moisture-laden system, encountering colder-than-normal air, brought heavy snow even down to sea-level by Thursday morning.
As temperatures rose through the day, a new problem presented itself: a period of rain and freezing rain making a difficult travel situation even worse.
Between 30-50 mm of rain is possible by early Friday, with even heavier totals likely over the North Shore mountains through early Friday.
Significant snowfall accumulations are forecast for the southern Interior, as well. Cumulative totals for some of the mountain passes could reach 50 cm, and last through much of Thursday before ending overnight.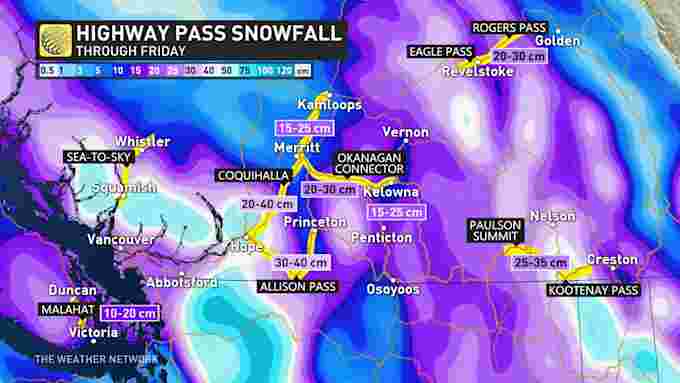 Given the fresh snowfall that's already accumulated in combination with this latest dumping, Avalanche Canada says a considerable-to-high risk for avalanches continues for the coastal mountain ranges.
POWERFUL WINDS RAMP UP IN STORM'S WAKE:
On top of all this, as the storm departs, the winds will be ramping up in its wake, reaching 70-80 km/h by Friday afternoon. Additional power outages are expected as these strong gusts slam the region.
These gusts will be coinciding with an elevated king tide, so some storm surge is possible in the Strait of Georgia.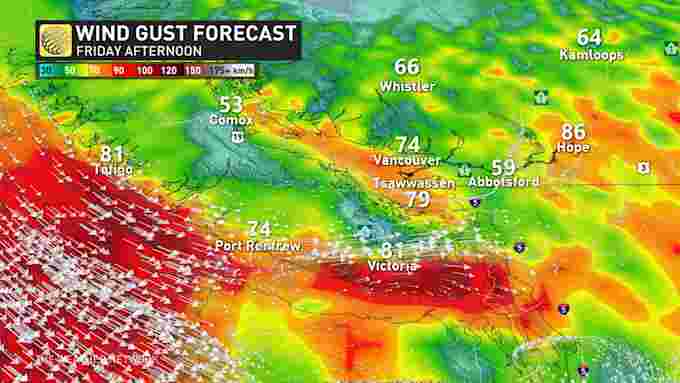 Beyond the impacts of this storm, the frigid pattern finally breaks down this weekend, with much milder weather expected for next week.
Conditions will remain unsettled at times through next week, but no major storms are expected and coastal areas won't see any snow for the next couple of weeks.
However, winter certainly is not over, with colder than seasonal temperatures expected to return late in the month and dominate during February.
Stay tuned to The Weather Network for the latest updates across British Columbia.