Saturday, September 24th 2022, 12:51 pm - Post-tropical cyclone Fiona made landfall in eastern Nova Scotia early Saturday morning, shattering records for the deepest low-pressure system ever to be recorded on Canadian soil.
Fiona made landfall over Hart Island, N.S., early Saturday morning, with maximum sustained winds of 148 km/h and a minimum pressure of 931 millibars, potentially becoming the deepest low-pressure system ever recorded on Canadian soil.
---
IMPACTS: Hundreds of thousands without power as Fiona bears down on the Maritimes
---
Fiona transitioned from a tropical cyclone to a post-tropical cyclone before landfall. This means that the storm is fuelled by upper-level winds instead of thunderstorms around the centre of the storm. As a result, the storm will be slow to weaken even though it's now over land.
Folks across the Maritimes can expect high winds, heavy rain, and coastal flooding from rough seas and storm surge through the day on Saturday before the storm moves into Newfoundland and Labrador. The worst conditions will arrive there through the day Saturday and linger into Sunday morning for northern sections.
A widespread, record-breaking number of power outages will continue piling up through Saturday as Fiona's strong winds stress trees and power lines to their breaking point.
As a result of the ongoing storm, which has caused widespread power outages, structural damage and road closures, Cape Breton, N.S., has declared a local state of emergency, the regional municipality stated on Twitter.
In Newfoundland, some residents in Port aux Basques have been forced to evacuate and some have lost their homes -- including a two-storey apartment building. Everything east of the town hall is under an emergency evacuation order due to post-tropical storm Fiona.
WATCH: Storm surge comes with powerful winds in Cape Breton
---
IMPACTS: What to do before, during, and after landfall
---
Power Outages as of 1:25 p.m. ADT/1:55 p.m. NDT:
---
Expect trees and tree limbs to fall as high winds continue. Trees falling into homes is a leading cause of injury during landfalling storms. Avoid rooms in your home where trees or limbs could come through the walls or roof and pose a hazard to your safety.
Key impacts to expect through Saturday
Widespread hurricane warnings and tropical storm warnings remain in effect as Fiona impacts the region. Prepare to stay in a safe place until the storm moves on and conditions calm down.
Here's a rundown of what you can expect as Fiona moves across Atlantic Canada.
---
RELATED: How to stay safe during a long duration power outage
---
Rainfall warnings are in effect for much of the Maritimes, where forecasters expect the storm to produce a widespread swath of 100-200 mm of rain. Heavy rain could lead to flooding issues and road washouts in spots.
Very strong winds of 100+ km/h have been recorded Some of the strongest wind gusts from Fiona so far are as follows: 177 km/h in Wreckhouse, N.L., 178.6 km/h in Arisaig, N.S., 166 km/h in Grand Etang, N.S., 149 km/h in East Point, P.E.I. and 148.7 km/h in Sydney, N.S.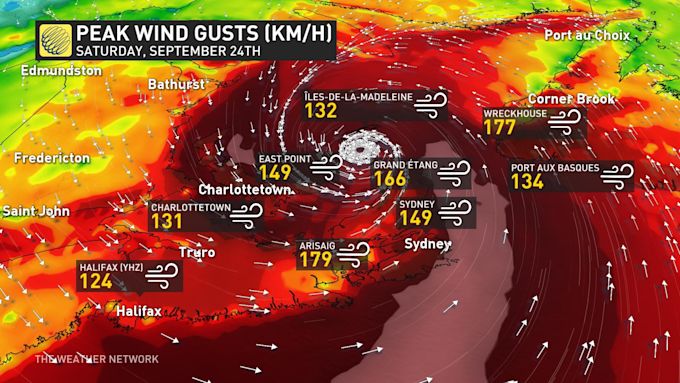 Widespread power outages are occurring as a result of the strong winds, heavy rain has loosened the soil, and trees have been downed. These power outages could last for days in hardest-hit parts of Nova Scotia and P.E.I., causing a major disruption to day-to-day life.
Tree damage has been reported in areas hit by the strongest winds. Trees falling into homes and cars is a leading cause of injury during landfalling storms. If you have trees or tree limbs near your home, avoid those rooms as much as possible during the storm. Make arrangements to sleep in a safer part of the house overnight when the strongest winds are expected.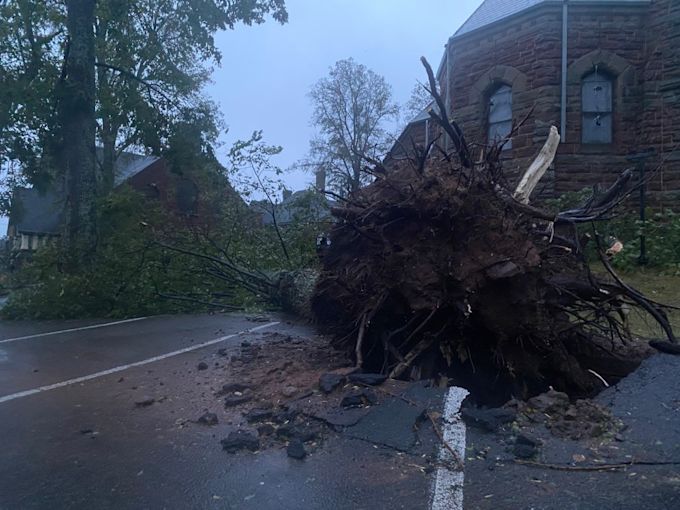 Downed tree in Carlottetown, PEI (Jaclyn Whittal/The Weather Network)
Storm surge and large waves will lead to coastal flooding for many spots across the Atlantic provinces. Waves could reach 12 metres at times in the Gulf of St. Lawrence and Cabot Strait, according to the CHC, and forecasters expect significant beach erosion across P.E.I.'s north-facing beaches.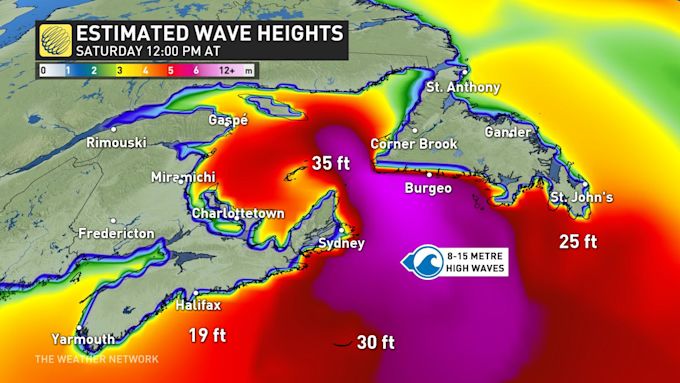 A high danger for rip currents will exist through the weekend at just about every beach along the East Coast as a result of the high waves. Stay out of the water until local officials say conditions are safe again. If you ever find yourself in a rip current, calmly signal to the beach for help. If possible, swim parallel to the shore until the current releases you, then swim back to safety.
Residents, governments, and utilities are preparing for high impacts
Authorities both across the region and in Ottawa are preparing for Fiona's aftermath.
Prime Minister Justin Trudeau announced Friday that the federal government was mobilizing resources to help communities affected by Hurricane Fiona this weekend.
WATCH: Small and exposed, how will Sable Island withstand Fiona's fury?
Nova Scotia Power activated its Emergency Operations Centre on Friday morning.
P.E.I.'s Emergency Measures Organization (EMO) activated Level 1-enhanced monitoring and is encouraging Islanders to replenish supplies for up to five days, including food, water, heat and fuel supplies.
---
RELATED: How hot water fuels the world's most powerful hurricanes
---
Those with either air travel or ferry plans should expect restrictions and cancellations throughout the weekend. The Confederation Bridge is also warning of travel restrictions, lasting until early Sunday morning.
WATCH: Wild waves make roads impassable during Fiona
With files from CBC News.
Thumbnail courtesy of Jillian Farris/Twitter, taken in Halifax, N.S.
Stay tuned to The Weather Network for all the latest as Hurricane Fiona continues to impact Atlantic Canada.