Saturday, September 24th 2022, 7:52 pm - Make the most of Sunday's nice weather, Atlantic Canada—a new storm system will arrive on Monday.
Atlantic Canada faces a long recovery from Fiona's historic blow after the storm roared ashore in Nova Scotia early Saturday morning—possibly as the deepest low-pressure system ever recorded in Canada.
While the worst of the storm is thankfully behind us, Fiona isn't quite done with the region just yet. Another system looks to arrive in the Maritimes by Monday, potentially hampering cleanup efforts in hard-hit communities.
---
PHOTOS: Fiona slams East Coast, destroying homes and cutting power to half a million
---
Storm's high winds and heavy rain continue through Saturday night
Fiona remained a large and potent storm as it swirled in the Gulf of St. Lawrence through the day on Saturday.
The storm made landfall on Nova Scotia's Canso Peninsula before sunrise Saturday, with a preliminary minimum pressure of 931 mb, a reading that, if verified, would make Fiona the deepest low-pressure system ever recorded on Canadian soil.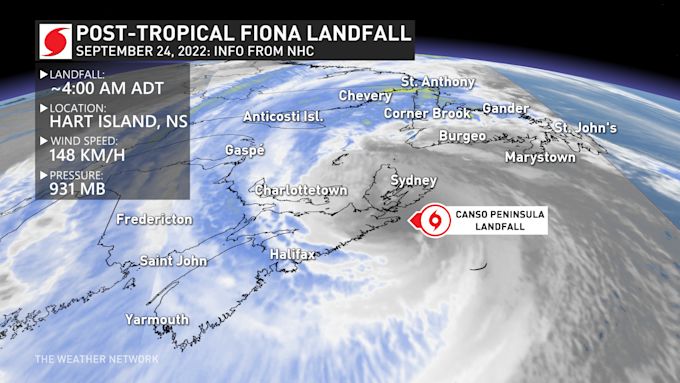 More than half a million homes and businesses across Atlantic Canada lost power at the height of the storm. Wind gusts of 80+ km/h will continue for portions of Cape Breton, Prince Edward Island, and Îles-de-la-Madeleine heading into Saturday evening, calming down as we start our Sunday.
CHECK IT OUT: Strong winds nearly take out TWN reporter live during Fiona
The highest winds are expected across western Newfoundland as the centre of the storm makes its closest approach to the region. Gusts of 110+ km/h are possible across communities on the island's west coast, which is unwelcome news for Port-aux-Basques, where significant damage prompted a state of emergency on Saturday.
These winds will eventually die down from south to north as the system weakens and gradually pulls north toward Labrador.
MUST SEE: 'Total devastation': Newfoundland town declares state of emergency due to Fiona
Remain mindful of weakened trees and power lines across hard-hit communities. The stress of gusty winds combined with loose, rain-soaked soils could lead to additional trees and power lines falling until conditions clear up.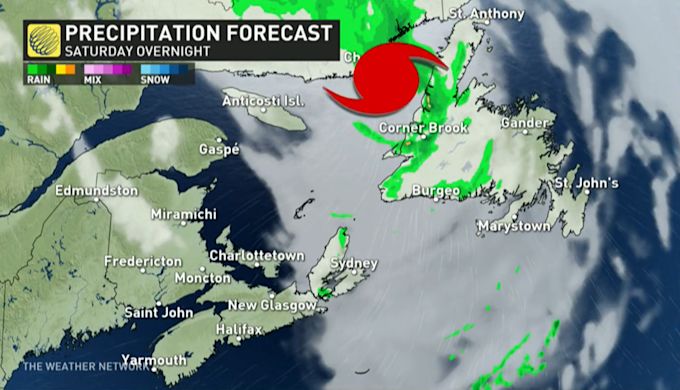 High waves and rough seas will continue through the remainder of the weekend across all of Atlantic Canada. Dangerous rip currents are likely on all beaches as a result of the rough waves.
The combined effects of high waves and storm surge could lead to additional coastal flooding along the western and southern shores of Newfoundland.
WATCH: Wild waves make roads impassable during Fiona
Sunday is the day for cleanup as another system arrives Monday
The sun will come out again on Sunday.
Mostly sunny skies and comfortable temperatures will make it an easier day to pick up debris and clear away fallen trees and tree limbs. The nice conditions will give power crews a leg-up on chipping away at the widespread power outages.
Temperatures will come in slightly above seasonal across the Maritimes, with most folks seeing daytime highs in the upper teens.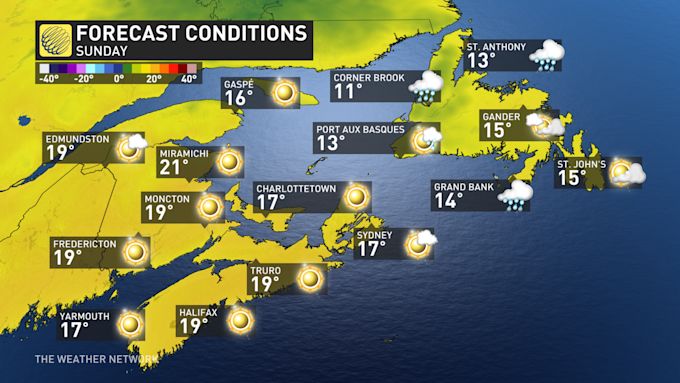 Conditions will remain a little dicey across Newfoundland and Labrador as Fiona continues to weaken and pull north. Gusty winds and rain will continue for parts of western Newfoundland, Labrador, and northeastern Quebec heading into the first half of Sunday. Inland sections could even see snow.
Make the most of Sunday's pleasant conditions if you have any cleaning up to do, because Monday is going to be a raw day across the Maritimes.
A quick-hitting low-pressure system will scoot into the region from New England to begin the week. This system will produce widespread rainfall beginning early Monday morning and lasting into the day. Rainfall amounts could total 20 mm in some coastal locations.
The precipitation will be accompanied by breezy conditions, with wind gusts of 40 km/h possible in spots. While those winds aren't very high, trees and power lines that are stressed or damaged from Fiona could give way.
Looking ahead: A much calmer week, still watching the tropics
Things look much better across Atlantic Canada beyond Monday. Once the early-week system moves along, we'll see calmer and milder conditions throughout the region heading into the end of the week.
Temperatures will come in slightly above-seasonal for most folks, with a chance for scattered showers on Tuesday and Wednesday.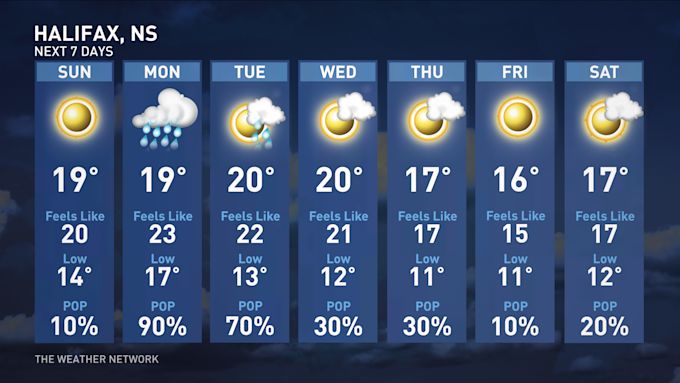 Forecasters will closely monitor the progress of Tropical Storm Ian down in the Caribbean this week.
The U.S. National Hurricane Center expects the storm to grow into a powerful hurricane in the Gulf of Mexico by early next week. Depending on the storm's development and future track, we may have to watch the system or its remnants around next weekend.
WATCH: Wild waves make roads impassable during Fiona
Thumbnail courtesy of NOAA.
Stay tuned to The Weather Network for the latest conditions across Atlantic Canada.