Tuesday, September 27th 2022, 11:57 am - From howling winds to gigantic waves, here's a closer look at Fiona.
Atlantic Canada continues to clean up after Fiona crashed into the region, packing strong winds and heavy rain.
Here's a look at the historic storm, in numbers.
500,000(+): At the height of the storm, more than half a million homes and businesses in Atlantic Canada lost power.
200: At least 200 people in Cape Breton were forced to leave their homes after their residences sustained significant storm damage.
100: On Sunday, P.E.I. premier Dennis King announced 100 military personnel would be deployed to the province to help with clean-up efforts.
The weather: By the numbers
Wind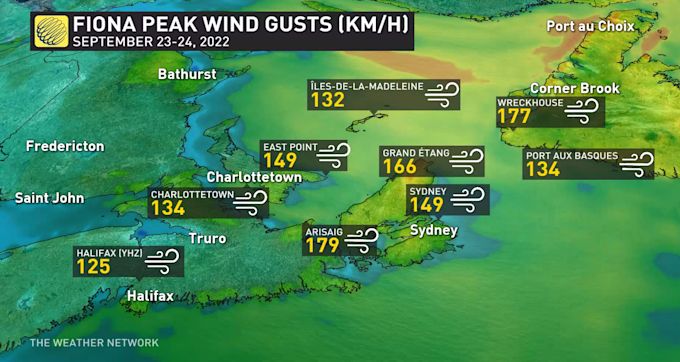 A peak wind gust of 179 km/h was recorded in Arisaig, Nova Scotia - more than strong enough to uproot trees and damage homes.
Several cities recorded their second-strongest wind gust on record, with 2003's Hurricane Juan still maintaining the strongest wind gusts in several areas.
Îles-de-la-Madeleine tied with their record during Fiona, with a wind gust of 132 kilometres per hour.
VIDEO: Intense winds send waves crashing over the road
Rain
Osborne Head, Nova Scotia recorded 192 mm of rain - the most in the region.
VIDEO: Fiona aftermath in Rustico, P.E.I.
Recordbreakers
Sea level low pressure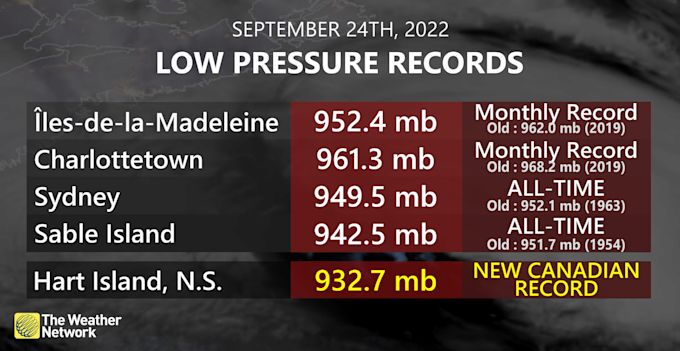 Fiona tracked over Hart Island with a preliminary mean sea level low pressure of 932.7 mb - making it the lowest recorded pressure in Canada. It replaces the prior record of 940.2 mb, recorded on January 21, 1977, at St. Anthony, NL.
Flooding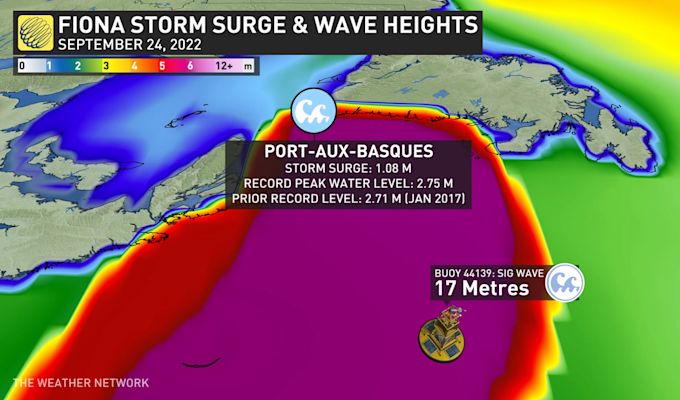 Port aux Basques experienced record-breaking floods, and it was due to several factors:
The Port aux Basques station recorded its highest water level on record at__ 2.75 metres__, replacing the 2017 record of 2.17 metres.
Storm surge topped 1.08 metres.
Wave heights were extremely high, unlike during the 2017 peak, where wave heights were low.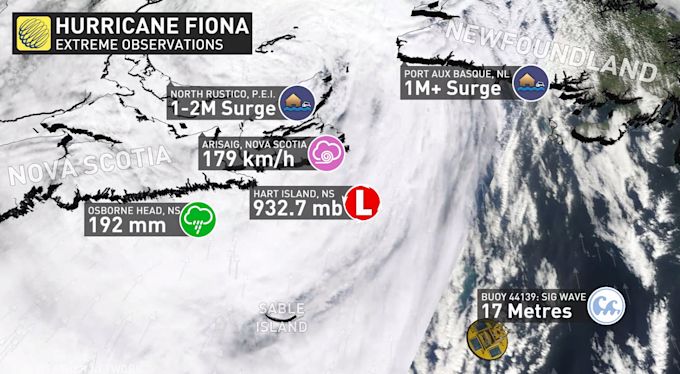 "All three of these factors combined lead to historic damage and loss of life from flooding in Port aux Basques," explains Weather Network meteorologist Matt Grinter.
VIDEO: Fallen trees, damaged homes in Fiona's wake