Thursday, October 31st 2019, 6:22 pm - Wildfires seem to be getting worse every season for the state of California and statistically this has been found to be true. Here we explore how a fire can start and spread in a matter of minutes.
The California wildfire season starts well before the fires begin. A wet season throughout the winter months can set the stage for a very active wildfire season the following fall, and this is exactly what happened in 2017, 2018 and now the current season of 2019.
The reason for this is that greater amounts of rain and snow contribute to higher vegetation growth, which then decays into fuel that can burn during the fall fire season.
California saw their most destructive wildfire season in 2017, which was then followed by the catastrophic Camp Fire in 2018 that destroyed 18,000, claimed at least 85 lives and became the most destructive fire of that season.
The Kincade fire, which began burning this October north of San Francisco, has scorched over 73,000 acres in the state's iconic wine country. In southern California, the Getty fire has burned over 600 acres in West Los Angeles and forced evacuations from over 7,000 homes.
THE TRIGGERS FOR WILDFIRES, HOW THEY START
There are many wildfire triggers in California, however most fires are caused by humans. It can take as little as a spark from a car on a highway, or someone dropping a cigarette in an extremely dry area.
Larger triggers include downed power lines from strong winds and electrical fires have been blamed for some of the largest and most destructive fires across the state, such as the Camp fire in 2018 that scorched over 153,336 acres. Arsonists and illegal campfires from hunters and tourists in no-burn zones have also been the source of large, deadly wildfires every season.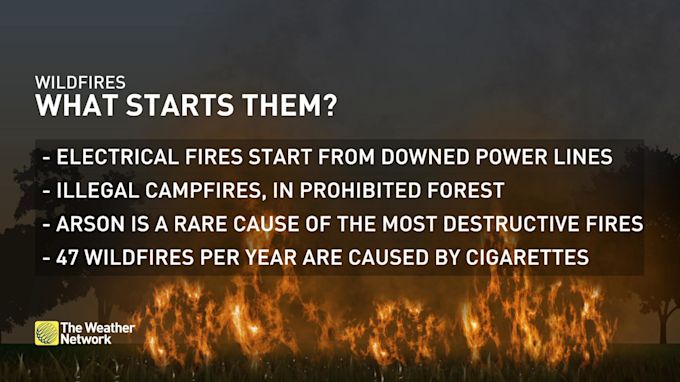 HOW THEY SPREAD SO QUICKLY AND BECOME SO DEADLY
When it comes to California, the main reason fires spread so quickly is directly due to winds. There are many local names of winds that occur in California and all of them are due to differing large scale wind flow and topography across the region.
Winds circulate clockwise in southwestern regions of the desert when a strong area of high pressure is in place. This forces winds from the northeast to flow down the southern mountains and accelerate through the canyons, which can gust at over 130 km/h and spread fires at a deadly speed.
These warm and dry winds known as the Santa Ana winds and are the number one fire spreader in southern California. The same type of winds can happen in northern California and are known as Diablo winds.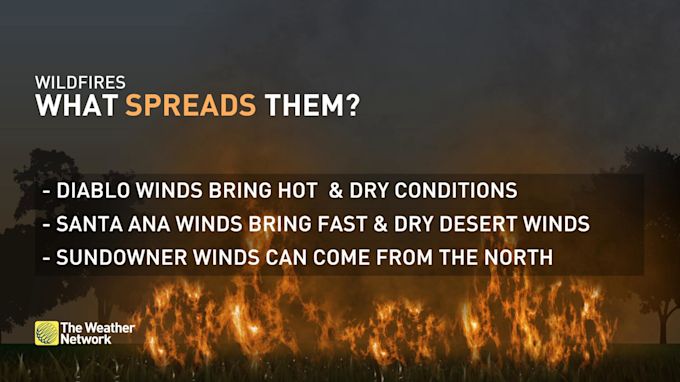 This season, the National Weather Service issued an unprecedented "extreme red flag warning" for residents of much of Los Angeles and Ventura counties near the Getty fire as winds picked up and threatened to spread the fire farther and faster. This warning has never been issued before and could become an alert that we may see more frequently in the future.
WATCH BELOW: WHAT THE SANTA ANA WINDS ARE AND HOW THEY SPEAD WILDFIRES