Friday, April 15th 2022, 8:26 pm - The remnants of the Pacific's Typhoon Malakas will lead to a stretch of chilly and stormy weather for Eastern Canada later this week.
Eastern Canada's chilly weather next week will stem from the influence of a powerful storm half a world away.
The effects of a recurving typhoon in the Pacific Ocean will flutter downstream this weekend, affecting weather conditions across Eastern Canada next week. Even though the air will have a tropical influence, it won't feel tropical at all. In fact, this warm typhoon will make it downright chilly—with a chance of snow, to boot.
---
GET THE LATEST: Sharp cooldown, more unsettled weather on Central Canada's doorstep
---
TYPHOON MALAKAS' REACH STRETCHES ACROSS CANADA INTO NEXT WEEK
There's no greater testament to how tightly the atmosphere is interconnected than when the cascading effects of a storm influences weather conditions thousands of kilometres away.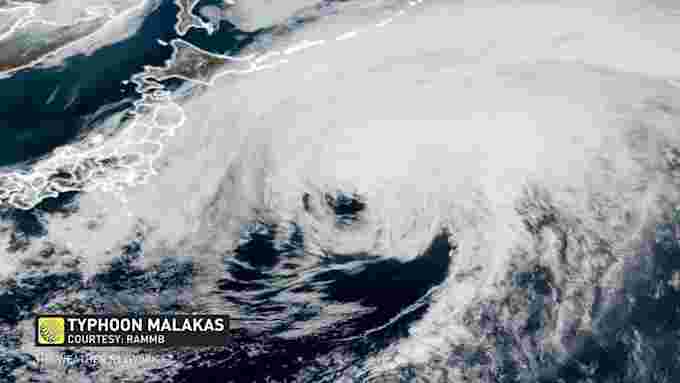 Typhoon Malakas grew into a strong storm as it traversed the western Pacific Ocean this week. The typhoon began to weaken as it picked up speed and recurved toward the northern Pacific.
Even though the storm itself is long gone, the remnant energy that once made the core of Typhoon Malakas is caught up in the jet stream and heading toward Canada.
A WAVY JET STREAM MEANS SPRING GOES ON HIATUS—AGAIN
This typhoon's influence will help to amplify the jet stream, leading to a steeper ridge over Western Canada and a sharper trough over Eastern Canada. Watch the animation below to see the system's remnants as they approach British Columbia.
Ridges don't lead to much exciting weather, but that trough over the eastern half of the country will make it feel more like late February than late April.
The below-seasonal temperatures spreading over Ontario and Quebec this weekend will stick around heading into the middle of next week as the trough swoops down over the region. This pattern will also influence a storm system heading our way on Monday and Tuesday.
The combination of a sharp trough, a slug of below-seasonal air, and infusion of tropical moisture from the Atlantic Ocean could make things interesting as this storm revs up and rolls through the region.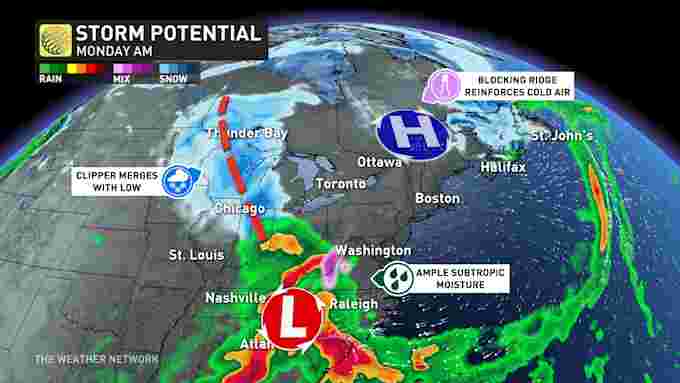 It's still too early for many specifics on what this storm could entail, but the system could produce widespread precipitation across Ontario, Quebec, and Atlantic Canada through next week.
Thankfully, this pattern won't last for too long, and it looks as though a ridge will build back behind the system late next week and allow warmer-than-seasonal temperatures return.
Stay tuned to The Weather Network and check back frequently through the weekend as our forecasters monitor new developments and refine their forecasts.