Friday, February 4th 2022, 10:20 am - Here's an inside look at how a major winter storm managed to stretch more than 4,500 km across the United States and Canada this week.
A continuous stretch of snow and ice extending from Texas to Newfoundland is hardly something we see every winter, but it's the setup we've dealt with this week as a wide-reaching storm drapes across the eastern half of Canada and the United States. The system has it all: heavy snow, significant freezing rain, accumulating ice pellets, and even deadly tornadoes. Here's an inside look at how this storm grew so large, and why it's causing so much damaging ice along its path.
WE'VE SEEN EVERYTHING FROM HEAVY SNOW TO TORNADO WARNINGS
At the height of the storm, an unbroken chain of winter weather alerts extended from the U.S./Mexico border in Texas to the heart of Newfoundland, an astounding expanse of land covering thousands of kilometres and hundreds of millions of people.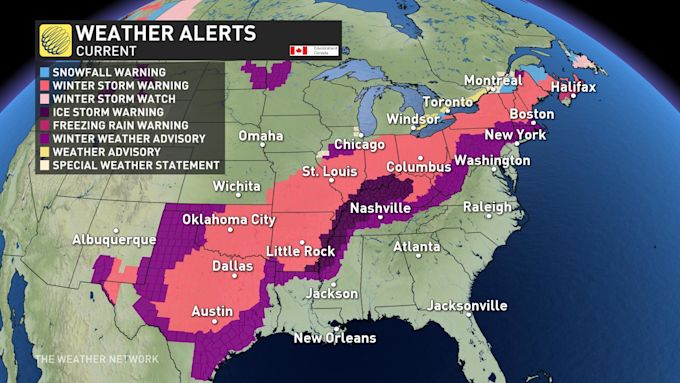 (A look at the weather alerts that were in effect on Feb. 3, 2022)
The system lived up to its promise in most areas. Communities in parts of the U.S. Midwest saw 30+ cm of snow this week, which is a significant thump for a region where most winter storms are typically starved for moisture.
Hundreds of thousands of homes in the U.S. were without power on Thursday afternoon as a result of the storm's prolific freezing rain causing widespread damage to trees and power lines.
This storm's impacts haven't stopped with wintry weather, either. Severe thunderstorms developed on the warm and humid side of the system in the southeastern U.S. A deadly tornado struck Sawyerville, Alabama, on Thursday afternoon, killing at least one person and injuring several more, according to local news reports.
It's been a mess on the Canadian side of the system, too—and the worst is yet to come. Bursts of snow led to slick roads across Ontario and Quebec that snarled multiple commutes on Wednesday and Thursday. Dangerous travel conditions contributed to dozens of wrecks.
---
GET THE LATEST: High-impact Atlantic storm threatens power outages, travel troubles
---
The Atlantic provinces are next in line to see significant impacts from this sprawling storm, where heavy snow and a bonafide ice storm are in the forecast through the beginning of the weekend.
A CLASH OF TWO AIR MASSES LED TO AN ACTIVE STORM TRACK
It takes an impressive pattern to create so much active weather across such a large area of the continent, and we've witnessed one such pattern this week.
A trough over Central Canada helped cold air spill south out of the Arctic. Meanwhile, a ridge over the Atlantic coast allowed warm and moist air to surge northward, sending temperatures well above seasonal for the eastern seaboard.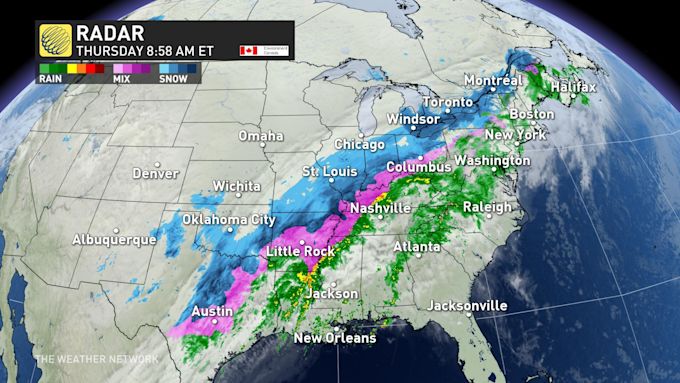 A cold front along the leading edge of that Arctic air stalled out as it pushed into the eastern halves of the U.S. and Canada. This boundary served as an atmospheric conveyor belt that allowed multiple waves of wintry weather to scoot from southwest to northeast.
Warm, moist air flowing north over the cold front led to a widespread area of precipitation on Tuesday and Wednesday. We saw the whole spectrum of wintry precipitation along this boundary, with rain in the warmer air and snow falling where the Arctic air was locked in place.
However, the complicated mixture of warm air and cold air above that boundary led to an icy mess for many communities.
WATCH: THE SCIENCE BEHIND FREEZING RAIN
FREEZING RAIN IS A SIGNIFICANT RISK
Warm air in close proximity to a winter storm is bad news for folks hoping to avoid power outages. Warm air tends to rise up and over cold air hugging the surface. As snowflakes fall into this layer of warm air aloft, the snowflake begins to melt before falling back into the cold air near the surface.
The amount of melting the snowflake endures determines whether or not you see ice pellets or freezing rain. If the snowflake only partially melts, the water can refreeze around the remaining ice crystals and freeze the droplet into an ice pellet.
If the snowflake completely melts, however, the newly formed raindrop can't refreeze because it doesn't have any ice crystals left to latch onto. This raindrop becomes supercooled—the temperature of the water falls below freezing—and the droplet freezes on contact with any exposed surfaces outside.
We've seen so much warm air rise over the stalled boundary draped across the U.S. and Canada that many areas wound up seeing freezing rain even with air temperatures far below freezing. This ice accretion exceeded 20 mm in some areas, which is more than enough to cause significant tree damage and widespread power outages.
WE'RE STILL ON ALERT FOR A FEW MORE DAYS
This is the setup that threatens to bring so much ice to the Atlantic provinces through Saturday.
This boundary will set up right across the Maritimes. Areas north of the boundary will see very heavy snow. Areas south of the boundary are likely to remain mostly rain. But right along that boundary—including most of Nova Scotia and the Avalon Peninsula—we'll see a prolonged period of freezing rain and the potential for widespread tree damage and power outages.