Sunday, June 21st 2020, 8:12 am - Parts of the Maritimes continue to deal with sweltering heat as the weekend comes to a close, though coastal areas will see some relief. Across the gulf, Newfoundland will see temperatures begin a gradual recovery to more seasonal levels.
The searing heat that has dominated much of the Maritimes the past few days will ease off somewhat in coastal areas of Nova Scotia Sunday, but New Brunswick won't see any relief just yet. The streak of record-breaking daily highs continues after a few more were established Saturday. Meanwhile, Newfoundland sees temperatures start a slow return to more summer-like conditions. We have the details, below.
Visit our Complete Guide to Summer 2020 for an in-depth look at the Summer Forecast, tips to plan for it and much more
---
WEATHER HIGHLIGHTS
New daily record daytime highs set Saturday
Sunday will see sizzling heat persist in New Brunswick, varied elsewhere across the Maritimes
Newfoundland temperatures gradually begin recovering into the new week
Keep on top of weather ALERTS in your area
---
STREAK OF RECORD-SETTING HEAT CONTINUES
Again, parts of the Martimes saw new daily temperature records set Saturday, two in New Brunswick and one in Nova Scotia.
Grand Manan: 30.2°C | Previous daily record was 28.4°C in 2001.
Woodstock: 32°C | Previous daily record was 31.7°C in 1951.
Kejimkujik (National Park): 33.3°C | Previous daily record was 31°C in 2001.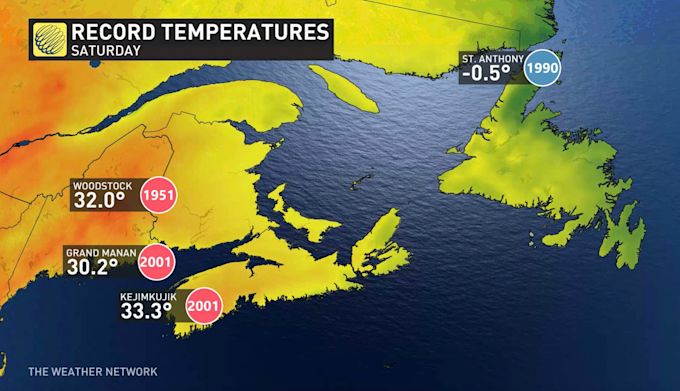 Meanwhile, below are the locations that broke daily and/or all-time monthly temperature records on Friday, June 19.
Miramichi: 37.2°C (new monthly, daily) | Previous daily record was 35.6°C in 1895. | **Previous all-time June high temperature was 36.7°C.
Moncton: 35.6°C (new monthly, daily) | Previous daily record was 32.8°C in 1923. | **Previous all-time June high temperature was 34.4°C.
Fredericton: 35.3°C (new daily) | Previous daily record was 33.9°C in 1923. | **All-time June high temperature is 35.3°C.
SUNDAY AND BEYOND: SLIGHT COOLING FOR SOME, CONTINUES FOR OTHERS
Some relief from the heat is expected in the Maritimes Sunday, but mainly for coastal areas in Nova Scotia due to a marine influence that will moderate temperatures. Eastern and southwestern Nova Scotia may only see daytime highs hit the upper-teens, but they will be warmer the further inland you go.
Meanwhile, inland areas of New Brunswick will continue to deal with extreme heat, with temperatures near, at or above 30°C. The humidity will make it feel closer to the mid- or upper-30s. The 30-degree temperatures will likely continue through Tuesday.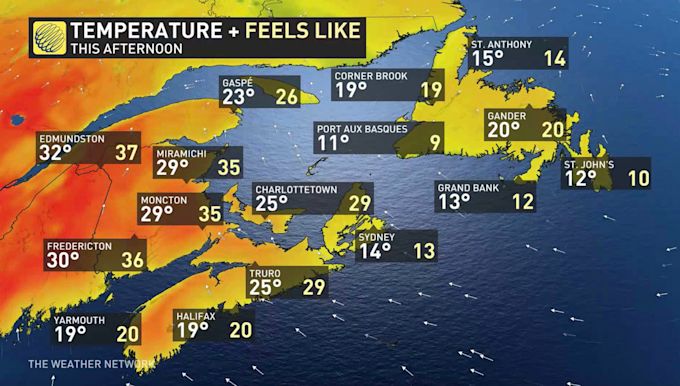 In Newfoundland, a passing ridge of high pressure will bring slightly warmer temperatures, and will continue to rebound over the next few days. By Tuesday, daytime highs will return to the 20s in the Avalon as a result of the southerly flow.
Beyond the weekend, Atlantic Canada will continue to be very warm next week, but not nearly as hot as the current scorcher across the Maritimes. At this point, it appears unlikely that the Maritimes will see any widespread, and much-needed, rain through at least the middle of next week.
Check back for updates as the forecast unfolds
HOT WEATHER PERSISTS IN HALIFAX, NEW WATERFRONT SPACE OPENS