Saturday, April 24th 2021, 10:00 am - After a late-season shot of snowfall, hope returns for warmer temperatures across southern Ontario for the end of April.
The weekend will get off to a pleasant start in southern Ontario, with seasonable temperatures and plenty of sunshine. A near-perfect day for those looking to stretch their legs or do some yard work. The afternoon will see a little less of the sun as an approaching system will bring some showers but not until the overnight. Sunday will be far from a washout, with sun returning for some in the afternoon, but temperatures will take a bit of a dive in behind the low, thanks to a gusty, northerly wind. The good news is there's the potential for 20-degree warmth to return by the middle of next week, along with another shot of unsettled weather. More on what we're watching for the last week of April, below.
SATURDAY: MOSTLY NICE DAY, SEASONABLY WARM TEMPERATURES
Saturday will be a gorgeous day in southern Ontario, full of sunshine and seasonal temperatures as the weekend kicks off -- almost a carbon copy of Friday. Any outdoor plans this weekend will be most suited for Saturday.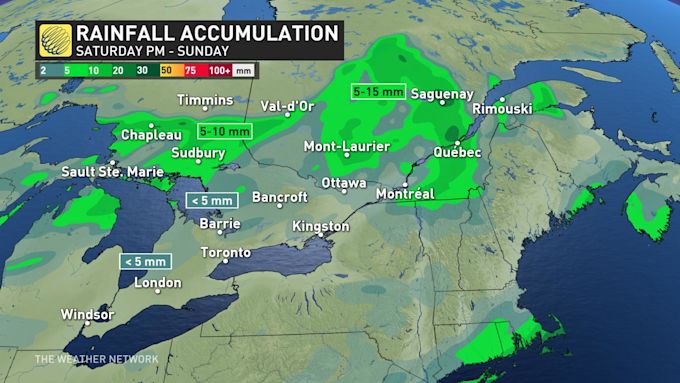 As afternoon drags on across southern Ontario, clouds will begin to increase with the approach of a low-pressure system. However, showers will hold off until the overnight hours across much of the region. Precipitation could manifest as light snow in areas north of the Nickel Belt, with cooler temperatures in place.
The system won't have any potency to it, with minimal rainfall amounts expected. Less than 5 mm for areas near Lake Huron and Georgian Bay, with trace amounts elsewhere. In the north, the Nickel Belt region and areas west may see 5-10 mm.
SUNDAY: SOUTH SEES CLEARING, TEMPERATURE DROP WITH GUSTY WINDS
The rainfall will subside through Sunday morning in the south, but will linger into the afternoon for eastern sections of the province and into southern Quebec.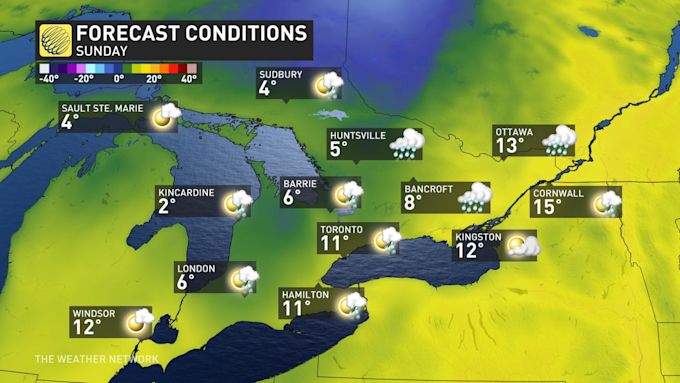 Sunshine will return to southern Ontario including the GTA in the afternoon Sunday, though gusty 40-60 km/h northwesterly winds will help drop temperatures during this time.
LOOK AHEAD: NEXT WEEK STARTS OUT COOL, BUT POSSIBLE 20°C TEMPERATURES RETURNING
Temperatures will be several degrees cooler than normal to start out next week, but 20°C daytime highs are back on the table for the mid-week mark. However, it is not set in stone quite yet as there is a tricky temperature forecast, with very warm air attempting to surge into the region.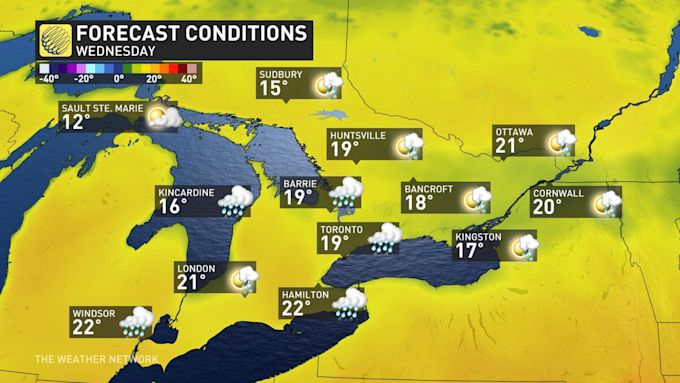 "Exact placement of the warm front and onshore flow off of the Great Lakes will be the key to who sees a taste of early summer (low- to mid-20s) versus more seasonal temperatures," says Dr. Doug Gillham, a meteorologist at The Weather Network.
Despite the threat for rain and possibly a thunderstorm Thursday, temperatures will remain mild before cooling once again after a cold front crosses the region Friday, continuing into next weekend and as we start the month of May.
"However, we're watching the potential for warmer weather as we head further into the first week of May," Gillham adds.
Be sure to check back for updates on the spring temperature rollercoaster across southern Ontario as we head into May.