Wednesday, July 6th 2022, 1:20 pm - The Weather Network's Lexy Benedict visits a local strawberry patch and offers some tips on finding the hidden gems while you pick your own.
Ontario is home to some of the sweetest berries, from raspberries to gooseberries. But to make the most out of berry seasons in Ontario, there are some peak seasons where you can find the freshest of the crop.
From the end of June to early July, strawberries were the star. While you can buy strawberries at any time of the year, the peak season for strawberries is typically from the end of June to just after Canada Day.
This year Reesor's Farm in Markham, Ont., ran a busy pick your own strawberries program, and it ran on a reservation basis, and farmer Jay Reesor said this season has been sweet.
"It was cool, but then we had a couple of blasts of heat…so i'd say it's right on schedule and the strawberries have been looking good."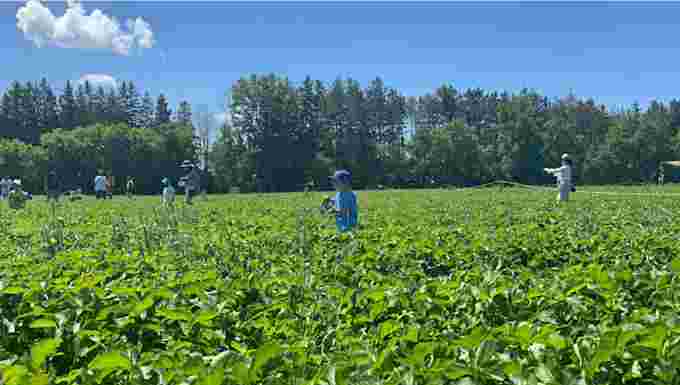 Reesor's have lived and farmed in the Markham/Stouffville Ontario area since their arrival from Pennsylvania in 1804. Since then, many generations of our family has been growing and providing food for the region (Lexy Benedict/The Weather Network).
---
SEE ALSO: How to prevent food from getting spoiled during a power outage
---
Plus, picking your own strawberries arguably tastes a lot better. When picking strawberries, Reesor also offers some great tips for storing them at home.
"When you're picking strawberries, you really have to be looking through the leaves," he explains."I leave the stem on because it lasts better in the fridge."
Not long after strawberry season, we move right into raspberry season. There are approximately 400 hectares of raspberries that are grown in Ontario, but due to high costs and the perishable nature of the fruit, there is a limited supply. Raspberry season kicks off in late July, and runs until as late as October.
In July until around mid-August, Blueberry season peaks. Provincially, there are over 200 hectares of highbush and lowbush berries grown in southern Ontario. Gooseberries and currants peak in July through August, but there's less than 100 acres of these specific crops.
Picking your own berries can be a fun family experience, and a great way to spend a summer day. To find a farm closest to you, check out ontarioberries.com.