Wednesday, June 2nd 2021, 7:30 pm - An extended period of summer-like heat and humidity will make its way into Ontario by Friday, with some helpful rain en route before it locks in.
A weak and disorganized system will bring showers to most of southern Ontario by day's end Thursday, helping take the edge off what's been a prolonged dry spell. But for most people, what's beyond will be more noteworthy: searing heat and humidity, ushered in by a ridge pushing east from Western Canada. By the weekend, temperatures at or near 30°C will feel even warmer with the humidity, and closer to 40 for part of next week. For more on the incoming rain and heat, see below.
Visit our Complete Guide to Summer 2021 for an in-depth look at the Summer Forecast, tips to plan for it and much more!
THURSDAY INTO FRIDAY: HELPFUL RAIN PUSHES IN, TEMPERATURES BEGIN TO CLIMB
From its origins in the southwest late Wednesday, the rain from this system will have spread overnight across the region, such that by day's end Thursday, almost all of southern Ontario will get a helping of beneficient rains.
Rainfall amounts will generally be in the 5-15 mm range, with as much as 20 mm possible for parts of eastern and extreme southwestern Ontario. Amounts will diminish for more northern areas, and most of northern Ontario and the Nickel Belt look to miss out altogether.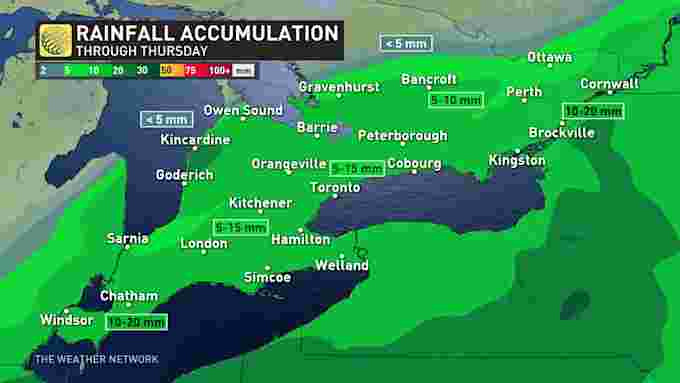 As the system departs, clearing cloud cover could allow a bit of destabilization and a few rumbles of thunder for parts of the south on Thursday afternoon, with a more widespread thunderstorm risk spanning northern Ontario.
Presently, the risk looks to remain non-severe, though any storms that do spark up will feature small hail and locally heavy downpours.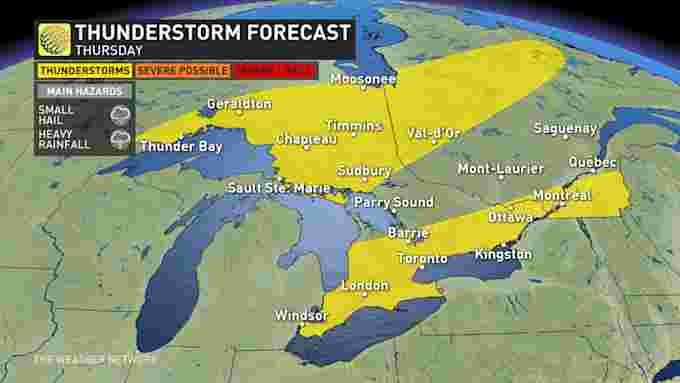 In the wake of this system, a ridge of high pressure settles in above the province, allowing temperatures to begin a gradual climb back into decidedly summer-like territory.
By week's end, daytime highs will be in the mid to high 20s, but the humidity will make it feel closer to 30 – with still hotter temperatures to come.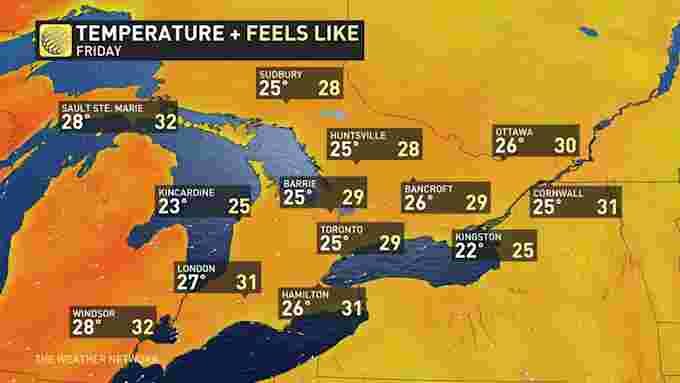 LOOK AHEAD: SEVERAL DAYS OF SUMMER-LIKE HEAT, DRY CONDITIONS
By Saturday, this prolonged stretch of sizzling summer-like heat will lock in, with temperatures reaching 30°C across southern Ontario.
Temperatures will push into the lower 30s across the region on Sunday, accompanied by abundant sunshine.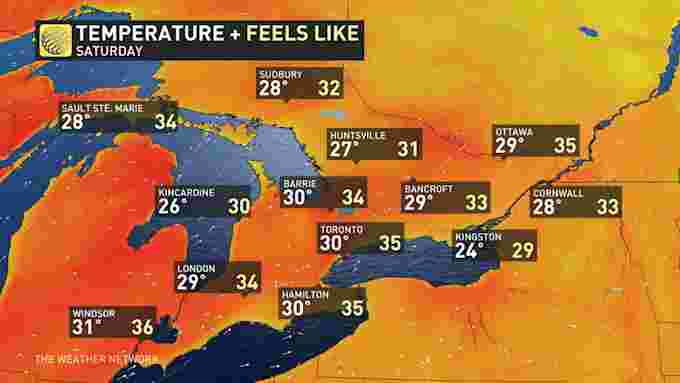 Beyond, you'll have to wait a fair bit for relief: Temperatures will continue to reach the lower 30s most days next week, and even mid-30s are possible, with the humidex reaching the upper 30s, possibly extending into the lower 40s. Some relief from the heat and humidity is possible at the end of next week or on the weekend.
Precipitation-wise, it will be rain-free early and mid-next week, with just the chance of scattered thunderstorms. So it will become very dry across the region once again. The next potential for widespread showers and thunderstorms will be late week when a cold front finally approaches the region.
Stay tuned to The Weather Network for the latest on the incoming heat in Ontario.