Tuesday, June 28th 2022, 7:36 pm - The soggy week in Alberta continues Wednesday, with central and northern areas getting soaked by heavy rain while the south could see more thunderstorms.
--
The final days of June have been quite wet for Alberta, particularly in northern areas where rainfall warnings are in place through Wednesday. Some areas could see 30-50 mm by the time it subsides in the evening. So far this month has been the sixth rainiest June on record for Edmonton airport. Meanwhile, southern areas are under the threat of thunderstorms Wednesday, though it is a rather diminished risk compared to Tuesday. For more on Wednesday's rain and storm threat, see below.
---
READ MORE: Make the sun work for YOU with these solar powered gadgets
---
WEDNESDAY: STORM POTENTIAL SHIFTS EAST, HEAVY RAIN CONTINUES
The low-pressure system responsible for the active weather will begin to shift east on Wednesday, bringing widespread rain and embedded thunderstorms to parts of Alberta, including near Edmonton. The track of the system means much of the heaviest rain will miss southern regions.
Rainfall warnings are in place for the Hinton-Grande Cache and Whitecourt-Edson-Fox Creek-Swan Hills regions. Rain will taper off Wednesday evening.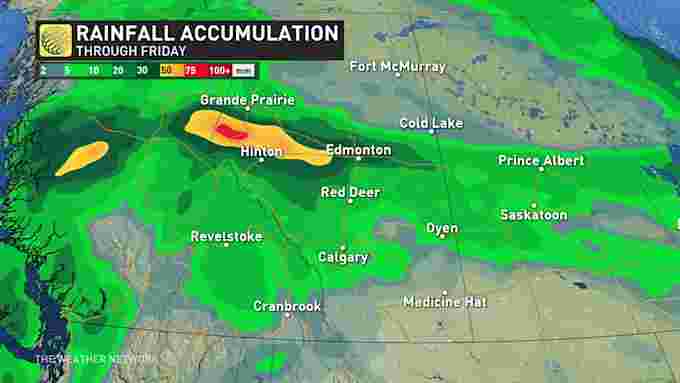 We'll see 30-50 mm of rain along and north of the Yellowhead through Friday, with heavy totals poking into the Edmonton metro area.
Localized flooding in low-lying areas is possible.
Wednesday's thunderstorm threat will follow the low-pressure system as it moves east. However, southern Alberta will still see a non-severe risk of thunderstorms.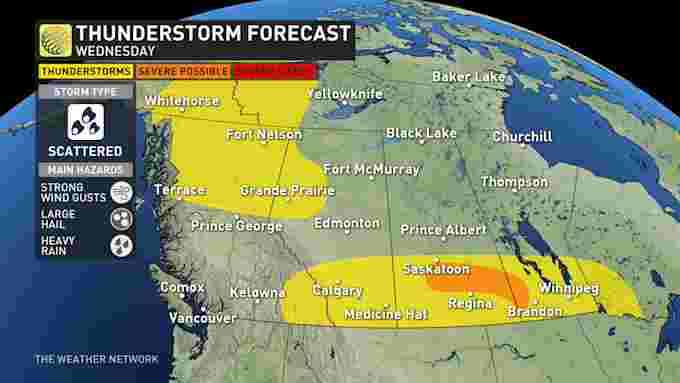 The risk for severe thunderstorms will cover portions of southern Saskatchewan and southwestern Manitoba, bringing the potential for strong wind gusts, large hail, and heavy rainfall.
However, strong capping near the U.S. border could hinder the severe threat in Saskatchewan and Manitoba.
June is shaping up to be quite wet for Edmonton airport, as it is currently the sixth rainiest June on record for the site so far as of June 27. The rainfall expected into Wednesday could be just enough to tip the city into its rainiest June ever.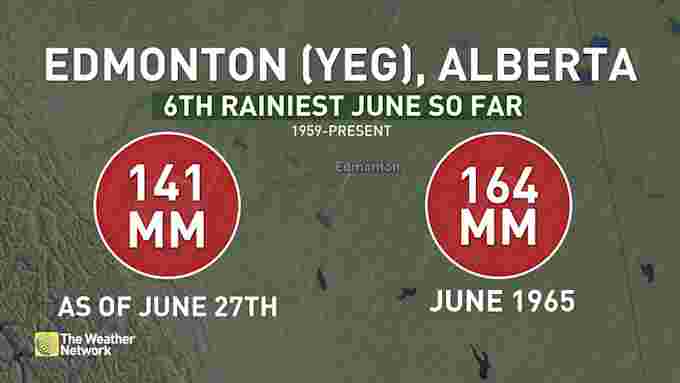 LOOK AHEAD: TEMPERATURES WARMING UP FOR THE LONG WEEKEND
Near or below seasonal temperatures will dominate the rest of this week and weekend.
Warmer weather is anticipated for the Prairies next week with a stretch of days reaching the mid-to-upper 20s, possibly reaching the lower 30s in a few spots mid- and late week, but no excessive heat is expected at this point.
READ MORE: What to pack for your kid's day at camp, according to the forecast
Showers and thunderstorms are expected for parts of Alberta on Canada Day, including Calgary and Edmonton, but it won't be a washout. More unsettled weather on the weekend with scattered showers and thunderstorms Saturday, but more numerous storms on Sunday and Monday, especially across Alberta. An unsettled pattern is expected for Alberta in early July.
Be sure to check back for the latest updates across Alberta.