Thursday, March 18th 2021, 7:30 pm - With spring on the doorstep, parts of Atlantic Canada will be thrown right back into the heart of winter as potent stateside system moves in for Friday.
The potent weather system that brought severe thunderstorms and a destructive tornado outbreak to the southern U.S. is set to impact Atlantic Canada to close out the week. Though not bringing quite as damaging an impact to the region, it will still bring quite a hefty shot of snow to Nova Scotia and Newfoundland, with heavy showers in the latter province as well. Take heart, however: as wintry as this system will seem, beyond are rising temperatures that will leave no doubt what season it will be this weekend. More on the timing and impact, below.
---
Visit our Complete Guide to Spring 2021 for an in-depth look at the Spring Forecast, tips to plan for it and much more!
---
WEATHER HIGHLIGHTS:
Snow continues across Nova Scotia on Friday, while Newfoundland sees a sharp temperature contrast with heavy rain for the Avalon, heavy snow through central areas
Brief shot of colder temperatures in the wake of the system before warming trend later in the weekend
---
FRIDAY: WINTRY WEATHER ROLLS THROUGH THE REGION
The system already began impacting Nova Scotia Thursday night, but people who went to bed with rain falling outside will wake instead to snow, as the cold front drapes itself across the region.
The snow will be heavy for much of the South Coast, and totals as high as 15-30 cm are possible for much of the province, heaviest from Halifax eastward.
As for Newfoundland, the heaviest snow will take a path right through the central parts of the island, with totals in excess of 30 cm not out of the question once the system ramps up there later in the day.
As the front continues to press east, St. John's will switch over to mixed precipitation before ending as snow, though it will experience most of this system as rain, at times heavy.
Rainfall warnings are in place for parts of Newfoundland, with between 30-50 mm of rain expected across the Avalon. Lesser amounts are expected for Nova Scotia.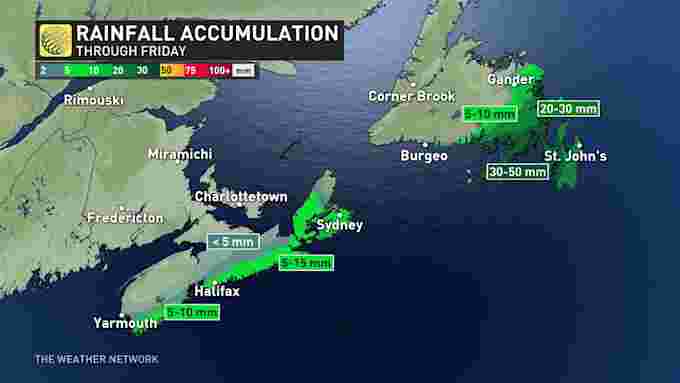 "The frozen ground has a reduced ability to absorb this rainfall," warns Environment Canada. "If possible, storm drains should be cleared before tonight, as a combination of rain, snow melt, and runoff will likely lead to minor flooding in areas where pooling water cannot drain properly."
Strong southerly winds ahead of the front late Friday will also impact the Avalon, with gusts between 80 and 100 km/h expected. As temperatures fall below freezing Friday night, conditions will likely become quite icy as well.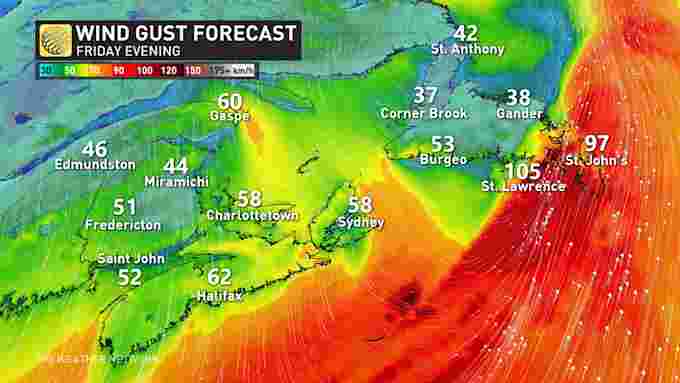 BEYOND: ROSY, DEFINITELY SPRING-LIKE TEMPERATURES
The storm will quickly depart by the weekend, leaving behind sunny skies and a warming trend into early next week.
In fact, things will be feeling more like April and even early May with temperatures reaching the mid to upper teens for the southern and central Maritimes through next week. Couple that with abundant sunshine and there will be no doubt that the seasons have flipped the switch.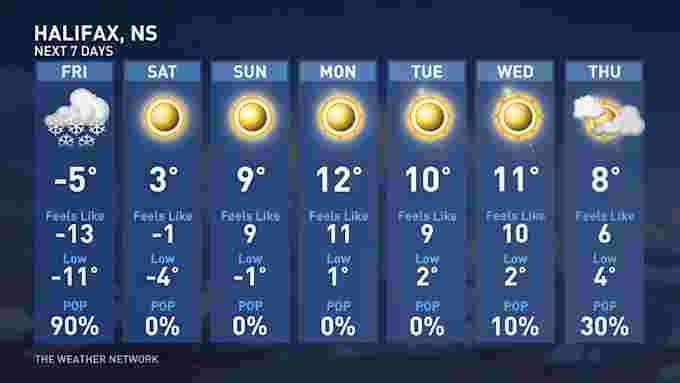 Check back as we continue to monitor the Atlantic forecast.