Tuesday, June 28th 2022, 8:27 pm - Parts of B.C.'s Interior were under severe thunderstorm warnings Tuesday, prompted by storms that initiated Tuesday afternoon.
--
It was an active Tuesday in Western Canada as thunderstorms fired up across the region. Severe thunderstorm warnings were put in place across parts of the B.C. Interior on Tuesday, carrying the threat for strong winds, heavy rain and up-to nickel-sized hail. Meanwhile, watches were issued for other areas of the province.
Stay alert for rapidly changing conditions and have a safe place to shelter in a hurry if your location goes under a warning. More on what to expect Tuesday and into the long weekend, below.
---
READ MORE: 6 long weekend must-haves for parks, picnics and camping
---
THIS WEEK: TEMPERATURES COOL AS STORM RISK RISES
British Columbia's first heat event of 2022 made itself known to start the last week of June. While readings were a far cry from the historic heat we saw a year ago, temperatures climbed into the low- to mid-30s for many spots across the region.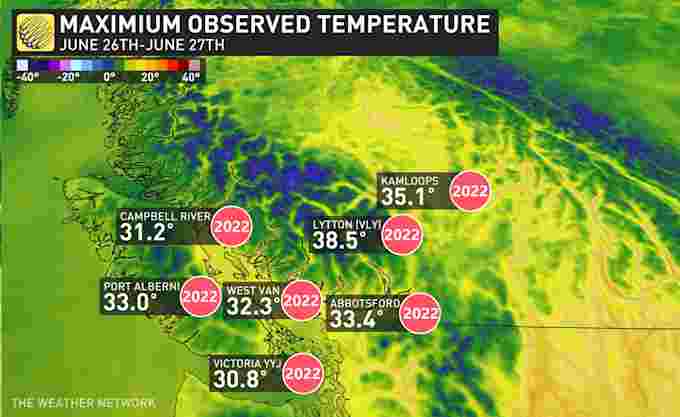 Cooler air pushed inland on Tuesday nixed the South Coast's first heat event of the season.
Tuesday's daytime highs came in much cooler than Monday's toasty temperatures along the coast, while temperatures dropped several degrees across the Interior.
Despite the cooler temperatures, cold air aloft provided enough instability to trigger a round of thunderstorms for some folks in the Interior.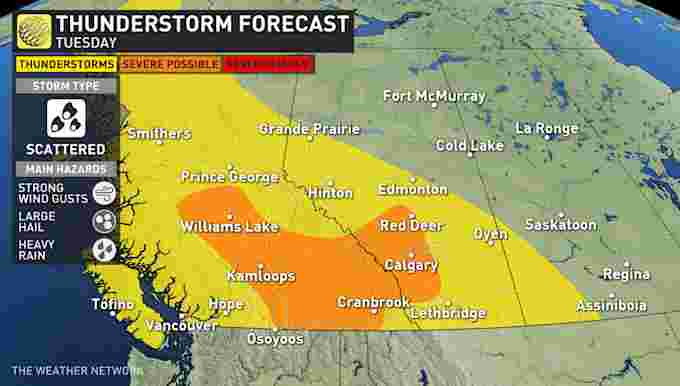 Environment and Climate Change Canada (ECCC) issued severe thunderstorm watches in the morning and warnings in the afternoon once they initiated.
The strongest thunderstorms that formed across the Interior were capable of producing heavy rainfall, strong wind gusts, and hail.
As a result of the heavy rain from a thunderstorm Tuesday, a mudslide impacted an approximate 27-kilometre stretch of Highway 97 between Monte Creek and Falkland. There was blockage from flooding and debris.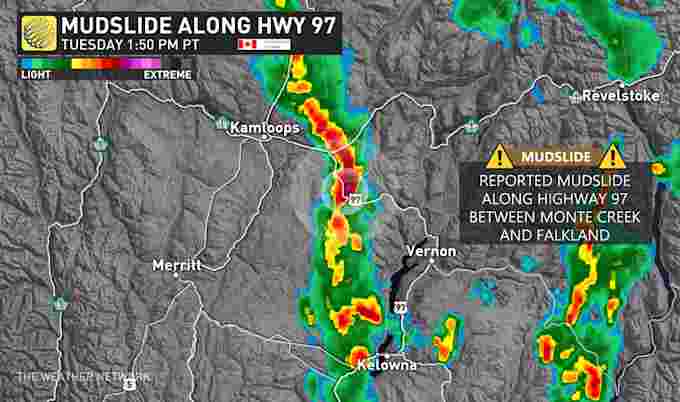 However, the road is now open to single-lane, alternating traffic, according to DriveBC. Proceed with caution and follow instructions from road crews. Expect delays in the area.
READ MORE: Make the sun work for YOU with these solar powered gadgets
Isolated, lingering showers will continue to spiral across B.C. on Wednesday. Conditions will trend drier as we head into Thursday and Canada Day, with temperatures predicted to come in around seasonal for the turn of the month.
Much cooler weather, within a few degrees of seasonal, will continue in the southern sections of B.C. right through the long weekend.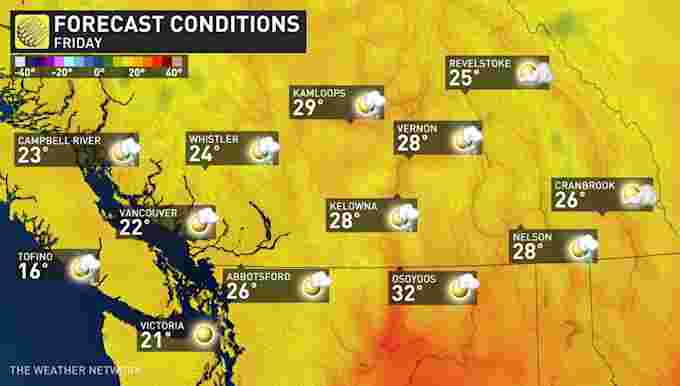 Meanwhile, northern areas will be warmer than seasonal most days this week.
Stay tuned to The Weather Network for the latest forecast updates for B.C.