Friday, August 12th 2022, 8:32 pm - A risk for severe thunderstorms will blanket parts of Alberta and Saskatchewan on Saturday, with supercells possible for some areas.
It's going to be a busy Saturday on parts of the Prairies as hot and unstable air gives rise to the risk for scattered strong thunderstorms. Some of the storms could turn severe, with a conditional supercell risk even cropping up in Saskatchewan. Looking ahead, a long-duration heat event will build over the region. More on what you can expect this weekend and beyond, below.
---
MUST READ: Canada's heat shifts west as summer slowly slips away
---
Saturday: Severe storms eye Alberta and Saskatchewan
We're watching the potential for another round of strong to severe thunderstorms popping up on the Prairies during the day on Saturday.
Warm, unstable air will provide plenty of fuel for thunderstorms to flourish over parts of Alberta and Saskatchewan through the afternoon and evening hours.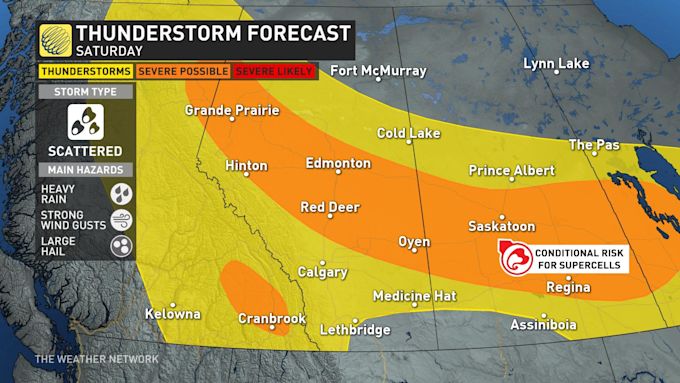 Some of the storms could turn severe, with heavy rainfall, strong wind gusts, and large hail posing the main threats. There's a conditional risk for supercells in Saskatchewan, as well, which could ratchet up the severe risk for any of the thunderstorms that form in this favourable environment.
Temperatures will easily climb into the 30s for southern Alberta and Saskatchewan, with daytime highs poking into the upper 20s as far north as Fort McMurray, where this warmth is about 5-7°C above seasonal for this point in August.
Looking ahead: Long, hot stretch builds across Western Canada
A broad ridge of high pressure building south of the border will begin to exert its influence over Western Canada beginning this weekend.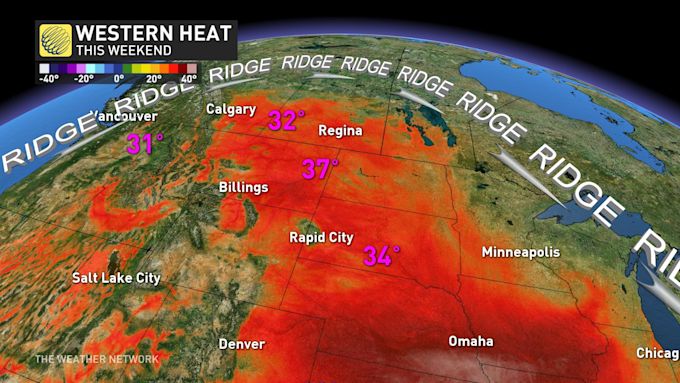 The ridge's resulting hot temperatures will last well into next week.
We can expect a long duration stretch of high temperatures in the 30s for the southern Prairies. The extent of the 30-degree daytime highs could start to approach monthly record territory for Medicine Hat as we head through the middle of the month.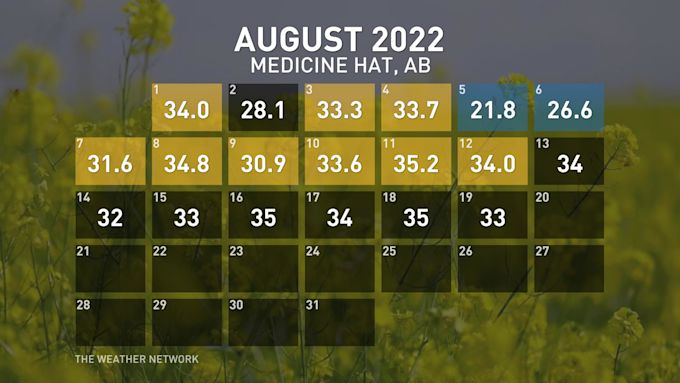 Stay tuned to The Weather Network for the latest on the Prairies' storm threat.