Wednesday, May 26th 2021, 8:00 pm - A crashing cold front has banished the sweltering temperatures of recent days, with no truly hot weather expected for the first part of June.
A few non-severe storms rolled through southern Ontario, and reached severe levels for some areas of Quebec, and the system's cold front began the process of bringing temperatures quite a bit down from their early-week highs – as much a 20-degree drop for some areas by week's end. A look at what this cooldown heralds, below.
THURSDAY AND FRIDAY: TEMPERATURES DROP SEVERAL DEGREES BELOW SEASONAL
Though some of Wednesday's storms were briefly severe-warned in Quebec in the afternoon, Ontario was mostly bereft of strong storms, though a few non-severe storms briefly brought heavy local downpours.
More noteworthy for most was the cold front, whose passaged brought temperatures tumbling from their sweltering early-week highs. By Friday, some places are in line for a nearly 20-degree dip from the 30°C daytime highs felt on Tuesday.
"Southern Ontario may fail to even reach the lower teens, with a few spots possibly stay in the single digits," says Dr. Doug Gillham, a meteorologist at The Weather Network.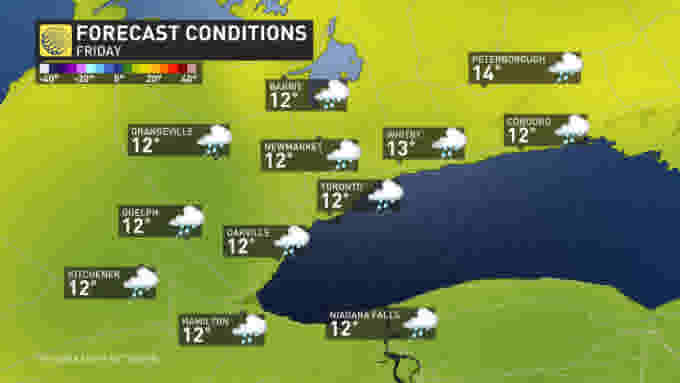 Some widespread light rain is expected late Thursday night and into Friday, and while beneficial, it will be much less than what is needed across the region.
Forecasters are also watching the risk for a possible freeze Friday night, especially for areas well northeast of the GTA, parts of cottage country and into Quebec.
Abundant sunshine will spread through the weekend, though temperatures will be more typical of late April on Saturday. A warming trend is expected for early next week, with temperatures trending back to near seasonal.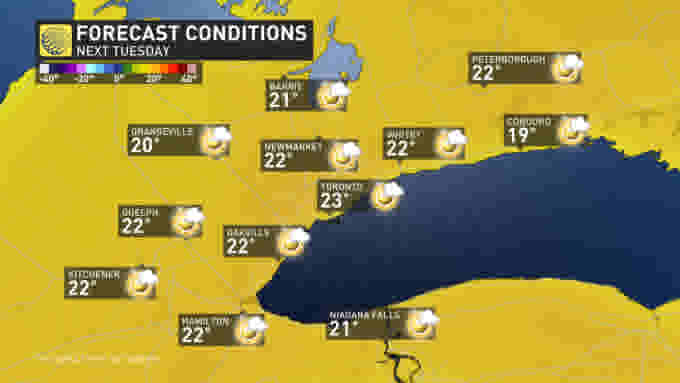 "At this point it looks like the first one to two weeks of June will be near seasonal – no sustained heat is expected," Gillham adds.
Be sure to check back for the latest updates on the weather across Ontario this week.