Monday, January 27th 2020, 8:49 pm - Removing ice from your vehicle prior to driving could prevent a serious accident.
Freezing and warming cycles are common in Canada during the winter, and that can create dangerous conditions due to thawing, melting, and flying ice.
Earlier this year, Martin Burger of Cobden, Ontario was driving on Highway 17 with his 16-year-old son Clark when he noticed a 30-centimetre square chunk of ice that was about 8 centimetres thick flying through the air and headed for his car.
The ice smashed through his windshield, hitting him in the face. He was able to maintain control of his Honda Pilot and steer it off the road, but he sustained significant injuries.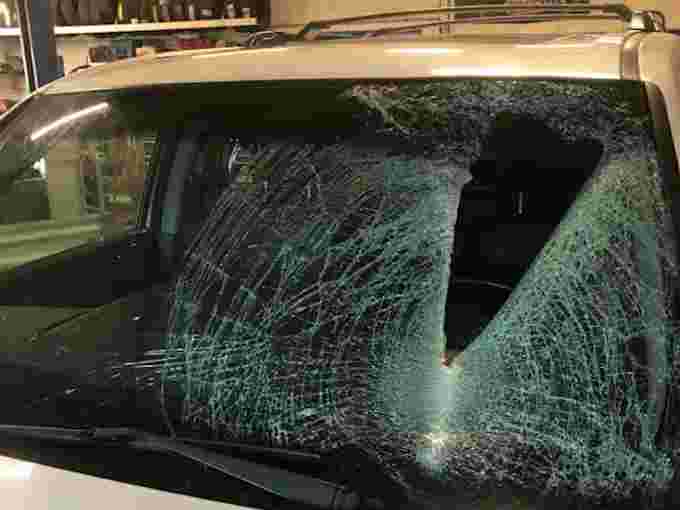 Photo of Martin's car following the incident. Courtesy: Martin Burger.
A large wound on his forehead required eight stitches and he needed additional stitches on his right eyelid, according to the CBC.
Clark was not injured.
"It has been one week now since the accident. The lacerations are healing quickly and I am feeling better each day," Burger told The Weather Network Friday via email, adding his doctors anticipate a full recovery.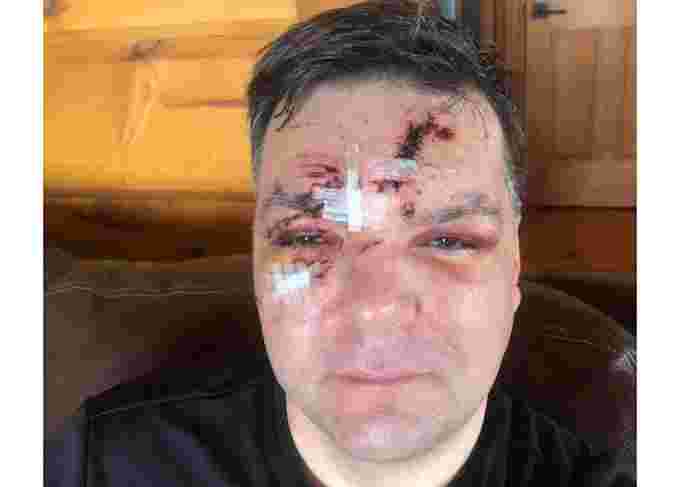 Photo of Burger after the accident. Courtesy: Martin Burger.
Burger posted photos of his damaged car to Facebook, with a reminder to clear ice off your vehicle before driving.
" If you are unable to clear the ice from your vehicle please ask someone to help," he says.
"Be mindful of the potential that could happen if the ice flew off the car into another car's windshield."
Here are some tips on how to avoid a flying ice incident.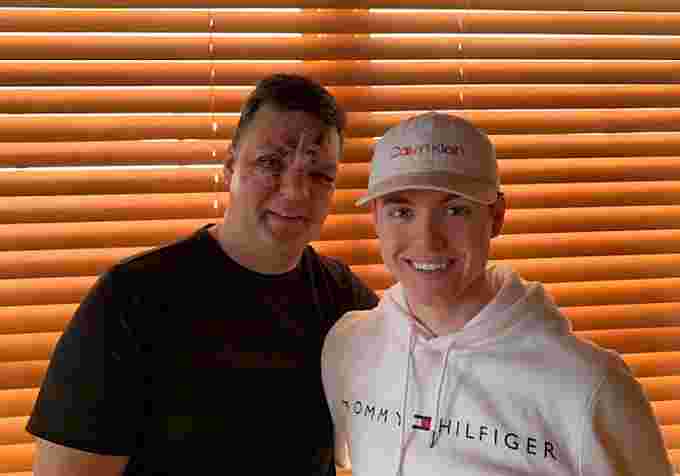 Martin and his son Clark, who was in the car at the time of the accident. He was unharmed. Photo courtesy: Martin Burger.
BE AWARE: SHEETS OF ICE COULD FLY OFF TRANSPORT TRUCKS AND OVERPASSES
Falling ice coming off of a vehicle or overpasses is always a hazard, during and in the days following an ice event Sgt. Schmidt tells The Weather Network.
While there isn't a lot you can do to avoid it in the moment, Schmidt says it's important to be proactive with your vehicle.
"[Ice] can become a flying projectile once you hit highway speed ... and the vehicles behind you really have no chance to avoid it," he says, adding there's no law that requires transport truck operators to clear the ice off their trucks.
The best way to mitigate risks on the roads is to keep a safe distance behind other vehicles and be aware of your surroundings.
But sometimes, falling ice incidents are unavoidable.
PEDESTRIANS: KEEP YOUR EYES TO THE SKY, BUT WATCH WHERE YOU WALK
So what can a pedestrian do to avoid colliding with a sheet of ice or icicle?
Schmidt says the best course of action is to keep your eyes open and peeled towards the sky.
"If you're walking under any structure -- crosswalk, overpass, bridge, etc. -- where there may be ice or water or icicles handing down from above, just be careful," he says.
Another thing to keep in mind: Any partially-melted ice that's coating the ground will be extra slippery.
On average, more than 60 people in Canada visit an emergency department daily for injuries relating to snow and ice, according to a 2009 report by the Ontario Injury Prevention Resource Centre. In 2005, Canada saw 21,213 emergency department visits and 2,038 hospitalizations relating to ice and snow.
Older adults are the most susceptible.
Wearing shoes with good grips, taking your time and being aware of surroundings is the best defense.
VIDEO: ICE FALLS FROM THE SKY IN DOWNTOWN TORONTO (2017)
WIND AND SUN CAN EXACERBATE MELTING ICE
It doesn't take a lot of wind to dislodge ice and transport it to a wider area. And here's something else to keep in mind: The sun doesn't have to feel warm to melt the ice.
When the sun shines on ice, it absorbs UV rays that can cause it to warm and melt, even if the temperature is chilly.
Other objects -- like trees or buildings -- can warm up even more and accelerate ice melt which can, in turn, cause pieces to fall.
BEWARE OF PREVIOUSLY-FROZEN BODIES OF WATER
No ice is safe ice, according to Sgt. Schmidt, and that's especially true after a warm-up.
Previously-frozen bodies of water should be treated with extreme caution or outright avoided. If you'll be venturing near a large body of ice, consider bringing ice picks and don't go alone. Make sure there's someone on land who can keep track of you.
Another thing to keep in mind: Thawing ice also presents the risk of flooding on roadways, in parks and on streets.