Florida angler catches unusual 'tortilla' fish
Friday, September 10th 2021, 3:24 pm - The forbidden tortilla.
Strange things are lurking in the sea, as evidenced by the unusual-looking fish captured by a Florida angler. Tom Bosworth of Tampa Bay says of the 200 species of fish in his area, his recent find was "one of the stranger ones I've ever caught."
He caught the fish, which resembles a tortilla, on March 31 while out with friends, but it was only identified as an orange filefish (Aluterus schoepfii) in an August 27 Facebook post by the Florida Fish and Wildlife Conservation Commission (FFWCC).
"The Bay is divided into the sections, lower, middle and upper Tampa Bay. We were in middle Tampa Bay near 'Little Cockroach Bay," Bosworth tells The Weather Network in an email.
"We were in 6 feet of water [1.82 metres] and using shrimp for bait and the shrimp were small so I was using a small #1 circle hook. It is likely I would not have caught it had we had larger bait and I had used a larger hook, they have a very small mouth."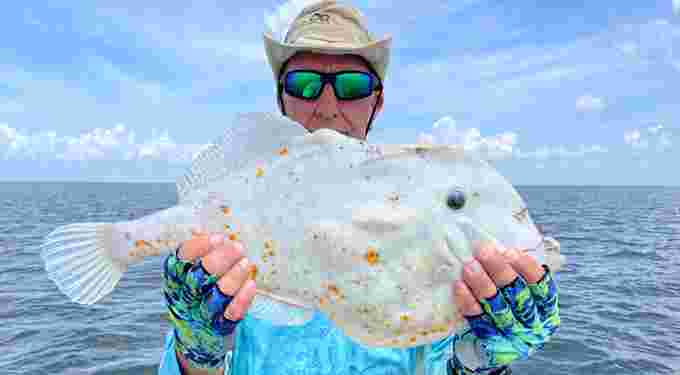 Bosworth and his unusual catch. (Tom Bosworth)
Just as they were about to wrap for the day, he pulled his line out of the water and found the 55-centimeter-long fish.
"I felt a small tug as the my float got closer I thought I had snagged a white plastic bag," he recalls.
"I kept reeling my line in and, as the fish got close to the boat, it dove for the bottom and put up a good fight. We were all surprised when we got the fish onboard. Photos were taken and the fish was quickly returned to the water. We could not identify the fish so I sent a photo to Florida Wildlife."
FWCC says it often receives photos of the fish due to its strange appearance.
Orange filefish may look unusual but they aren't endangered, and you may see them from time to time in aquariums. In the wild, can be found across the Western Atlantic, including in Nova Scotia, as well as along the Eastern Atlantic.
They are rarely consumed by humans. They contain a poison that could be harmful to humans who come into contact with them.