Saturday, June 4th 2022, 8:02 pm - Remain on alert for flooding across B.C. this weekend as steady rain and fast snowmelt cause rapid water level rises.
We're in the middle of a remarkably wet stretch of June weather for much of British Columbia. The ongoing rainfall and deeper-than-normal snowpack will lead to a continued risk for flooding across the province. Rainy weather will continue Sunday as a threat for thunderstorms spans much of B.C. More on what to expect on Sunday and beyond, below.
---
Visit our Complete Guide to Summer 2022 for an in-depth look at the Summer Forecast, tips to plan for it and much more!
---
THIS WEEKEND: HIGH ALERT FOR FLOOD THREAT FROM HEAVY RAIN, SNOWMELT
This weekend's wide-reaching flood threat across B.C. will involve several factors, including a long spell of heavy rain, a deeper-than-average snowpack for June, and warmer temperatures that'll steadily melt that excess of snow.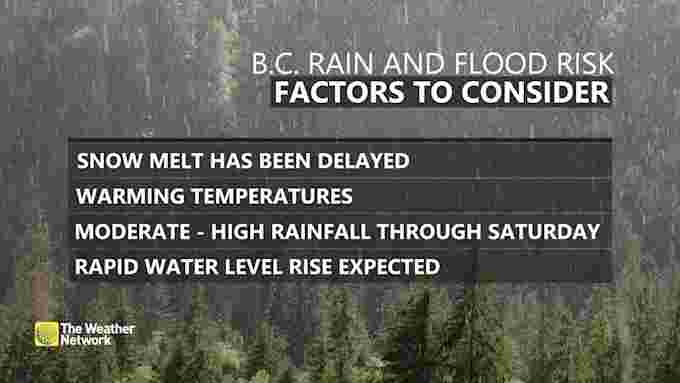 A low-pressure system approaching B.C. from the south will allow a stream of atmospheric moisture to wash over the province.
A heavy slug of rainfall will move onto Vancouver Island through Saturday evening, pushing into the southern Interior through the overnight hours. The heaviest rainfall for Metro Vancouver will arrive Sunday morning or early afternoon.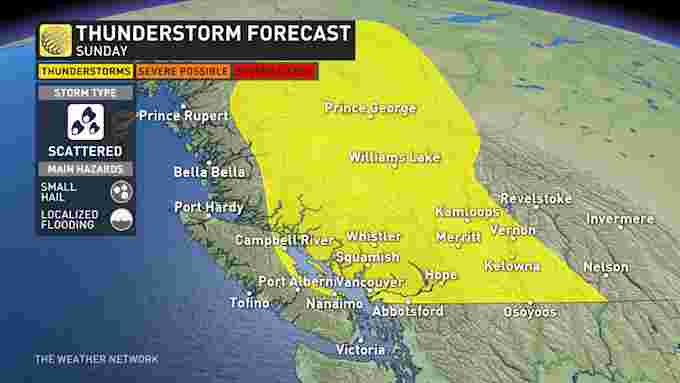 Widespread instability will flow across B.C. behind the low-pressure system, leading to a far-reaching risk for thunderstorms that will stretch from Vancouver deep into northeastern B.C. Scattered thunderstorms are likely through the day on Sunday, with the strongest storms potentially producing small hail and localized flooding from heavy rainfall.
Additional rainfall totals of 30-50 mm are likely across the South Coast, with higher totals expected on Vancouver Island near Tofino, where an additional 75+ mm is expected through Monday.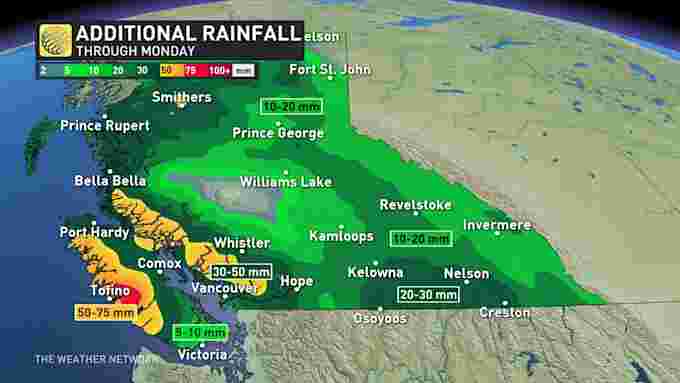 However, the greatest concern for flooding is farther inland toward the Okanagan, where flood watches are currently in effect for areas including the communities of Kelowna, Penticton, Vernon, and surrounding areas. The combination of 20-30 mm of rain, warmer temperatures, and rapid snowmelt will quickly push local waterways out of their banks.
Heavy rainfall begins to taper off to scattered showers for most of the region by Monday.
WATCH: BRITISH COLUMBIA'S 2022 SUMMER FORECAST
"The public is advised to stay clear of the fast-flowing rivers and potentially unstable riverbanks during the high-streamflow period," the B.C. River Forecast Centre said in its flood watch for the Okanagan.
Officials have already issued an evacuation alert for several streets in Grand Forks, B.C., in anticipation of flooding along the Kettle River this weekend.
Remain mindful of the risk for flooding across B.C. over the next couple of days. Never drive across a flooded roadway. It's impossible to judge the depth of the water until it's too late, and it only takes a small amount of water for a vehicle to lose traction.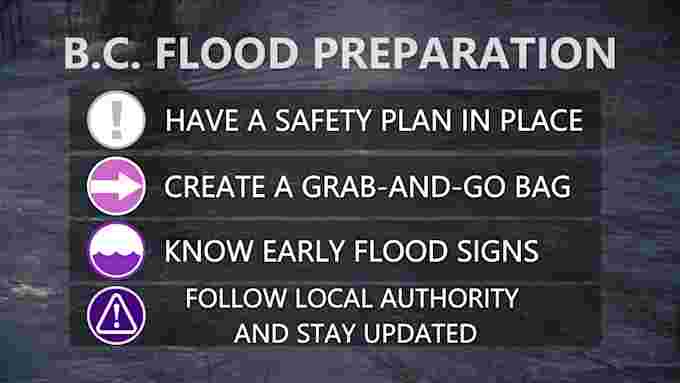 Beyond, a couple days of drier weather is anticipated early to mid-next week, but then forecasters are watching a couple more systems late next week. Temperatures will remain cooler than seasonal; so cool, in fact, that Comox is on track to break its record for the longest wait for the season's first 20°C on record. The latest such reading on record occurred on June 12, 2010.
Stay tuned to The Weather Network for the latest updates on the flood threat across B.C.