Tuesday, February 22nd 2022, 3:00 pm - Learn a little more about the northern lights.
They may seem elusive, but northern lights - or aurora borealis - aren't all that uncommon. But to see them, the conditions have to be just right. Clear, calm, and dark skies create the perfect backdrop for nature's greatest light show.
On that note, here are five interesting facts about the northern lights.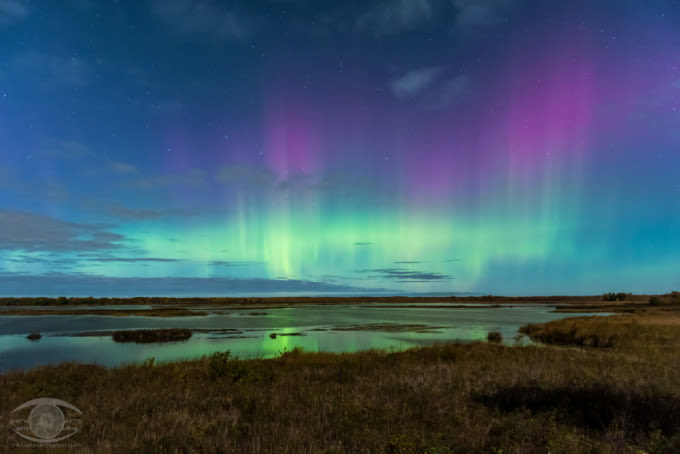 Auroras captured amid a full moon in Camden Lake, Ontario. (Joe Gilker)
1. IT'S ALL ABOUT THE ELEMENTS, BABY
Auroras occur when solar particles collide with the Earth's atmosphere.
The colour variety comes from different gas particles in the atmosphere, as well as the wavelength of emitted light, according to NASA.
Two of the most common elements in the Earth's atmosphere, oxygen and nitrogen, create different types of northern lights. Oxygen is responsible for green and yellowish-green auroras. Blue, purple and reddish-purple auroras are rare in comparison. They're created with the help of nitrogen.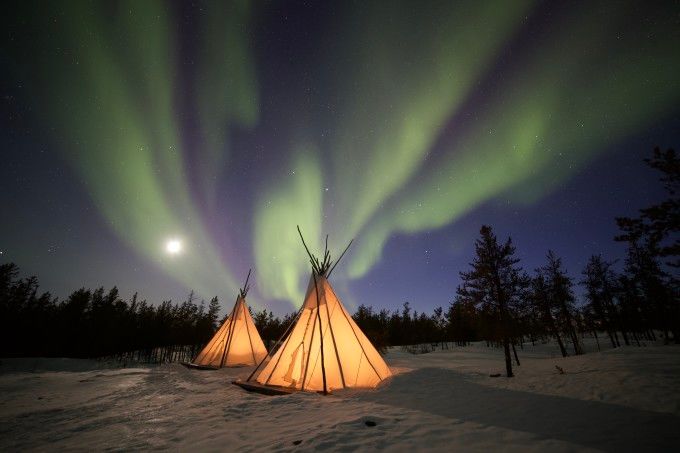 Seen in Courtenay, B.C. (Rob Ross)
2. SEASONAL IMPACT
While auroras are visible year-round, March can be a prime time for catching a glimpse of them.
"During March, the northern lights get an extra boost from Equinox Cracks - small gaps in Earth's magnetic field that form near the equinoxes, when the Earth's and Sun's poles are more aligned," explains Weather Network science writer Scott Sutherland.
"Equinox Cracks can last for days or weeks, allowing more of the solar wind to slip through and ramp up auroral activity."
A beautiful scene in Britt, Ontario. (Trevor Pottelberg)
3. DIFFERENT NAMES
"Aurora borealis" is a term reserved for the western hemisphere. In the southern hemisphere, they're referred to as aurora australis.
Spectacular skies in Innerkip, Ontario. (Karl Karst)
4. OUT OF THIS WORLD
Earth-bound beings aren't the only ones who can see the northern lights:They're also visible from space, making the International Space Station one of the best seats in the galaxy to see Earth's spectacular light show.
(NASA)
The photo above was snapped by NASA astronaut Mike Hopkins while aboard the International Space Station on October 9, 2013.
"The pic doesn't do the northern lights justice," Hopkins said at the time.
"[The auroras]covered the whole sky. Truly amazing!"
5. NO, REALLY: THEY'RE AN OTHERWORLDLY AFFAIR
Earth isn't the only place where auroras occur. NASA has observed them on Jupiter, Saturn, Uranus, Neptune, Venus, and Mars, and on Jupiter's moons, Io, Europa, and Ganymede.
Check out this image of aurora activity seen in Jupiter's atmosphere, captured by the Hubble telescope in July 2016. It's a composite of two Hubble observations, the space agency says.
(NASA/ESA/J. Nichols (University of Leicester))
"Not only are the auroras huge in size, they are also hundreds of times more energetic than auroras on Earth. And, unlike those on Earth, they never cease," NASA says.
"While on Earth the most intense auroras are caused by solar storms — when charged particles rain down on the upper atmosphere, excite gases and cause them to glow red, green, and purple — Jupiter has an additional source for its auroras."
Jupiter's strong magnetic field draws in charged particles from solar winds and Io, which is home to several volcanoes. All those tiny ingredients combine to create spectacular solar storms.
BONUS: NORTHERN LIGHTS LIVE CAM
In honour of International Polar Bear Day on February 27, Polar Bears International and exlpore.org have set up a northern lights live cam in Churchill, Manitoba - the polar bear capital of the world.
Have some northern lights photos you'd like to share? Upload them to The Weather Network!