Tuesday, September 20th 2022, 4:32 pm - A tropical cyclone information statement has been issued for Atlantic Canada, with Hurricane Fiona expected to impact the region this weekend
With Hurricane Fiona blasting through the Carribean with significant and damaging impacts, it will soon churn its way northward across the Atlantic Ocean, possibly eyeing Bermuda along the way.
But, where does it go from there?
RELATED: Turks and Caicos Islands brace for Hurricane Fiona after it slams Puerto Rico
Forecasters are keeping a close eye on potential impacts across Atlantic Canada for this weekend.
"While the exact track is still uncertain, now is a good time to start planning and preparing as there is little doubt that Fiona will have a major impact on the region," says Matt Grinter, a meteorologist at The Weather Network.
Environment and Climate Change Canada (ECCC) issued a tropical cyclone information statement from the Canadian Hurricane Centre (CHC) Tuesday morning. That's as confidence grows with the storm's track over Canadian waters.
Fiona is expected to travel northward this week and transform into a large and potent post-tropical storm by Saturday. Landfall is expected across eastern Nova Scotia or western Newfoundland Friday night or Saturday.
"Currently the range of uncertainty with regard to the centre of the low when it approaches is approximately an 800-kilometre-wide zone (cone of uncertainty) centered near eastern Cape Breton," the CHC said in the statement. "Since we expect the storm to become quite large, the impact area will be very broad."
What is also helping foster the situation is the water temperature, a red-flag signal. It is much warmer than normal, so it will allow the storm to maintain tropical characteristics and delay transition to extratropical cyclone status.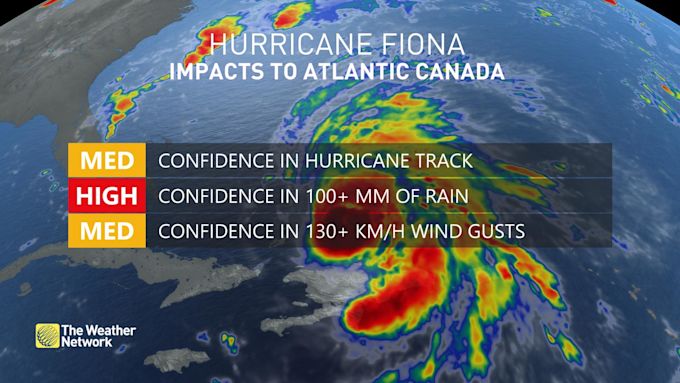 Possible effects parts of Atlantic Canada may see include:
Large waves
Swells
Storm surge
Damaging winds
Widespread power outages
Heavy rain
Flooding
As much as 100+ mm of rain is possible in Atlantic Canada with Fiona. The exact location of the heaviest rain is still yet to be determined, but some computer models are even suggesting as much as 150-200 mm for the hardest hit areas.
"In terms of wind, gusts of 100+ km/h are likely with Fiona," Grinter warns. "A large area will see these winds as the storm starts to transition from a tropical system to post-tropical."
Winds are strongest in the eye of the storm when it is a tropical system. As it starts to transition into a post-tropical storm, those strong winds start to expand throughout most of the system.
"Stronger wind gusts are definitely possible within the storm with some areas even reaching upwards to 150 km/h," Grinter adds.
WATCH: Now is the time for Atlantic Canada to prep for Hurricane Fiona
Stay tuned to The Weather Network for the latest forecast details on Fiona's track and possible impacts on Atlantic Canada.