Saturday, May 21st 2022, 8:30 pm - The May long weekend kicked off with summer-like heat and destructive storms, but Sunday will feature below seasonal temperatures and overcast skies as much cooler air moves in.
The start to the long weekend was hot and humid in southern Ontario, but it came at a cost: Suitable ingredients and a cold front triggered a line of severe thunderstorms -- considered to be a derecho -- that brought damaging winds. On Sunday, the heat will be replaced with much chillier temperatures and leftover rain in the morning, and clouds for the rest of the day. The cool weather continues into next week. See the breakdown what to expect Sunday and Monday, below.
MUST SEE: PHOTOS: Destructive storms in Ontario down trees, debris breaks windows
SUNDAY:
More rain is in the forecast for Sunday morning, thanks to a weak system behind the front, with a much cooler day ahead as a sharp drop in daytime highs are expected.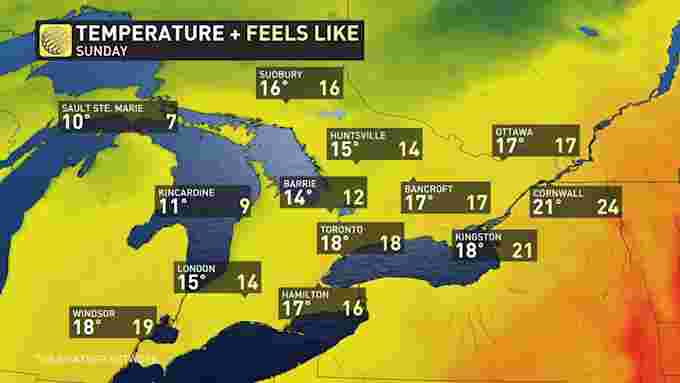 Sunday won't be a washout, but it certainly won't be a pleasant day for any outdoor activity. Clouds will linger in the afternoon as temperatures drop down into the teens, a shock to the system after the summer-like heat the day before.
MONDAY AND BEYOND:
Monday will be the driest day of the long weekend, but it comes at a price.
All of the weekend's heat and humidity will have been swept away by the cold front, leaving behind temperatures that are 2-5°C below seasonal for late May. Widespread daytime highs in the low to mid teens are in the forecast.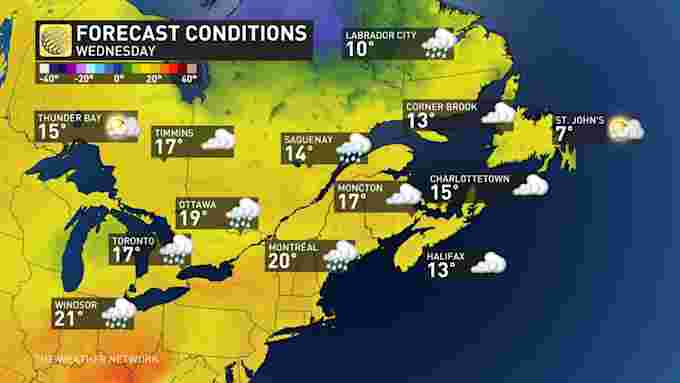 In fact, cooler than seasonal temperatures will dominate most of next week. Two low-pressure systems are expected to track into the region from the southern U.S. during the second half, bringing widespread periods of rain late Wednesday through Friday.
Warmer weather is expected for next weekend. A warmer but changeable pattern, and unsettled at times, is expected for the final few days of May and into early June.
Be sure to check back for the latest updates on your long weekend weather across Ontario.