Thursday, January 27th 2022, 1:58 pm - Despite some modest successes at the COP26 climate summit, the consensus remains that more work needs to be done.
A recent report by the World Economic Forum (WEF) puts climate change and related outcomes at the top of a list concerned with risks to human society.
According to the report — the WEF's Global Risk Report 2022, which is in its 17th year — extreme weather and failure to act on climate change constitute the most serious risk factors the world faces over the next ten years.
"This is what scientists and many in civil society have been saying for decades," Miriam Diamond, professor of Earth Sciences at the University of Toronto, told The Weather Network (TWN).
"Climate change is a powerful actor in and of itself. Climate change also acts as a multiplier — be it for the security of food supplies and safe drinking water, security of home and habitat against extreme weather events, and political security as people's present and future prospects come under jeopardy," Diamond added.
Certainly, many of the risks in the ranking will be exacerbated as the climate crisis worsens.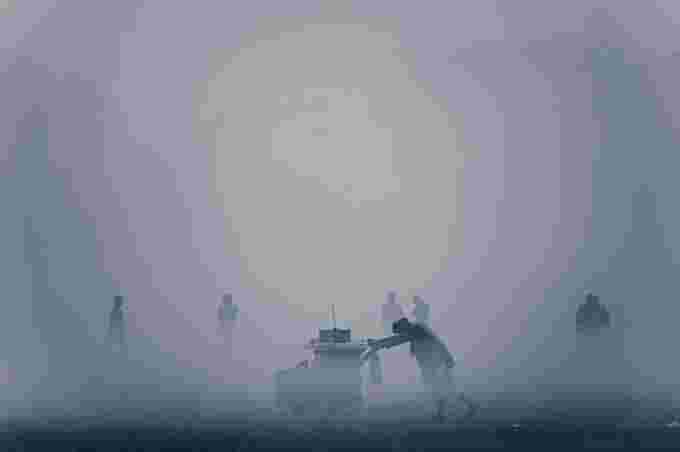 High levels of air pollution in Kolkata, India. (sayantanphotography/ Moment/ Getty Images)
The WEF lists "involuntary migration" — overtly linked to climate outcomes — as well as other direct outcomes such as the erosion of social cohesion and competition over resources. In 5-10 years, environmental risks such as "biodiversity loss" and "natural resource crises" will be predominant.
Conversely, other risk factors highlighted by the report will make combatting the most serious of global challenges more difficult.
The report stated that global economic divergence "will impact on the world's ability to tackle common challenges including climate change, enhancing digital safety, restoring livelihoods and societal cohesion, and managing competition in space."
WEF's Managing Director, Saadia Zahidi, stated, "Widening disparities within and between countries will not only make it more difficult to control COVID-19 and its variants, but will also risk stalling, if not reversing, joint action against shared threats that the world cannot afford to overlook."
The analysis surveyed close to 1,000 leaders and experts in global risk from across governments, business, and civil society. A large majority of almost 85 per cent were "concerned or worried" in their outlook for the world.
It is telling that "infectious diseases" ranks only fifth on the list in the short term and disappears after the two-year horizon, while the failure to act on climate change is the "most critical threat to the world in both the medium term and long term, with the highest potential to severely damage societies, economies, and the planet."
More than three quarters (77 per cent) of the experts surveyed found that the global campaign to combat climate change had "not started" or was in "early development."
"By ranking 'climate action failure' as the top long-term risk, the World Economic Forum's Global Risks Report sends a clear message," Idil Boran, Associate Professor at the Dahdaleh Institute for Global Health Research told TWN.
"The message should resonate with governments, businesses, and financial institutions. In the decade ahead, the climate crisis will likely figure prominently in the risk barometer of organizations," Professor Boran added.
Professor Diamond agreed. She said, "Climate is a huge and difficult risk facing all global populations, but especially vulnerable populations (both human and non-human). I will be optimistic that this recognition will help ignite new and bolder actions, and cement existing commitments."
The report was prepared in advance of the Davos Agenda, a gathering of global leaders to tackle just such issues, which closed on Friday. Despite some modest successes at the COP26 climate summit, the consensus remains that more work needs to be done.
"All existing and new, innovative actions are needed at multiple levels, from personal to international, to tackle climate change," Diamond told TWN. "Everyone, but especially the 'captains of industry' and global leaders, must prioritize this profound, inter-generational threat to safety, security, and well-being."
Professor Boran added, "Climate risks have concrete consequences for human health and well-being. As we enter the third year of the COVID-19 pandemic, there is no better time than now for acting on climate and the interlinked health and societal risks."
Thumbnail credit: Wokephoto17/ Moment/ Getty Images