Wednesday, July 8th 2020, 2:55 pm - Some risk of a few thunderstorms for parts of the province near the lakes Wednesday, but any downpours won't make a dent in the drought-like conditions that have accompanied the extreme heat.
People desperate for relief from the oppressive heat that's been gripping the province will have to wait a little longer: humidex values near or slightly above 40 are locked in for the rest of the week. However, Saturday will see temperatures dip slightly back to the high 20s (though still feeling in the 30s with the humidity), and there's early signs of some rain this weekend. What we know just now, below.
Visit our Complete Guide to Summer 2020 for an in-depth look at the Summer Forecast, tips to plan for it and much more
---
WEATHER HIGHLIGHTS:
Slight storm risk along the 401 corridor Wednesday afternoon, some severe potential
Daytime highs in the mid-30s, feeling closer to 40 with the humidity, for the rest of the week
Slight dip in temperatures Saturday, but still uncomfortably hot
Keep an eye on weather ALERTS in your area
---
WEDNESDAY: LIMITED STORM RISK, TEMPS INCH UPWARD
There is once again some chance of mostly non-severe thunderstorms Wednesday, possibly initiated by lake breeze convection in the afternoon, with the likeliest places north of Lake Erie, Lake Ontario, and the St. Lawrence.
That's mixed in with the risk for a few isolated severe storms in eastern Ontario and along the 401 corridor in the southwest. However, though any storms that do pop up may feature locally heavy downpours, it will be far from the kind of widespread soaking the parched province needs and won't make a dent in the drought-like conditions that have accompanied this extreme heat.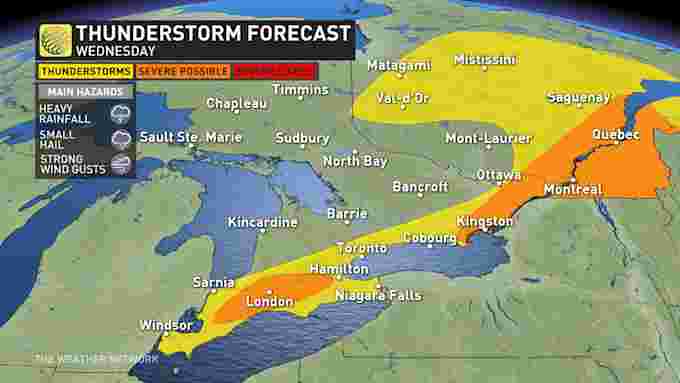 At 2:51 PM EDT Environment Canada issued a tornado watch for the City of Toronto.
"Conditions are favourable for the development of severe thunderstorms which may produce tornadoes. Be prepared for severe weather. Take cover immediately, if threatening weather approaches," says Environment Canada.
Severe thunderstorm warnings have also been issued by Environment Canada for Prescott and Russell, Cornwall, Morrisburg and the City of Toronto.
Thunderstorms across Toronto could produce local amounts of 25 millimetres in less than an hour, which could cause pooling water and visibility issues for drivers.
"A few severe thunderstorms near Casselman or just east of Casselman, will move slowly southward across the region over the next hour. Hail 2 centimetres in diameter, heavy downpours and wind gusts to 90 kilometres per hour are likely with some of these thunderstorms," Environment Canada warns.
As for that heat, temperatures creep just a little higher Wednesday, such that daytime highs in the 30s will be the norm for most.
But, thanks to the persistent, soupy humidity, most places will feel like the upper 30s and even the lower 40s.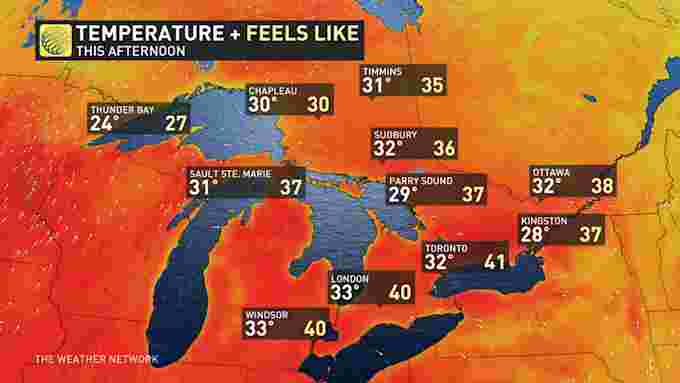 BEYOND: DAYS OF EXTREME HEAT, SOME RELIEF IN SIGHT
People in the province should prepare to sweat for a good while longer, as these very hot conditions are locked in for the rest of the week.
It's not just uncomfortable: The hot and dry conditions have elevated the fire danger in Ontario, with around 30 fires currently burning in the north, including more than a dozen burning out of control.
Weather Network meteorologist Tyler Hamilton says that Friday is the earliest chance of substantial rain, with most regions expected to experience some relief from the bone-dry conditions by the weekend, though Saturday at least, though cooler, will remain uncomfortably hot.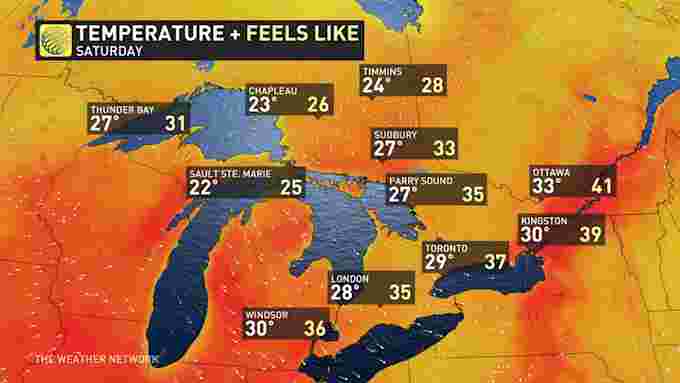 DEEPER DIVE: WHEN WILL RAIN RETURN? WHEN WILL WE SEE A BREAK FROM 30°C? FROM OUR EXPERT, BELOW
The province has seen particularly dry conditions through July, with many places in southern Ontario only recording rainfall of less than 0.5 mm over the past 30-50 days.
Toronto received only 70 per cent of its normal precipitation in June, and so far, no rainfall has been recorded in July. Windsor and Ottawa received 74 and 96 per cent of their normal precipitation amounts in June, respectively.
As mentioned temporary relief from the heat may occur this weeend, with daytime highs returning closer seasonal with the chance of some rain, but the humidity will linger. The overall hot pattern will continue into mid-July.
WHAT IS A HEAT WAVE AND WILL ONTARIO BE IN ONE THIS WEEK?