Tuesday, January 26th 2021, 8:49 pm - The extreme cold will finally begin to loosen its grip Wednesday afternoon on the Prairies, as the Arctic air pushes east.
The worst of the extreme cold temperatures on the Prairies will hang on into Wednesday before it starts to relax, with the Arctic ridge of high pressure responsible for it moving east.
Temperatures near -30°C, combined with light winds, will generate wind chills of -40 or colder Tuesday night in Manitoba and Saskatchewan, lingering into Wednesday morning. This remains a dangerous situation if exposed outside, even in a short period of time.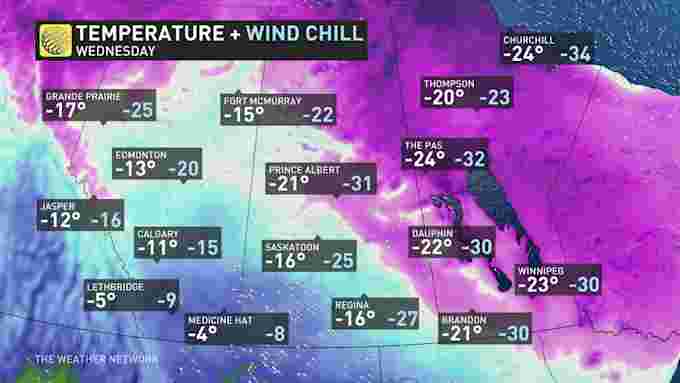 MUST SEE: Eyeball frostbite? Allow us to bust these winter myths
"While this is not a blockbuster cold event for the region, considering the above seasonal conditions from January so far, it's definitely something to pay attention to," says Weather Network meteorologist Michael Carter.
BRUTAL CHILL LINGERS INTO WEDNESDAY
After a brief moderation, the extreme cold will return to central Saskatchewan and southern Manitoba overnight Tuesday, persisting into morning hours on Wednesday. By the afternoon, temperatures will begin to slowly climb.
Extreme cold warnings remain in place for large sections of central Saskatchewan and southern Manitoba.
"Extreme cold puts everyone at risk," warns Environment Canada in the statement. "Risks are greater for young children, older adults, people with chronic illnesses, people working or exercising outdoors, and those without proper shelter."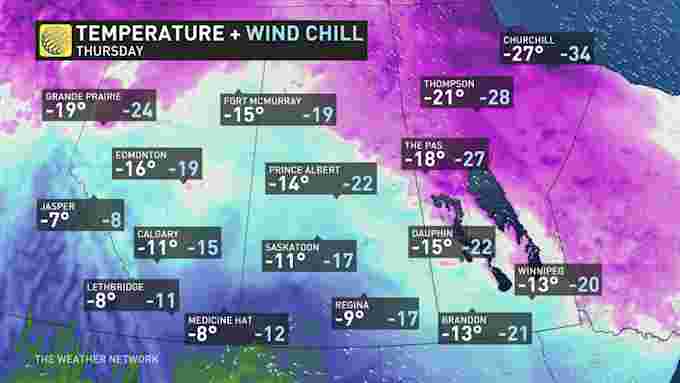 Residents are urged to cover up and dress in layers, as frostbite can develop within minutes on exposed skin.
"If it's too cold for you to stay outside, it's too cold for your pet to stay outside," Environment Canada adds.
The good news is the frigid weather will continue to moderate Thursday and Friday, with temperatures rising above freezing across southern Alberta and Saskatchewan this weekend. The city of Winnipeg for example, is forecast to reach a high of -23°C on Wednesday, recovering to -4°C by Saturday.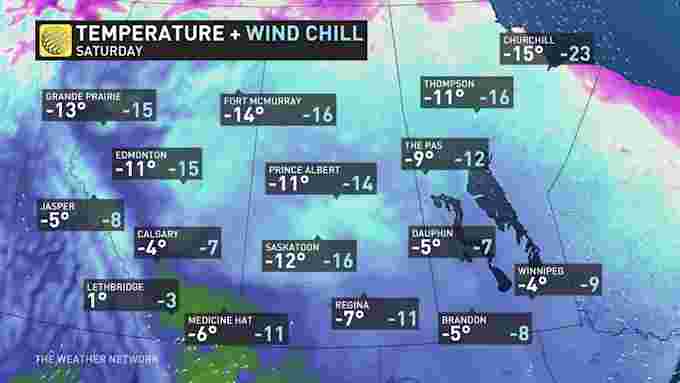 No major storms are expected across this week either, but a system tracking well south of the border could bring several centimetres of snow to southern and central Saskatchewan later this week and into Manitoba on Friday and Saturday. At this point, between 2-5 cm is on the table for southern Manitoba.
Above seasonal temperatures are expected to push in early next week, but another shot of Arctic air will return and spread across the region during the middle of the week.
Be sure to check back for the latest on the extreme cold across the Prairies this week.