Thursday, April 7th 2022, 8:27 pm - All signs point toward another active Atlantic hurricane season this summer, according to a renowned group of tropical forecasters in their first outlook of the season.
We may have to stare down yet another active Atlantic hurricane season this year.
Tropical weather experts at Colorado State University (CSU) released their much-anticipated seasonal outlook on Thursday. The outlook isn't good news for folks who live along the Atlantic's coastlines–all signs point to another above-average hurricane season across the basin.
---
PREPARE AHEAD: Everyone needs a home emergency kit. Here's what to stock yours with
---
ANOTHER ABOVE-AVERAGE SEASON IS LIKELY ON THE WAY
The Atlantic hurricane season officially runs from June 1 through November 30, though it's common to see named storms form before June 1.
A typical Atlantic hurricane season produces about 14 named tropical storms, with seven of those systems strengthening into hurricanes, and about three of those hurricanes growing into major hurricanes of at least category three strength on the Saffir-Simpson Hurricane Wind Scale.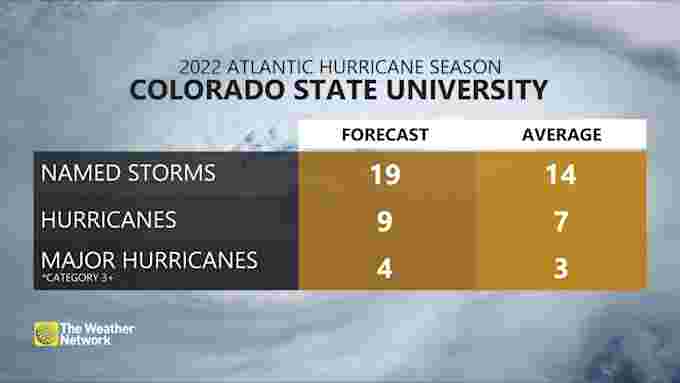 CSU's forecast calls for quite a few storms this season. The team expects about 19 named tropical storms to form across the Atlantic Ocean, with nine of those storms becoming hurricanes and four of those hurricanes reaching major hurricane strength.
The outlook adds that there's a high likelihood–almost a three-in-four chance–of a major hurricane making landfall somewhere along the U.S. coastline at some point this hurricane season.
LA NIÑA IS FAVOURABLE FOR TROPICAL CYCLONES IN THE ATLANTIC
Signs that we could see another energetic hurricane season include warmer-than-normal sea surface temperatures in portions of the Atlantic Ocean, and the fact that the Pacific Ocean is in a La Niña pattern right now. Forecasters expect La Niña to weaken to neutral conditions by the heart of hurricane season, which is favourable to enhanced activity across the Atlantic basin.
MUST SEE: Sailing a drone into a hurricane could help predict ferocious storms
The oscillating patterns of colder-than-normal (La Niña) and warmer-than-normal (El Niño) water temperature anomalies in the eastern equatorial Pacific Ocean have significant implications for tropical cyclone activity over in the Atlantic Ocean.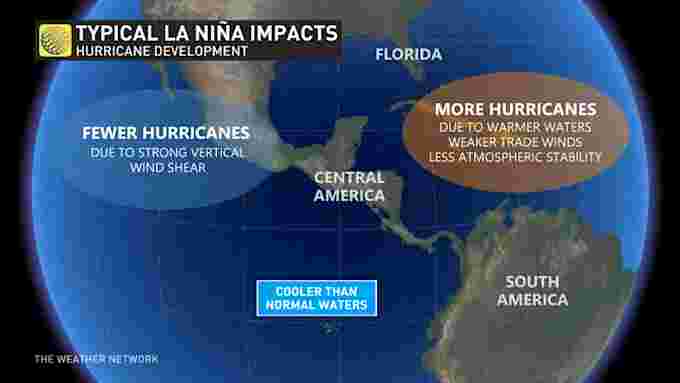 La Niña years tend to see more tropical systems because the cooler waters have a domino effect across the atmosphere that leads to calmer winds and greater instability over the Atlantic Ocean. Neutral patterns, those in which the Pacific's water temperatures are around average, are also favourable to tropical development in the Atlantic.
WATCH BELOW: MUST-HAVES FOR YOUR EMERGENCY KIT
IT'S BEEN A TERRIBLE FEW YEARS FOR COASTAL RESIDENTS
An outlook calling for another above-average hurricane season is unwelcome news for storm-battered communities from Texas to Newfoundland.
We're in the midst of a streak of exceptionally active hurricane seasons, with every season since 2016 notching above-average activity.
2020 produced the most active Atlantic hurricane season on record. We recorded a whopping 30 named storms that year, exhausting the allotted list of 21 names and requiring the use of nine Greek letters to name the last handful of storms.
Just a year later, the 2021 hurricane season finished as the third-most active season on record, exhausting the list of names for the second year in a row with 21 named storms.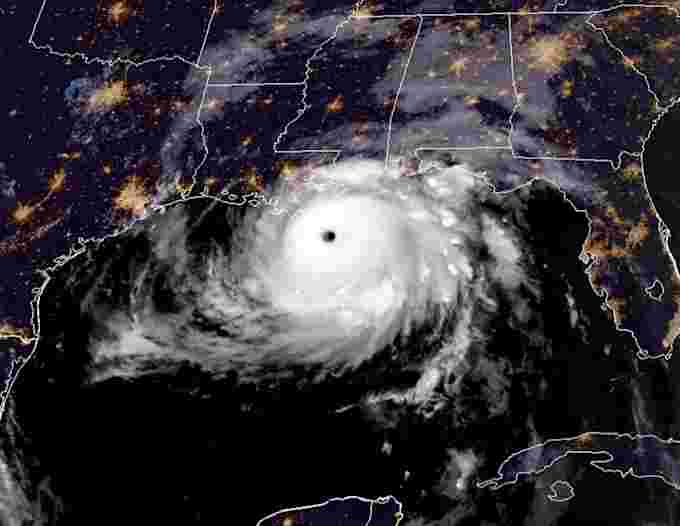 Hurricane Ida approaching landfall in Louisiana on August 29, 2021. (NOAA)
Numerous destructive hurricanes have made landfall over the past couple of years, including three devastating storms in Louisiana (Laura, Zeta, and Ida) over the course of 12 months.
While the Atlantic hurricane season doesn't officially begin until June 1, the U.S. National Hurricane Center (NHC) will begin issuing regular tropical weather outlooks on May 15.
We've seen the first named storm of the season form before June 1st for the past seven hurricane seasons in a row, sparking a debate among officials whether to move the official start date up by a few weeks within the next few years.
CSU's forecast is one of two widely anticipated seasonal hurricane activity outlooks. The other forecast, issued by NOAA, typically comes out in the latter half of May.
The forecasters at CSU ended their forecast with an important warning for coastal residents: it only takes one.
"As is the case with all hurricane seasons, coastal residents are reminded that it only takes one hurricane making landfall to make it an active season for them," CSU said in their outlook. "They should prepare the same for every season, regardless of how much activity is predicted."
Thumbnail of Hurricane Larry courtesy of NOAA.