Sunday, September 1st 2019, 8:58 pm - One of the greatest threats to life and property from a hurricane is storm surge.
Hurricane Dorian is a dangerous Category 5 storm and has the potential to bring a catastrophic surf, damaging winds, and devastating flash floods. While the massive waves off the coast of Florida will be tempting for some daredevil surfers, Weather Network meteorologist Jaclyn Whittal warns against surfing during a hurricane.
The magnitude and heights of waves become intensified as a hurricane approaches, which can quickly create life-threatening conditions. Torrential rains and intense winds can destroy buildings and can also create dangerous conditions near the coast and offshore.
One of the greatest threats to life and property from a hurricane is storm surge, which is when an abnormal rise of water is pushed to shore and is capable of causing extreme flooding in coastal areas. Storm surge can result in storm tides reaching up to or exceeding 6 metres.
At least 1,500 people lost their lives during Hurricane Katrina in 2005 and many of these fatalities were related to the direct and indirect impacts of storm surge.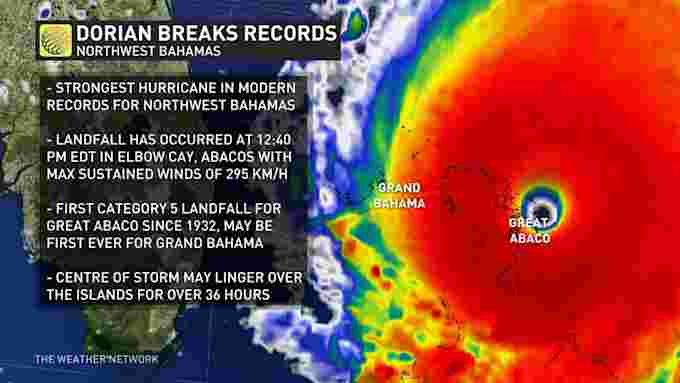 In Florida, a storm surge warning is in effect for Lantana to the Volusia/Brevard County Line and a storm surge watch is in effect for North of Deerfield Beach to Lantana and Volusia/Brevard County Line to the Flagler/Volusia County Line.
A storm surge warning means that there is the danger of life-threatening inundation from rising water moving inland from the coastline during the next 36 hours and it could be between 1 and 2 metres.
While a pair of confident surfers assured Whittal that they have experience surfing during hurricanes, she emphasizes people should avoid coastal sections where a hurricane could be approaching or where the track of a hurricane is projected to be.
WATCH BELOW: PEOPLE IN FLORIDA ARE BOARDING UP HOMES TO PREPARE FOR HURRICANE DORIAN