Thursday, April 22nd 2021, 11:13 am - After toasty, spring-like daytime highs in Alberta Wednesday, another sharp temperature drop arrived in the region, along with a bout of snow.
After basking in another round of astounding late spring-like warmth on Wednesday, temperatures took a fast and steady tumble early Thursday as an arctic front pushed through the western Prairies, changing all of the overnight preciptation to snow. Snow totals will be generally light through the foothills, though with locally heavier amounts expected in the Rockies. More on how much to expect and the next reinforcing shot of cold air with additional snow for the weekend, below.
THURSDAY: TEMPERATURES DROP, SNOW PUSHES IN
Similar to what happened last weekend, the late-spring warmth that graced the region to start the week has been quickly replaced with more winter-like air thanks to the arctic front that sent temperatures rapidly plunging. As the system sinks further south, and with the much cooler air in place, bursts of snow are also expected to develop through the day Thursday.
Flurries first set up across the Edmonton area Thursday morning, with a band of snow expected to push into Red Deer, Calgary and eventually further south by the afternoon hours.
MUST SEE: Pacific typhoon upends April pattern across Canada
Snowfall amounts will be highly terrain-driven with upslope enhancement -- giving way to locally heavy accumulations along the Rockies and extreme southern foothills. Between 5-15 cm is possible in these regions. Areas along Highway 2, however, are likely to get closer to 2-5 cm, but areas just a few kilometres west could get amounts in the 5-10 cm range.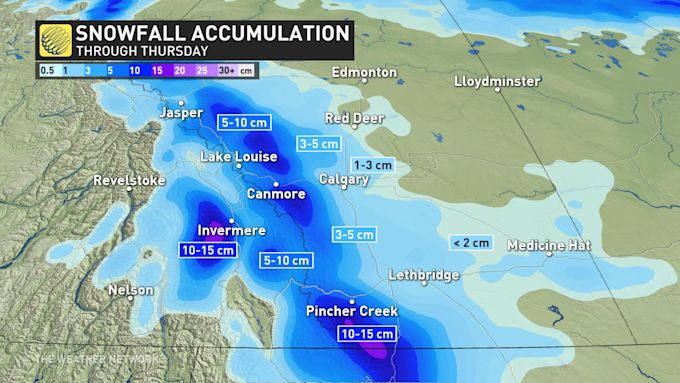 After the passage of the system, winds will increase and switch to a north-northwest direction. Gusts between 50-60 km/h are possible, even hitting 70 km/h in southern Manitoba, delivering a chilly air mass to the region.
WATCH: ANOTHER ROUND OF ALBERTA SNOW THREATENS PLANTS AND EARLY BLOSSOMS
Even more noticeable will be the temperature nosedive on Thursday, possibly dropping by as much as 20 degrees in Calgary in comparison to Wednesday's balmy highs. There will be quite a contrast in temperatures across the Prairies, as Winnipeg will be approaching the 20-degree mark.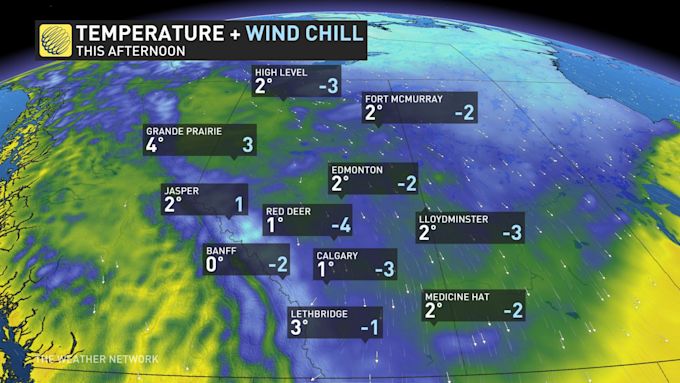 BEYOND: CHILLY CONDITIONS SPREAD EAST, REINFORCING SHOT OF ARCTIC AIR
Colder weather will continue to spread east for Friday, with temperatures only reaching 1°C for Winnipeg. A reinforcing shot of arctic air will push in on the weekend, with as much as 5-10 cm possible for southern Alberta, including Calgary on Saturday afternoon.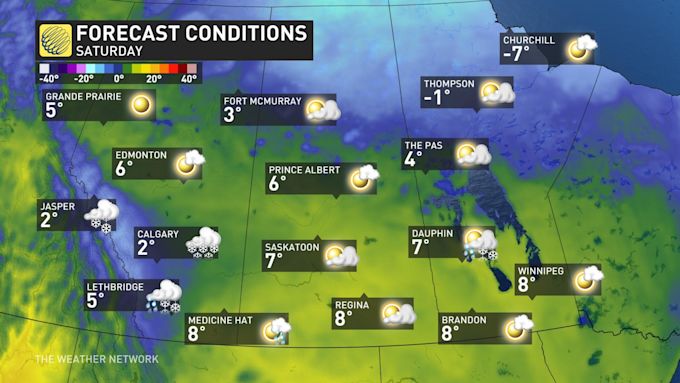 "Milder weather gradually returns to southern areas next week, but northern areas remain on the cool side of seasonal until the middle of next week," says Dr. Doug Gillham, a meteorologist at The Weather Network.
Be sure to check back for updates on this Prairie pattern change.