Friday, October 7th 2022, 4:48 pm - If B.C.'s water conservation efforts fail, stricter measures could be implemented to avoid "significant or irreversible harm."
British Columbia's growing drought is so bad today that thousands of dead salmon line the shores of dried-up creeks in Bella Bella.
How desperate is the need for rainfall in B.C.? The desert resort city of Las Vegas, Nevada, measured more rain than Vancouver between July and September, and Hurricane Ian dropped more rain on Florida in one minute than Victoria has seen since the beginning of July.
The Weather Network's Jaclyn Whittal took a look at the province's exceptionally dry weather over the past couple of months.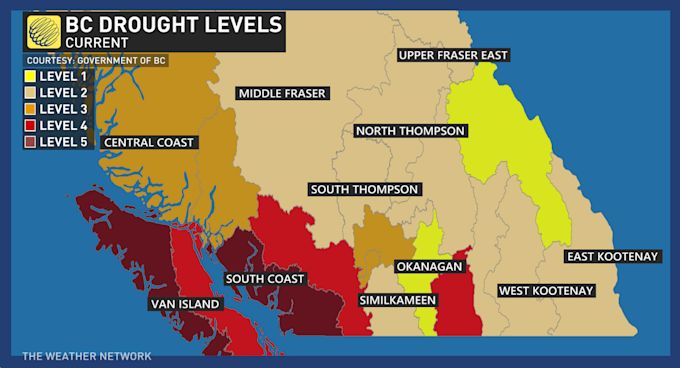 This dearth of precipitation has pushed many parts of the province to the highest category of drought. If the extremely dry conditions persist, it could have serious consequences for ecosystems across the province.
Watch the video above to learn more about the ongoing drought across British Columbia.
Editor's note: The drought level across western Vancouver Island and the South Coast increased from Level 4 to Level 5 after the production of this video report.
Thumbnail courtesy of Unsplash.