Sunday, August 14th 2022, 12:42 pm - Some Prairie regions are seeing the potential for recording-breaking temperatures this week.
A heat dome in the U.S. is pushing northward and is sending temperatures climbing into the mid-to-high 30s across parts of the Prairies.
The thunderstorm risk will slightly shift east on Monday and allow for the opportunity for thunderstorm development across a broader region of southeastern Saskatchewan and southern Manitoba.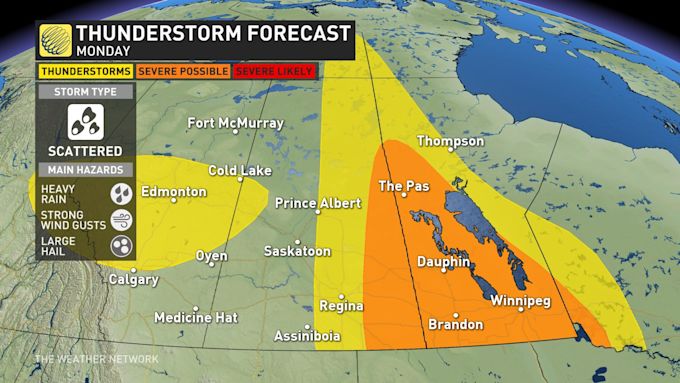 Due to the system's sluggish nature, severe risks will linger into Monday and Tuesday in Manitoba, including eastern Saskatchewan.
There's also a risk of thunderstorms bubbling up across Central Alberta on Monday, near Edmonton and Red Deer, extending west to the foothills. Some larger hail and gusty winds are possible in cells that develop through Monday afternoon.
READ MORE: Rainwater is now unsafe to drink due to 'forever chemicals,' study says
The high temperatures are expected to last most of the week and the southern Prairies can expect a long duration stretch of temperatures in the 30s. Temperatures in the mid-20's are more typical for mid-August, so this stretch of prolonged heat is unusual.
The extent of the 30-degree daytime highs could start to approach monthly record territory for Medicine Hat, Alta. as the Prairies head towards the end of the month. At this point, there's no sign of the hot conditions receding.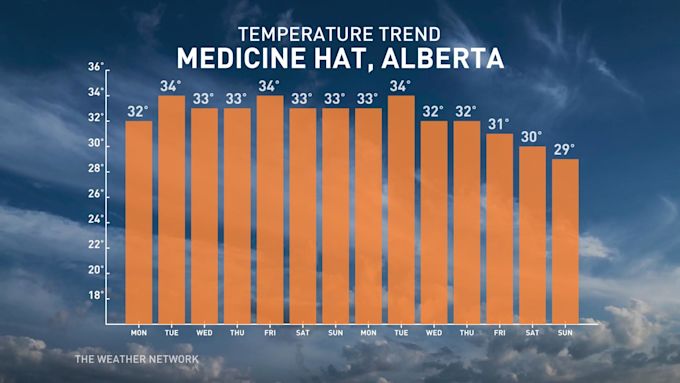 Here are some recommendations from Environment and Climate Change Canada (ECCC) to stay safe during this period of abnormally warm temperatures:
Consider rescheduling outdoor activities to cooler hours of the day.
Take frequent breaks from the heat, spending time in cooled indoor spaces where possible.
Drink plenty of water and other non-alcoholic, non-caffeinated beverages to stay hydrated.
Check for your children or pets before you exit your vehicle. Do not leave any person or pet inside a closed vehicle, for any length of time.
Thumbnail credit: Kyle Brittain.
Stay tuned to The Weather Network for the latest forecast details on the Prairies.