Sunday, September 25th 2022, 8:15 pm - A low pressure system will bring more rain and winds to Atlantic Canada on Monday.
Atlantic Canada faces a long recovery from Fiona's severe impacts. Another system looks to arrive in the Maritimes by Monday, which could hamper cleanup efforts in hard-hit communities.
A quick-hitting low pressure system will track into the region from New England. This system will produce locally heavy rainfall beginning early Monday morning and lasting into the day. Rainfall amounts could total over 50 mm in some coastal locations.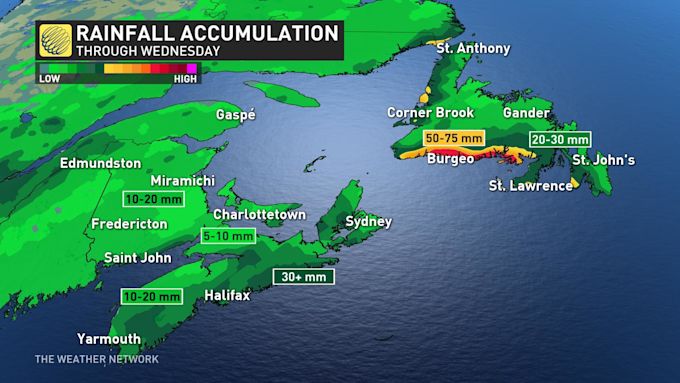 The precipitation will be accompanied by breezy conditions, with wind gusts of 50 km/h possible in spots. While those winds aren't very high, trees and power lines that are stressed or damaged from Fiona could give way.
PHOTOS: Arduous cleanup for Atlantic Canada after Fiona's destruction
There is also the widespread risk of thunderstorms, which could result in locally heavier rainfall totals and gusty winds.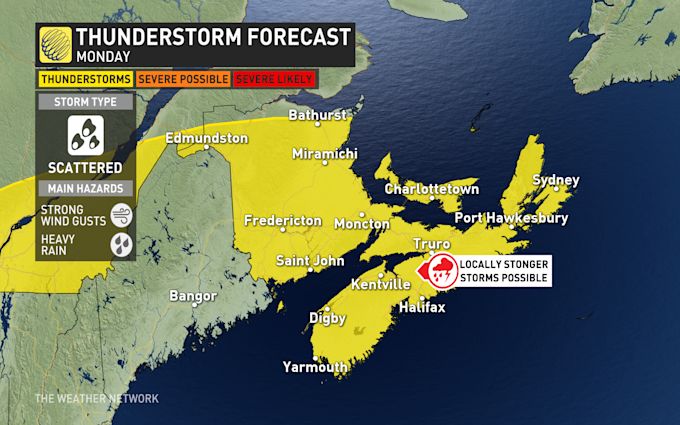 Another slug of moisture will move across the Maritimes on Tuesday, with the heaviest rainfall targeting eastern Nova Scotia and southern sections of Newfoundland. Locally, up to 75 mm is possible in southern Newfoundland through early Wednesday.
Conditions look to improve across Atlantic Canada after Tuesday. Once the early-week system moves along, the region will see calmer and milder conditions throughout the region heading into the end of the week.
CHECK IT OUT: Strong winds nearly take out TWN reporter live during Fiona
Temperatures will come in slightly above-seasonal for most folks, with a chance for scattered showers on Tuesday and Wednesday.
Forecasters will closely monitor the progress of Tropical Storm Ian down in the Caribbean this week.
The U.S. National Hurricane Center expects the storm to grow into a powerful hurricane in the Gulf of Mexico by early next week. Depending on the storm's development and future track, we may have to watch the system or its remnants around next weekend.
Stay tuned to The Weather Network for the latest conditions across Atlantic Canada.