Saturday, August 13th 2022, 8:30 am - British Columbia's Interior will have an active afternoon before a high pressure ridge brings the heat back to the province
There is a stormy Saturday ahead across British Columbia. Thunderstorms that could have the potential of heavy rains, large hail, as well as wind gusts that could squelch firefighting efforts are possible in the province's Interior. The weather will return to hot and dry conditions after the rinse with temperatures expected to rise Sunday. More on what to expect Saturday and the beginning of the new week, below.
Saturday: Severe storms across parts of the Interior
Eastern Interior regions of British Columbia will see risks of thunderstorms Saturday afternoon. Widely scattered thunderstorms are possible from the Okanagan north toward the Peace River. Some of the storms across the Kootenay Region could grow severe, with strong wind gusts and large hail the primary risks.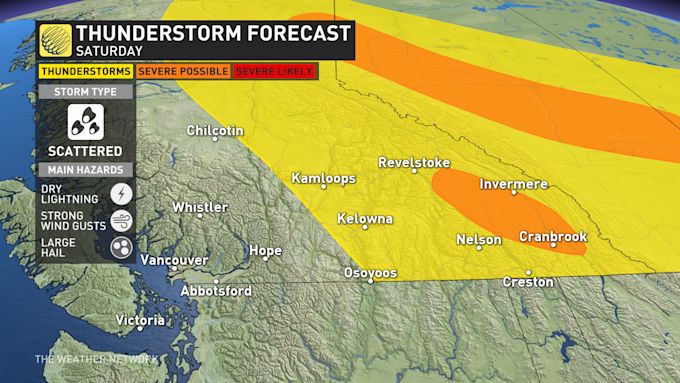 Lightning has been a contributing factor to wildfires and there is a chance of dry lightning continuing through the day and into the evening. This paired with wind gusts could create new wildfires while worsening the conditions for existing fires to be controlled.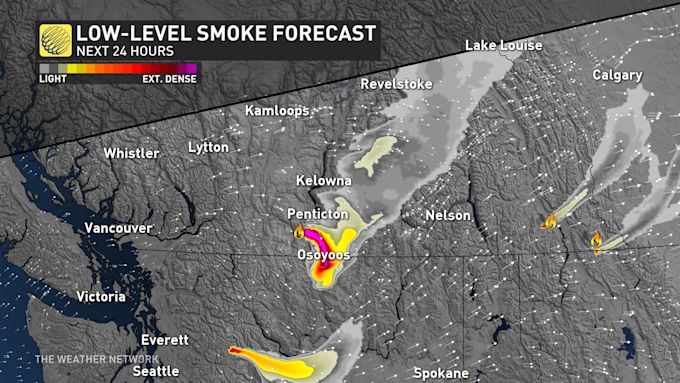 Smoke from the ongoing wildfires has led to poor air quality statements in eastern parts of the province. With the storms and return to hot and dry conditions air quality conditions could continue to deteriorate.
---
MUST SEE: A year ago, B.C. looked like an ashtray from space
---
A new week sees the return of high temperatures
The active weather which moved about the province last week will not be continuing into the week ahead. Instead a growing ridge of high pressure will be moving in to the province causing high temperatures not unlike what was experienced in the weeks before.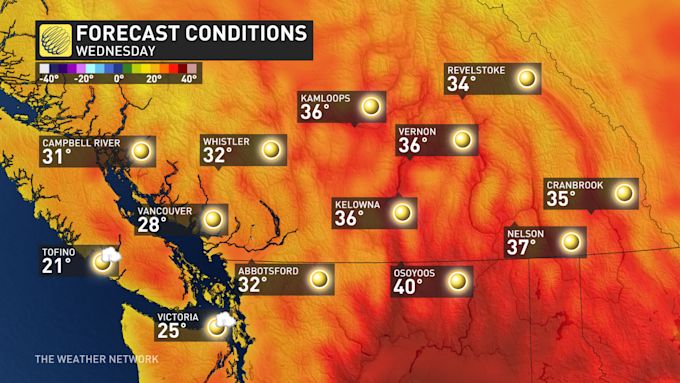 A heat dome may nose its way into the southern and eastern regions of the province near the middle of the week. The Interior will have temperatures in the upper 30s. The coast won't have such high heat but it still will experience well above seasonal daytime values that will likely hit close to or in the 30's.
WATCH MORE: Crews still having a difficult fight against Keremeos Creek wildfire
Check back frequently for the latest updates on conditions across British Columbia.