Wednesday, April 21st 2021, 7:57 am - Travel not recommended as decent April snow makes for complicated travel across southern Ontario on Wednesday.
Winter weather travel advisories remain in effect across parts of southern Ontario Wednesday morning, with drivers being urged to postpone any non-essential travel as heavy wet snow complicates commute times. Travel will also remain tricky across the Greater Toronto Area and Niagara region through mid-day, before the snow gradually makes its way into eastern Ontario and Quebec by the afternoon. Though the snow tapers throughout the day, falling temperatures Wednesday night may lead to slick and icy conditions once again on Thursday morning. More on what's left of this late-season snow, below.
WEDNESDAY: HEAVY WET SNOW ACCUMULATES, DRIVING CONDITIONS REMAIN TRICKY
A stateside system made its way south of the lower Great Lakes overnight Tuesday, and with colder air to work with, the low has brought a swath of late-season snow.
While some areas already reported several heavy wet centimetres through the overnight, (especially on grassy and elevated areas) snow accumulations will be quite variable, as it'll be harder for snow to accumulate on certain warmer surfaces.
The greatest accumulation is set to be in the Niagara region, as periods of moderate snow move through the region during the morning hours.
The snow had diminished for the southwest ahead of the morning commute, but travel will remain tricky across the GTA and Niagara region into mid-day. The snow will then continue to push into eastern Ontario and Quebec through the afternoon.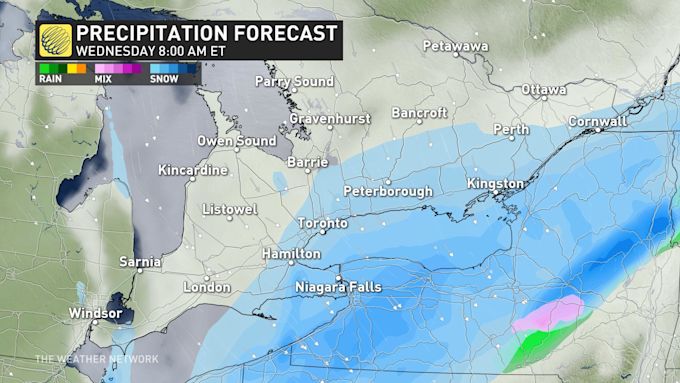 Overall, the projected snowfall totals will be in the 2-5 cm range across the GTA. Accumulations around the east and west end of Lake Ontario could be a little higher. Cobourg could see 5 cm, Hamilton will be in the 5-10 cm range, with as much as 10-15 cm possible across the Niagara peninsula by the time all is said and done.
The further north of the Highway 401 corridor you go, the lesser amounts of snowfall are expected, as the centre of the low remains south of the border.
SEE ALSO: Spring is here, so when should you take your winter tires off?
As the snow diminishes, some breaks of sun will be possible, helping temperatures to climb back above the freezing mark by Wednesday afternoon, which will lead to slushy wet conditions.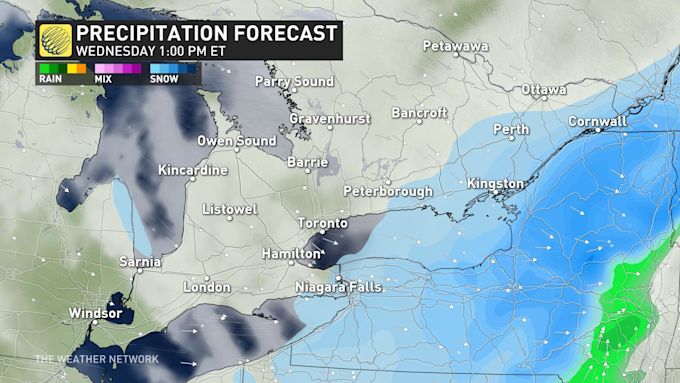 "Temperatures will once again fall below freezing overnight, which could lead to slick sidewalks and icy conditions on untreated surfaces Thursday morning," warns Michael Carter, a meteorologist at The Weather Network.
THURSDAY INTO FRIDAY: TEMPERATURES GRADUALLY CLIMB TOWARDS SEASONAL, BUT MORE UNSETTLED WEATHER ON THE WEEKEND
Chilly and below seasonal temperatures will also linger into Thursday in the wake of this system, with the hard freeze of great concern in the Niagara region especially, as blossoms are already out in many orchards. As well, there will be lake-effect snow showers.
Abundant sunshine and warmer, near seasonal temperatures return for Friday however, as fair conditions start out the weekend.
"So while this week's snowfall is likely to be disruptive considering the time of year, it won't be sticking around for long," Carter adds.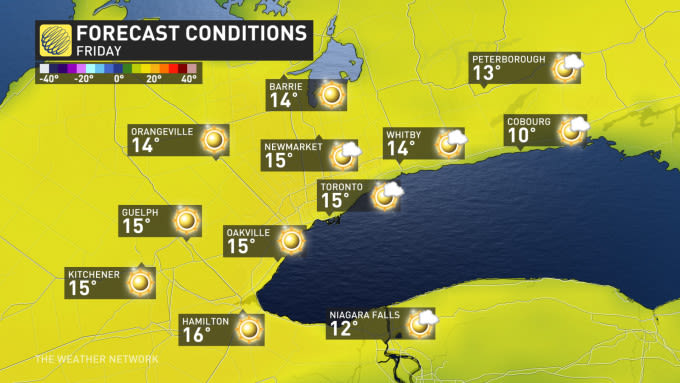 By Friday, there will be plenty of sunshine and a dramatic temperature rebound, especially for southern Ontario with widespread daytime highs soaring back into the mid-teens. Saturday will also feature sunny conditions and near seasonal temperatures, making for a pleasant spring day region wide.
However, the next system will track into the region Saturday night, with widespread rain likely. Rain will end early Sunday morning for southern areas, but the system's slow track to the east will bring rain in eastern Ontario Sunday, possibly lingering into Monday.
Beyond the weekend, a brief warm-up is expected during the middle of next week, but it looks like another shot of colder weather by the end of the week, as we transition from April to May.
Check back for updates on the latest spring conditions across Ontario.