Saturday, April 9th 2022, 7:23 pm - A significant lack of snow in the mountains will compound an already severe drought across California, likely leading to far-reaching effects.
A crushing drought that's gripped California for years is on track to get even worse over the coming months. Much of the state's freshwater comes from mountain snowmelt, which makes the lack of snow this past winter a worrisome development for California's reservoirs and waterways.
---
MUST SEE: A lake that provides power to millions just fell to a historic low
---
Winter started out with a glimmer of hope in the Golden State as prolific snowfall across the Sierra Nevada rocketed the region to more than 400 per cent of its normal snowfall for the month of December.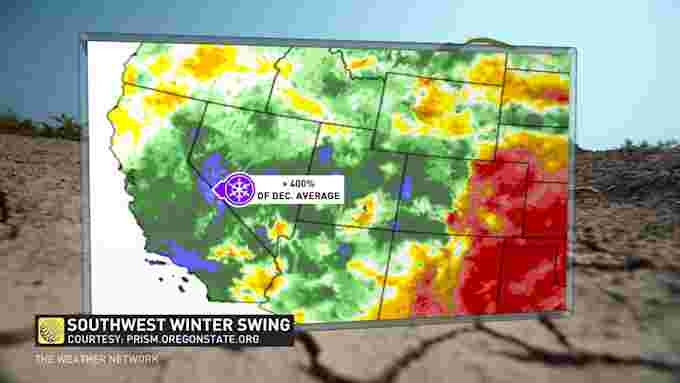 The region's fortunes abruptly reversed as the winter progressed, though, and the mountains endured a tremendous snowless streak. The Sierra Nevada saw less than 10 per cent of its normal snowfall from January through March.
The bulk of California's precipitation falls during the fall and winter, with communities often going months without seeing meaningful precipitation between May and October.
Adding insult to injury, hot temperatures washed over California early this spring. Temperatures soared well above 30°C as early as the beginning of March.
Years of lacklustre rainy seasons and long, hot dry seasons have exacted a compounding toll on the state's resources. California finds itself lurching from one season to the next in a worse spot than it began.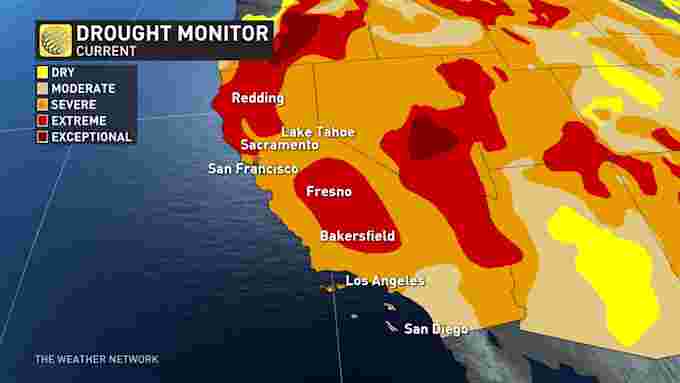 MEAGER WINTER SNOWS COULD HURT CALIFORNIA'S MAJOR CROPS
Another long stretch of worsening drought will have far-reaching effects on agricultural interests across the state. Farmers throughout the Central Valley face the prospect of a significant burden from the ongoing drought and lack of winter snowfall in the mountains. California is a major grower of produce like almonds, lettuce, and strawberries.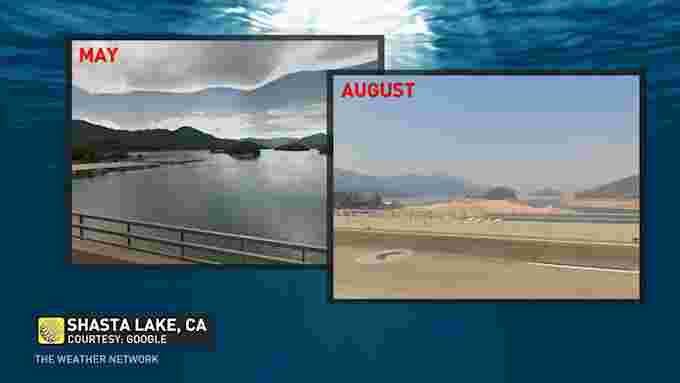 The enormous expanse of farmland across central California accounts for the vast majority of the state's water consumption during very dry years. Much of that water comes from snowmelt that pools up in reservoirs downstream.
Snowmelt is a significant source of freshwater for lower elevations across California. The state's reservoirs are heading into the heart of spring at less than half of their total capacity, and the underwhelming snowpack in the mountains will stress the region's freshwater resources even further.
WATCH: A 'MEGADROUGHT' COULD BE UNDERWAY IN THE WESTERN UNITED STATES
ONGOING DROUGHT COULD MAKE FOR ANOTHER BAD WILDFIRE SEASON
While the effects on freshwater reserves and agriculture will have far-reaching impacts, the most tangible effect of California's stunning droughts are the wildfires that have ravaged communities across the state in recent years.
While there's no direct correlation between snowpack and the severity of a wildfire season, the extreme lack of precipitation paired with intense heat has desiccated vegetation and allowed one horrendous blaze after another to break out.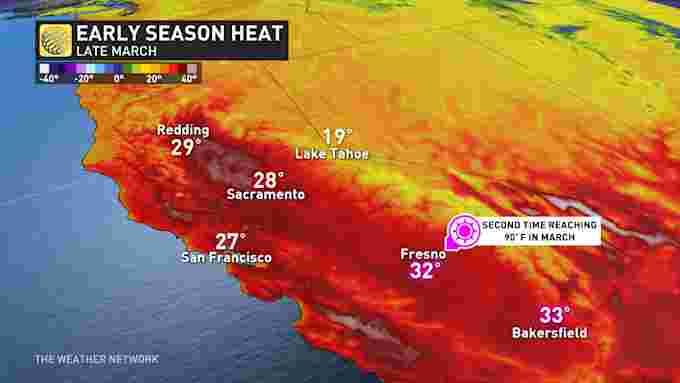 About two-thirds of California's 20 most destructive wildfires on record have occurred since 2017, with seven of those fires unfolding in 2020 and 2021. These deadly blazes have consumed hundreds of thousands of hectares of land and burned tens of thousands of homes. 2018's Camp Fire was the most destructive wildfire in California history, killing 85 people when it almost entirely destroyed the town of Paradise.
This year's ongoing and widespread drought, bookended by the major early-spring heat, will put the state in a bad position heading into the summer months and the heart of wildfire season this autumn.
With files from The Weather Network meteorologist Kevin MacKay.
Thumbnail courtesy of Unsplash.