Wednesday, June 9th 2021, 5:40 pm - While the threat for thunderstorms remains in place in parts of southern Ontario Wednesday, as does the heat and humidity, some cooler air will provide some relief by Thursday.
If you're fed up with the past few days' intense heat and humidity in southern Ontario, the end is in sight: After one more day of these conditions Wednesday, drier and somewhat more seasonal conditions are ahead. In fact, the humidity will already be waning in eastern Ontario Wednesday, but will remain abundant for the GTA and southwest – adding some potency to the afternoon round of storms in that part of the province. Severe thunderstorm warnings are in place for parts of the southwest, with possible rainfall amounts of 50-75 mm in an hour with the heaviest cells. More on the storm threat and the relief from the heat that's coming, below.
Visit our Complete Guide to Summer 2021 for an in-depth look at the Summer Forecast, tips to plan for it and much more!
WEDNESDAY: REMAINING MUGGY, HOT WITH SOME THUNDERSTORM RISK
Temperatures across southern Ontario will remain hot for Wednesday, but that long-awaited abatement of the humidity will make its start today as well.
Daytime highs remain in the high 20s across the board, reaching 30°C in some communities, but drier air will sweep down as the day progresses – not fast enough to put the entirety of the south in the clear, but enough to keep eastern Ontario feeling a bit less muggy.
That part of the province will see its feels-like factor be more or less in line with what the thermometer says, while the southwest and GTA will still feel around 7-9 degrees hotter, more like the mid-30s than the upper 20s.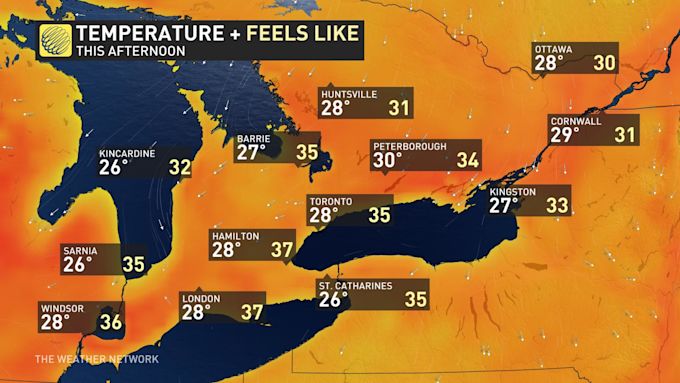 That very sharp divide between humid and dry air will have a marked effect on Wednesday's storm risk. Humidity is a key ingredient in thunderstorm formation, and also increases the amount of what forecasters call PWAT – precipitable water in the atmosphere – such that humid areas have higher rainfall potential in places where storms do fire up.
As such, Wednesday's storm risk will be largely confined to the GTA and southwest, and any that do spark up will be marked by small hail and torrential rainfall – enough to trigger localized flooding in the right conditions are met.
Some severe storms have fired up in the southwest, prompting Environment Canada to issue warnings for the region. The agency is cautioning of possible rainfall amounts of 50-75 mm in an hour with the heaviest thunderstorms.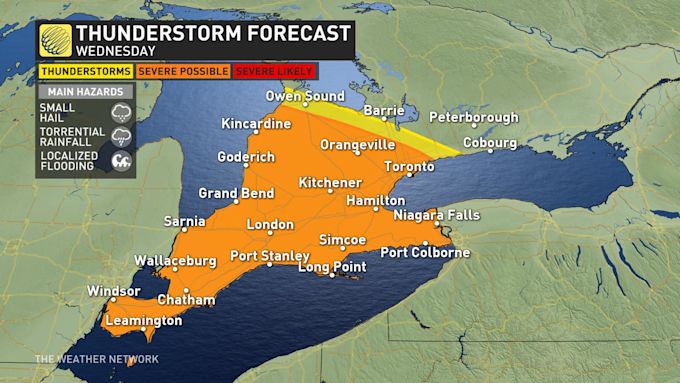 THURSDAY AND BEYOND: SWINGS IN HUMIDITY BEFORE CONDITIONS IMPROVE ON THE WEEKEND
By Thursday, that drier air will be more widespread, and daytime highs will drop down a bit to the mid-20s for most people, making the day seem considerably less sticky for most.
The warmest places in the province will be closer to the extreme southwest, like Windsor and London, where there will be enough humidity to nudge the humidex just a bit above 30.
Friday sees slightly warmer temperatures and a slight recovery in humidity, but nothing like earlier this week, though with some potential for scattered thunderstorms. However, there will be a sharp contrast in temperatures and humidity across eastern Ontario with a northeast flow – with even some below seasonal temperatures possible.
Near seasonal temperatures are expected this weekend with a threat for showers late-Saturday into Sunday, but it will be mostly rain-free. A cooler pattern is anticipated for next week, compared to the current one, with near seasonal temperatures for much of the week.
Stay tuned to The Weather Network for the last of this extended heat episode in Ontario.