Friday, May 3rd 2019, 12:04 pm - It's going to be a long road to recovery for parts of Ontario's cottage country
For 100 years, Carolyn Carragher's family has been cottaging at Page's Point on Lake Muskoka, in a cottage called Pine Cliff. Carragher isn't on Facebook, which means she wasn't the first to see photos showcasing the flooding in Muskoka. She did, however, receive photos from a cousin (she has many). It didn't look too bad. She wasn't worried. Her cottage and boathouse are situated in something of an inlet, which she figured might offer some protection. Besides, their boathouse has stood for more than nine decades with little more than a patch to show for wear, a consequence of ice damage during the high-water spring of 2013. But the photos kept coming, taken from April 22 to 27, each revealing flooding that was growing worse by the day and a boathouse that was struggling mightily to survive.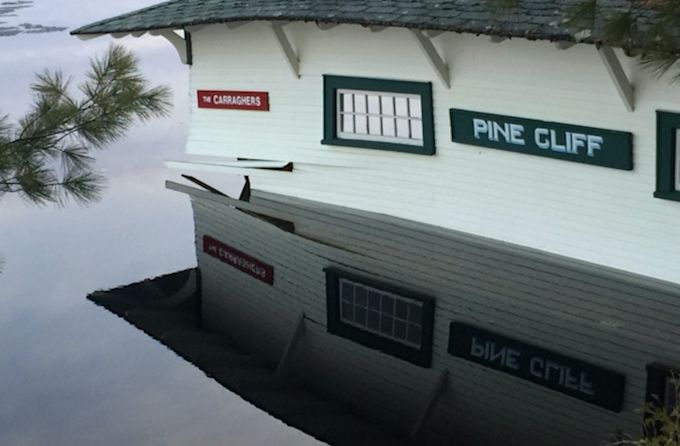 Photo courtesy of Carolyn Carragher
RELATED: Health Canada warns Muskoka residents about mould risk
Their boathouse sustained some ice damage four years ago, says Carolyn.
"You can see underneath the Carraghers sign, there's a white square piece there. That was ice going through the boathouse then. But because the boathouse is kind of tucked away in the rocks, it's been there for almost 80 to 90 years, and it really hasn't been affected by the ice going in and out in all those years. It's only been the past few years when the water's been so high that it has gone up and damaged the boathouse."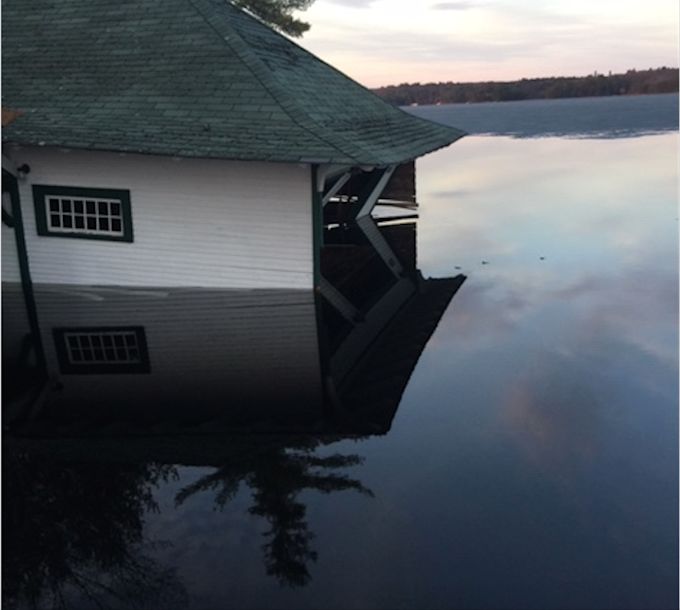 Photo courtesy of Carolyn Carragher
According to Carolyn, "I was just thinking, It's bad, but I thought it would be fine. I didn't think the ice was going to run it over. It will be okay because we don't store boats in the boathouse over the winter."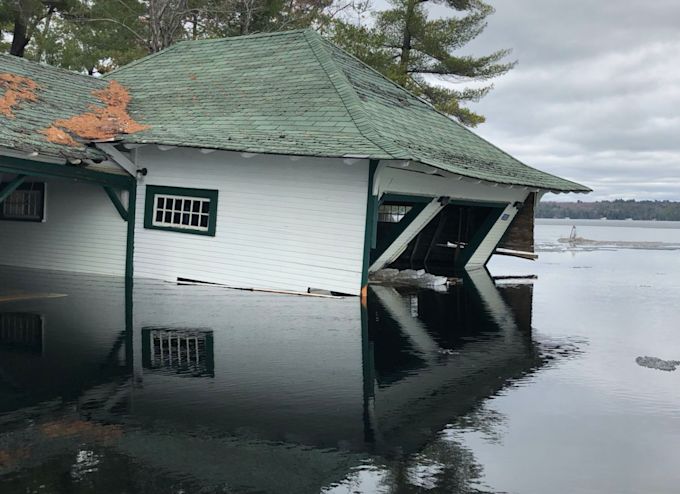 Photo courtesy of Carolyn Carragher
Carolyn Carragher's aunt sent an update message to the family that included this: "The water on our boathouse dock is up to [a cousin's] waist… One wall of our new boathouse has pushed in six inches. Carolyn [Carragher] and Andrew's boathouse is about to be taken out in the lake… There are deck chairs, surfboards, etc. floating all over the lake, and our neighbour's dock has disappeared entirely and must be floating in the lake somewhere. [Cousin] Troy says it's the worst he's ever seen it."
Carolyn is philosophical about the damage. "It's not a person. It's just a building."
She's grateful for the close-knit community of cottagers nearby: "There's so much damage all around the lake. Everyone's always looking out for each other and watching and making sure everything's okay. What happens to one cottage happens to all."
This article, written by Leslie Garrett, was originally published for Cottage Life
WATCH BELOW: BRACEBRIDGE HOME SITS TILTED AND PARTIALLY SUBMERGED IN FLOODWATERS